Nozzles, chains and root cutters are important tools to complete sewer and drain cleaning projects and each serves its own purpose.

We reached out to the manufacturers to submit their latest and greatest equipment in this category, as well as a PRO Tip.
The PRO Tips vary from buying tips to maintenance and usage suggestions. As always, for more information, and to view a manufacturer's complete lineup, visit the website, which accompanies each product description.

Hydra-Flex Inc.

The Reaper Rotating Jetting Nozzle is engineered specifically for water jetting applications including pipe cleaning and sewer jetting projects for the residential, municipal, industrial or contractor market. Reaper successfully cleans drains, industrial pipes, sewers, and tubes by clearing blockages, grease and roots with fewer passes, saving you time and money all while generating less wear and tear on hoses and operators. The Reaper's rotating front jet is a 0-degree, straight water stream that blasts at up to 4,000 PSI while rotating at an optimal speed to form a 24- or 30-degree cone of coverage. Optimized stream quality results in greater impingement, allowing you to use one tool for various applications including cutting blockages, cleaning grease and removing roots. Repair kits are available for extended life and lower overall operating costs. No more downtime — or sending it in for repairs — with Reaper you can rebuild it on site in less than 10 minutes.

PRO TIP
Typically, when a jetting nozzle is damaged during operation, operators must send the nozzle to its original manufacturer for replacement or repair, which may cause significant delays or a complete halt on any plumbing job. However, new nozzle technologies recently introduced to the sewer jetting industry are giving operators the ability to stay up and running, even when a nozzle needs repairs. One new technology that offers this solution is the Reaper Rotating Jetting nozzle from Hydra-Flex, Inc. Built with durability in mind, the Reaper is constructed of stainless-steel housing and tungsten carbide wear surfaces to withstand harsh environments and provide longer life than ceramic nozzles. The Reaper is also completely field repairable. With a simple repair kit, the nozzle can be rebuilt on site and operators are back up and running in as little as five to 10 minutes.
For more information, visit hydraflexinc.com.

KEG Technologies
To help prevent the costly and dangerous cutting of underground utilities – which can cause explosions or serious outages – KEG's KleenSight camera-nozzle system offers operators the ability to clean sewer and storm lines while recording upright image video, as well as quickly assess the line without having to use a CCTV camera truck. Only a jetter hose connection is required – no cables or wires. With Wi-Fi capability, the camera captures the video in memory and allows viewing and downloads on any Wi-Fi enabled device, such as a smartphone, laptop, etc. Videos files are stored onboard and automatically date and time stamped for easy Wi-Fi downloading to mobile phones, tablets and computers. Videos can be emailed or sent to the cloud for sharing. Any time sewer cleaning operators put a root cutter in a pipe, the line should always be inspected with a camera first, and the KleenSight camera nozzle makes this easy.

PRO TIP
Sighted nozzles enable operators to simultaneously clean and inspect sewers, enabling detection of any pipe damage during cleaning, and providing continuous monitoring of the process. In the case of KEG's KleenSight camera-nozzle system, a TV camera is mounted on top of a cleaning nozzle. So, cleaning performance is adjustable to the degree of soiling in the pipe, which can help to increase cleaning efficiency by up to 60 percent. Camera images are continuously transferred wirelessly via radio transmission to the sewer cleaning truck for visualization and recording. The system can be integrated in any cleaning truck without modifications or conversions. Operators can switch between front and rear-view channels to monitor the situation in front of or behind the cleaning nozzle. The camera set-up can be easily adjusted to all pipe diameters and water levels, while an internal power supply allows nozzle operation for an unlimited period of time.

For more information, visit kegtechnologies.net.

PICOTE SOLUTIONS
When cleaning or descaling a pipe where the bore of the pipe is significantly reduced due to a build-up of fats, oils, grease, tree roots, scale, encrustation or tuberculation, you first need to run through the pipe with an Original Chain, Knocker Chain, 3D Chain or Tiger Drill Chain until you have restored at least 90 percent of the pipe bore. These chains are powered by a high-speed electro-mechanical machine. As you are cleaning the pipe you will need to keep adjusting the Original Chains and the Tiger Drill Chains by moving the rear collar towards the front collar. This allows the chains to open-up. Alternatively, you can use the Picote 3D chains which automatically increase in size as the rate of rotation is increased. Once this has been achieved you can remove the remaining edges using the Cyclone Chains which have a fixed diameter and stay centered due to centrifugal force, or the Picote Smart Cutter with grinding panels.

PRO TIP
One of the big issues plumbers are confronted with every day when cleaning or unblocking pipes is the ever-increasing issue of soft blockages caused by flushing a combination of (but not limited to) wet wipes, some sanitary products, and multi layered soft quilted toilet roll. These types of products do not "breakdown" or "disintegrate" easily when flushed down the toilet, therefore they tumble and then stop as there is insufficient water in the system to flush the waste from the toilet pan to the sewer. Instead, these products slowly fill the pipe restricting the flow of sewage through the pipe and ultimately blocking it. Generally soft blockages are hard to remove using high pressure water jetting or traditional mechanical cleaning methods. When using high-speed electro-mechanical cleaning machines to remove soft blockages you can use a combination of a Special Drill Head and Original Chains (without carbides) made up on an 18-in. long leader so that it can quickly and easily be fitted to the main shaft of the machine. When cutting into and breaking up the soft blockage the rotating original chain centralises the Special Drill Head in the center of the pipe allowing it to cut into and break up the blockage. In some cases, the soft blockage may wrap around the tool head until the safety clutch activates and the shaft stops rotating. Using the shaft, the operator can then pull the blockage out of the pipe.

For more information, visit picotesolutions.com.

Red Dawg Nozzles
The Red Dawg Kraken series root cutter is a new look at root cutting technology. Red Dawg strives for the simple approach is most of what we develop, the Kraken is no exception. We made setting up the cutter a very simple process that only requires the loosening of three bolts. Set the Kraken up with roller chain, link chain or wire rope easily for pipes from 6 to 16 in. Your operators can fix any issues that may arise with this system, no more expensive rebuilds when too much rebar is encountered. The only components needing maintenance are the three primary water-cooled bearings. Get to the root of your infiltration problems with the Kraken.

PRO TIP
Getting the most from your jetting tools requires the correct setup. This rings very true with root cutters, as well. If you don't consider the design intent or purpose of the tools you own, it makes it difficult to get the most out of them. For example, using a nozzle designed for clearing blockages in lateral lines won't do your guys much good in a 36-in. storm drain. Seek out a trained and experienced nozzle professional to find out what nozzles work best for what you are up against.

For more information, visit reddawgnozzles.com.

Spartan Tool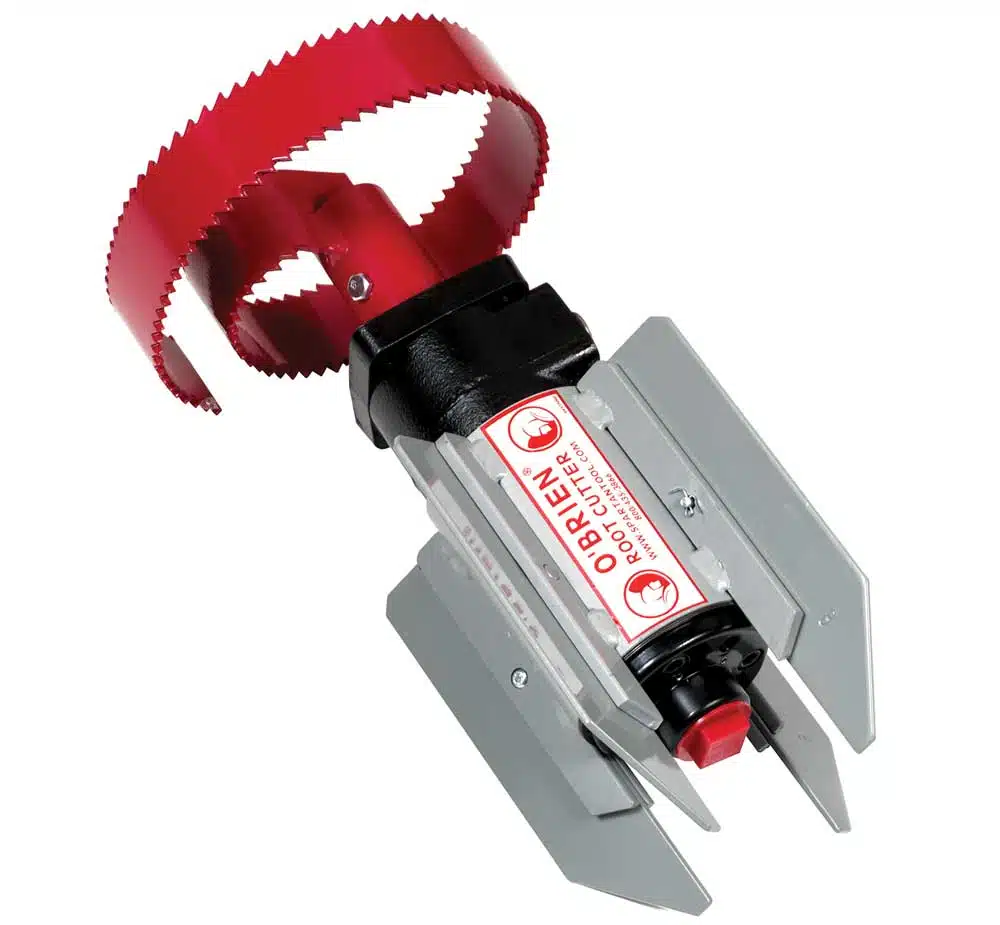 Turn your jetter into a high-powered sewer cleaning system. Spartan's durable root cutters use hydraulic power to quickly cut and clear roots and debris more quickly than cable machines. Available for 4- to 20-in. diameter pipes with flow rates of 10 to 60 gallons per minute (gpm), our root cutters give you the ideal solution for every pipe cleaning job.

For more information, visit spartantool.com.

USB-USA
The Pipe Wolf Nozzle 3D is the original specialty tool perfect for total blockages that are made from organic material. A hardened, tapered head with sharp edges is extremely aggressive and utilizes turbine technology to spin at approximately 10,000 rpms boring a hole and opening up the blockage. This essential nozzle is constructed from stainless steel, it's available in ½- to 1.5-in. hose connections and can be operated in 4- to 24-in. pipe depending on the model. The Pipe Wolf nozzle comes standard with one-piece ceramic inserts and can be used with recycled water. This nozzle delivers in emergency situations!

PRO TIP
Like any purchase for your business, there are items to consider before selecting a nozzle for jetting applications. First, what is the application? Is it preventative maintenance in a sewer line, a blockage in a storm line, roots at the pipe joint or does the pipe just need to be flushed? Second, what equipment will be available to run the nozzle? Generally, the bigger the pipe to be cleaned the bigger the nozzle that needs to be used which means the pump and hose should be properly sized to deliver enough water. Third item that should be considered is the angle jet incidence and the number of jets each nozzle has. A flushing application will require a nozzle with a low angle of jet incidence while a grease application calls for more of a wide angle to reach the sides of the pipe. Lastly, the most important item to consider is the cost. Tier 1 steel nozzles with drilled inserts will be considerably less than the highly efficient Tier 3 stainless steel nozzles which include ceramic inserts for compatibility with recycled water.

For more information, visit usb-usa.com.