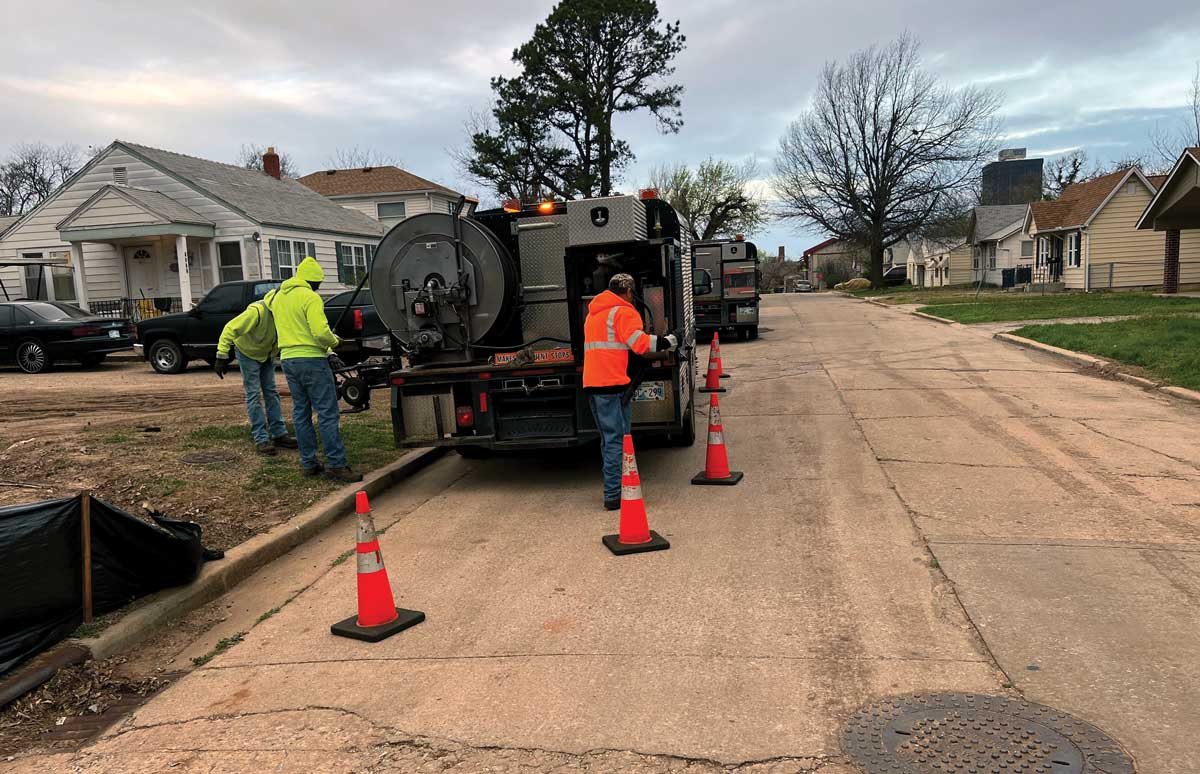 Maintaining a sewer system is an ongoing and challenging task for any municipality, and Oklahoma City (OKC) is no exception.
The City's sewer system is comprised of more than 3,100 miles of pipe designed to carry wastewater from homes and businesses to treatment plants. One of the leading causes of sewer overflows in our nation's aging infrastructure is tree root intrusion — tree roots account for a large percentage of all sewer backups in our country's collection systems. OKC is no different.
The City has been plagued with frequent back-ups and complaints due to blocked pipes which are further exacerbated by aging and broken pipe sections. The impact of these issues on the City's infrastructure and environment is significant and required an innovative solution to ensure continued service to the community.
City officials determined a new plan of action was needed to help deal with tree root intrusion and decided to implement a chemical root control pilot study to determine its effectiveness. A rigorous RFP process was advertised where the City carefully reviewed, assessed and selected two companies to conduct the pilot and evaluate the effectiveness of chemical root control treatments.
After a comprehensive evaluation of the results, one company stood out for its exceptional performance. Duke's Root Control not only exhibited excellent customer service but demonstrated how effective chemical root control can be in a collection system. Based on the criteria outlined in the RFP, a long-term root control contract was awarded to Duke's.
Root Intrusion Woes
One of the challenges presented to Duke's was sewer access. The collection system covers an extensive area, and numerous, varied setups were required daily to gain access to sewer segments. Additionally, most segments were located in off-street easement areas such as backyards and difficult right-of-way access points. Communication was required with residents, and extra personnel were brought in to ensure proper treatment. Duke's also employed the use of four-wheeled vehicles, rope reels, and combined hose lengths to overcome access concerns.
Root Control Helps OKC Thrive
Duke's helped OKC in numerous ways throughout the project, which mainly centered around communication. Regular meetings were scheduled between the project manager, field staff from both Duke's and OKC, as well as upper management from the city and the Duke's regional manager. Utilizing multiple platforms allowed OKC to communicate concerns and provide updates. As a result of having one of the largest root control programs in the country, large volumes of data were assigned, completed, and verified daily. Field issues frequently arose, including the location of manholes, access issues, asset conditions, and emergency situations, requiring immediate communication between field staff and city personnel.
Success after Close-out
OKC has since succeeded in meeting the goals of its consent order, which included reducing SSOs. Since the start of the treatment program, they have experienced a 99 percent reduction in overflows while the pipes were under the Duke's guarantee. Less than 1 percent of pipes treated by Duke's experienced a backup or SSO after treatment. The root control program has been the city's front-line defense. The program has allowed them to be proactive as well as assist their limited staff and equipment to focus on the most immediate needs.
"Our partnership with Duke's Root Control has been a game changer for our maintenance team. With their expert root control program in place, we no longer have to worry about the costly and time-consuming task of managing invasive roots," says Oklahoma City line maintenance superintendent Allen McDonald. "Instead, we can focus on other important areas of our maintenance program, knowing that Duke's has us covered. Their program is not just a service, it's an integral part of our overall maintenance strategy."
In addition, the city is currently conducting a sewer condition assessment program to prioritize its sewer pipes for upgrades and maintenance while assessing the potential remaining life for these assets. The root control program meets the goal of extending the life of the pipes by eliminating one of the primary causes of pipe failure — root intrusion. Duke's products extended the life of the pipe by reducing the effect roots have on the pipe structure. Having a sewer system the size and age of OKC means that extending useful pipe life is critical to effectively and cost-efficiently managing their system now and well into the future.
Moving Forward
Duke's has worked with many municipal agencies over the last 40 years and is used to seeing changes in management and personnel that can trigger a shift in approach. While it's uncommon for sewer utilities to change from reactive to proactive maintenance, Duke's wasn't surprised by the client's proactive approach to maintaining their sewer system. OKC has always been on a proactive course and is dedicated to providing innovative initiatives and solutions to improve the quality of service to the millions of people they serve every day.
Duke's has been helping municipalities to manage the challenge of tree root intrusion in their sewer systems for over 40 years. Despite the challenges that come with treating sewers located in off-street, difficult access points, Duke's continues to successfully implement the program by utilizing their expertise and innovative equipment. Oklahoma City's success in reducing SSOs and extending the life of its pipes is a testament to the effectiveness of a chemical root control program. By providing regular communication and support throughout the project, Duke's Root Control helped Oklahoma City achieve its goals and improve the quality of reliable sewer service to the community.
Julie Cook is with AEC Marketing.