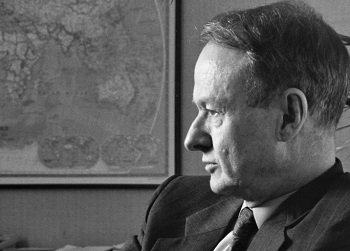 Former Jacobs Chairman and Chief Executive Officer Noel Watson passed away on Saturday, Aug. 11. He was 82.

"We are deeply saddened by the loss of Noel Watson and extend heartfelt sympathy to his family," said Jacobs chairman and CEO Steve Demetriou. "Our entire company mourns the loss of a great leader, colleague and friend. Noel established the enduring foundation of integrity and excellence Jacobs is known for today. His tireless passion and authentic caring shaped our company culture and our industry for the better. Jacobs' strong values are his legacy and we will honor them for decades to come.

"Noel was a remarkable leader. He put a premium on integrity. Noel felt a personal responsibility to our clients and our shareholders and he set high standards of excellence and accountability to ensure they were well served," said Linda Fayne Levinson, Jacobs lead director. "He cared deeply about employees and he demonstrated this by his ability to listen, at all levels, anywhere in the world. He was loved and we will miss him."
Watson, who was recruited to the company by founder Dr. Joseph Jacobs, served the firm for more than 50 years, including more than 25 years at the helm of Jacobs. Watson was named president in 1987, CEO in 1992, and elected chairman of the board in 2006. Watson retired from the board in January 2017.

During his tenure as CEO, Watson steered the company's iconic growth from $1 billion to more than $7 billion in revenues, creating industry leading earnings and shareholder returns, strong client satisfaction, and broad geographic and market diversification. As a result of Noel's influence over the past six decades, Jacobs is an industry leader across many private and public sector end markets globally.
Foremost, Watson was a dedicated and loving husband, father and grandfather. He is survived by his wife, Phyllis, their two children, Derek and Leslie, and five grandchildren.

A Forbes article from 1997 details the changes Watson made upon being named CEO of Jacobs, including changing the long-time company management system, which garnered him accolades from founder Dr. Joseph Jacobs.
SOURCE – Jacobs