You don't have to know Matt Ellington, co-owner of Intragrade, for very long to tell he has never been afraid of work. Even in his 50s, he carries himself in a way that lets you know he is still as willing to get his boots dirty as he always has been. As a pre-teen in the early 1980s, Matt was already working in underground jobs normally reserved for adults.
"Forty-two years ago, an 11-year-old could be a laborer in septic tank installations," Ellington said. "You could run a backhoe, and certainly drive a dump truck on a jobsite."
"And maybe occasionally to the site," Ellington adds, with a wink.
All of those years in underground, and a penchant for problem solving have made Ellington and his team at Intragrade into one of those unique contractors that don't turn down a project just because the project is not necessarily in their wheelhouse.
While Intragrade specializes in larger diameter pipe CCTV, cleaning, and rehabilitation, the contractor did not shy away when presented with a small diameter, under-slab trenchless opportunity at a middle school in Greenville, North Carolina.
Most of the 900 ft of 4- to 6-in. pipe in the middle school project was originally slated to be pipe burst. But like so many trenchless rehabilitation enterprises, the initial assessment brought a curveball and the need to pivot in approach.
"Originally, we had two liners to complete and the rest of the lines were going to be pipe bursted," said Intragrade superintendent Kyle Ellington. "When we conducted a pre-inspection, we discovered several laterals along the way, thus removing the pipe bursting scope from the project."
Even before the camera inspection changed the original plan, the job had a complicated set of difficulties, including limited access, a difficult working environment, and an operational school, which required all of the work to be done after hours or on weekends.
Matt Ellington was comfortable in his company's ability to line the two pipes in the original scope with his existing arsenal, but the added shots and the constraints it brought led him to one conclusion: Intragrade was going to have to add some new equipment and capabilities to bring this project to the finish line.
In the past, Intragrade had always used the same solution on CIPP jobs, curing with steam and B-side access. Given the fact that five of the six shots in this scope of work would be blind, Ellington decided to do some research to determine if some other method might fit the project better.
After doing his homework, Ellington settled on Speedylight+ LED UV and an IMS Micro Auto Plus robotic cutter from Pipeline Renewal Technologies (PRT), as well as Maxliner's LinerDrum 900. Because of the limited access and pipe size transitions, Intragrade chose to complete the job using a combination of Max Flex4D and Wovoliner, also from Maxliner.
Armed with the proper equipment and material, the next speed bump became scheduling. Because the middle school was active, the prep and cleaning of the pipes had all been done after hours and on weekends. Intragrade knew it would need a long, multi-day stretch where the school was empty to complete the lining and reinstatements without risking water shutdowns when students would be present.
"We initially wanted to perform the multiple installations and reinstatements between Christmas and New Year's," Ellington said, "However, the equipment and training we needed wasn't available in that period. We knew it would be tough, but we decided to compress what we originally saw as a five-day project into the three-day weekend around the Martin Luther King Holiday."
In the week leading up to the start date, Intragrade brought in trainers from both PRT and Maxliner to familiarize the crew with the operation of the equipment and the techniques they would use on the job. Intragrade's solid background in CIPP made the standard portions of the joint training go quickly. This allowed the group to focus on some of the specific difficulties they would face when the job was live.
"Knowing most of the troubles we would encounter on site, we mocked up a couple of scenarios in our shop," said Intragrade's director of CIPP Installation Josh Erickson. "We went through some testing and training with PRT and Maxliner to come up with what would be the best course of action to pull off this particular job."
First day growing pains led to a slow start to the project. The logistics of mobilizing the manpower and machinery, combined with some compressor and generator issues, made getting into a rhythm tough. But Ellington is a big believer in having a backup plan in place.
"You are asking for maybe 200 things to go right on a lining day," Ellington said. "Several are not going to make it. You know you need redundancy wherever it is practical."
With only one liner in the ground after the first day, the team at Intragrade rallied and installed three liners totaling nearly 500 ft on day two, leaving two liners for the final day.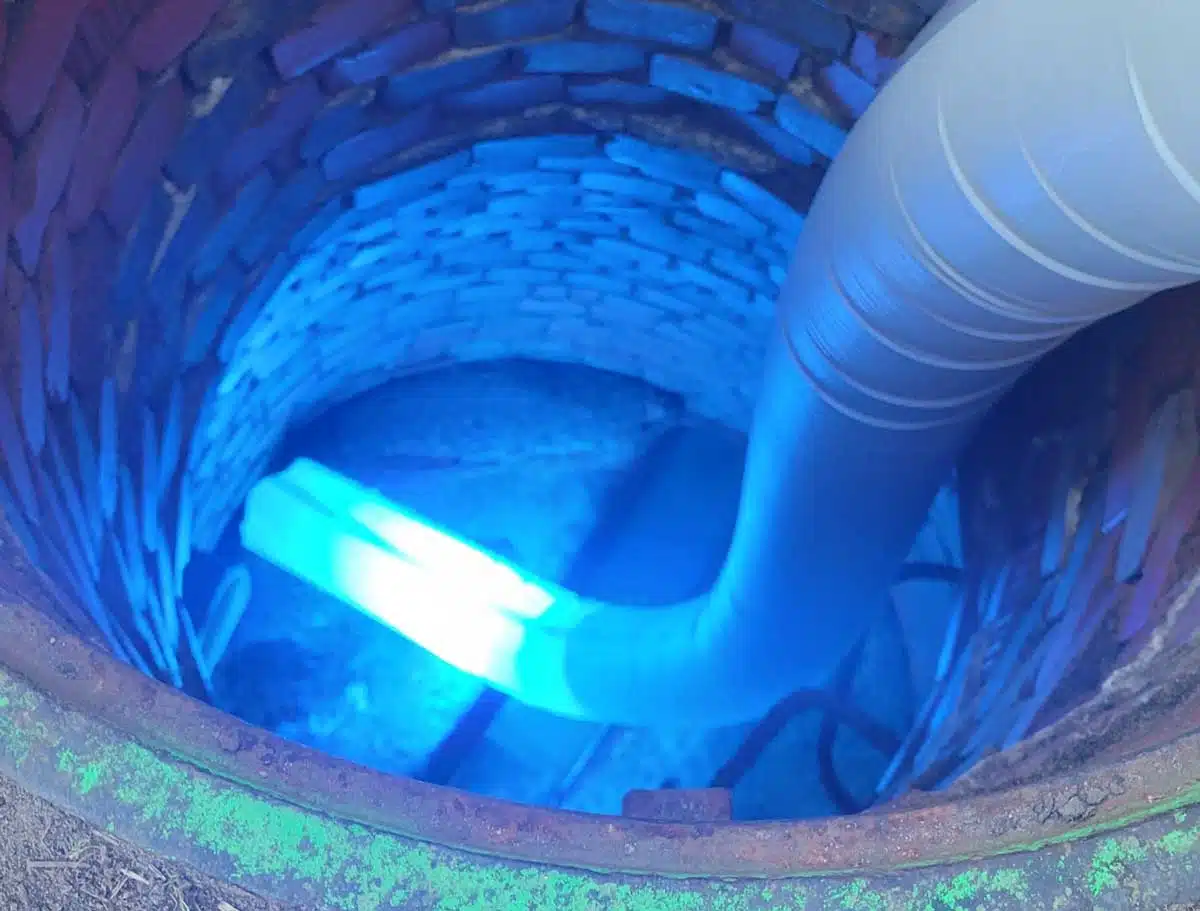 The second to last shot was 170 ft of 4-in. through a cleanout, with offsets in the vertical, around a combo, and a fitting on the horizontal that could not be reinstated. Intragrade used a remote start to eliminate the need for reinstatement, and Max Wovoliner went around the turns with ease. Speedylight made quick work of the cure, and it was on to the final line.
The last shot of the project was relatively short, but the end of the liner would be unsupported in a manhole, adding unnecessary risk. Matt Ellington strapped on his harness, was lowered down by wench, and caught the liner in a calibration tube as Erickson inverted the last few feet. He had plenty of manpower on site capable of this task, but he wanted to have his hands on this final, crucial step. And after 42 years, he still just likes to get his boots dirty.
James Kicklighter is a technical services manager at Maxliner.