Spiral Wound Lining is a trenchless technology that uses continuous strips of plastic (typically PVC or HDPE) to fully restore gravity pipelines. This rehab method has been successfully utilized for over 40 years with millions of feet installed in the United States and across the globe. Two methods of installation exist for this category; machine-wound and manually-wound liners. These methods vary by manufacturer and possess unique features and benefits.
Spiral Wound technology boasts innovative qualities as a category. These include being 100 percent trenchless, involving no chemicals at the jobsite, and creating a minimal construction footprint – to name a few. Both machine-wound and manually wound liners provide flexibility when it comes to pipe offsets and jobsite unpredictability.
Material and Installation
Spiral Wound liners feature a ribbed profile design, which provides added stiffness to the liner material. Although these processes typically use the same material (PVC/HDPE) and ribbed design, the height, thickness, and inner components of the PVC/HDPE strip vary by manufacturer.
The installation process begins with a continuous strip of the material that is fed from above ground through the existing access points, which could be a manhole, culvert, or outfall. The strip is wound and locked to form a uniform liner directly within the host pipe. The liner construction is achieved either by machinery or a manual process.
Spiral Wound liners renew sewers, storm drains and culverts. Certain Spiral Wound methods are also applicable beyond restoring gravity pipelines. These methods are utilized for new pipe construction as well as manhole rehabilitation.
RELATED: Georgia Relining – Spiral Wound Lining Renews RCP in Fulton County
Spiral Wound adheres to ASTM International standards for trenchless rehabilitation projects. The main difference is the machine-wound standard compared to the manually-wound; machine-wound manufacturers comply with ASTM 1741-18; the standard practice for installation of machine spiral wound PVC liner pipe for rehabilitation of existing sewers and conduits. This contrasts with manually wound manufacturers following ASTM F1735-21; the standard specification for PVC profile strip for PVC liners for rehabilitation of existing man-entry sewers and conduits.
Case Studies – Machine-Wound Liner
With millions of feet of Spiral Wound liner installed in North America alone, there are plenty of project examples to review. For instance, the recent Spiral Wound project in Portland, Oregon, where over 750 lf of concrete sewer was renewed.
The Carolina Sewer Repair Project involved the rehabilitation of over 750 ft of 51-in. cast-in-place monolithic concrete sewer located along S. Macadam Avenue between S. Mitchell Street and S. Sweeny Street in the City of Portland. The various constructability challenges included flow conditions and radius bends within the host pipe. The key drivers for the project were to verify that hydraulic capacity would be maintained post-rehabilitation and that the liner would provide a fully structural repair solution.
Based on the project's requirements, SEKISUI's machine-wound PVC liners were selected to renew the pipeline. The steel-embedded PVC liner would be installed using a winding machine featuring hydraulic arms. The arms of this machine line the PVC against the pipeline's wall, resulting in a liner that does not require annular space grouting.
The Spiral Wound installer for this project was JW Fowler, a contractor based in Oregon. Though there was concern about potential wet weather conditions and project delays, JW Fowler's crews mobilized on schedule. Working 24/7 shifts allowed the contractor to improve productivity and they were able to complete the lining portion ahead of schedule in autumn 2021.
RELATED: NASSCO Report – Force Main Rehabilitation with FRP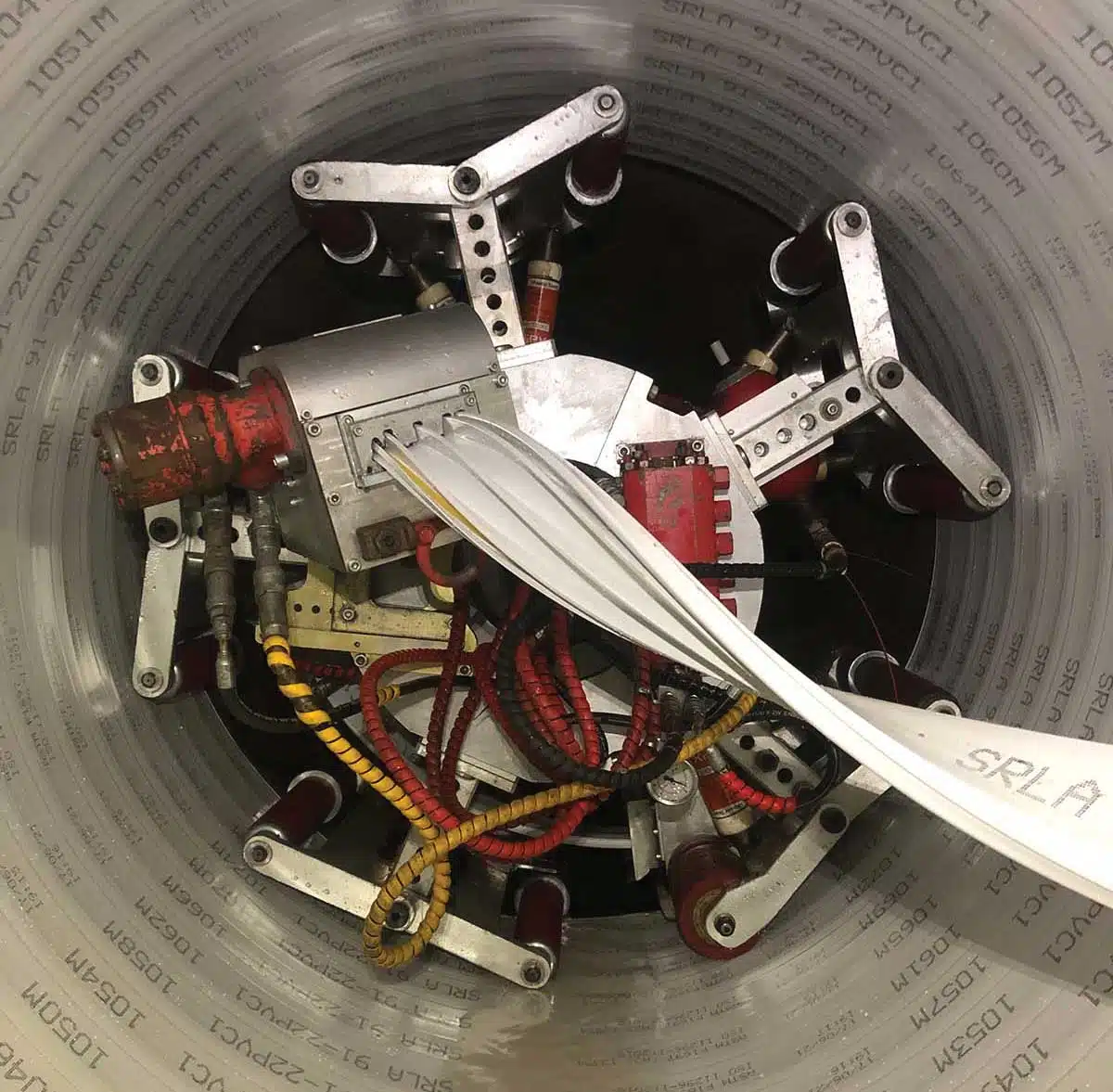 Case Studies – Manually-Wound Liner
notable manually wound PVC lining project was also completed in 2021. The project involved renewing two 72-in. reinforced concrete pipe (RCP) sanitary sewer interceptors with a total of 11,800 lf that ran along the West Fork Trinity River and near the Mountain Creek Preserve in Irving, Texas. The twin 72-in. pipes had extensive deterioration which was evident with the ovality of the structures ranging from 1 to 6 percent.
Several products were specified for the rehabilitation and ultimately, the Danby Grout-in-Place Spiral Wound rehabilitation was selected. The general contractor, Oscar Renda Contracting-Southland Holdings entered a contract with Boyer Inc. of Houston, as the certified Danby PVC lining installer in 2017. Additional construction was performed by the general contractor in conjunction with the rehabilitation.
RELATED: NASSCO Report – The Use of Unmanned Aerial Vehicles in Below-Ground Structures and Pipe
After the cleaning and infiltration control was completed, the rehabilitation process began by first installing bolsters that provided annular spacing between the host pipe and the liner, where it was filled with high-strength cementitious grout. The grouting process was completed in seven lifts and did not require additional internal bracing.
The rainfall and rising water levels of the West Fork Trinity River proved to be the biggest challenge. The Trinity River flooded the area at least eight times over the course of the project, causing a work stoppage and project delays. Although the rainfall proved challenging, the project was successfully completed in 2021; the twin 72-in. interceptors were rehabilitated to a finished inside diameter of 66-in.
Chris Lind is the NASSCO Pipe Rehabilitation Committee Co-Chair and with Sekisui. Linda Cassel is a NASSCO Pipe Rehabilitation Committee member and with Danby Rehab.