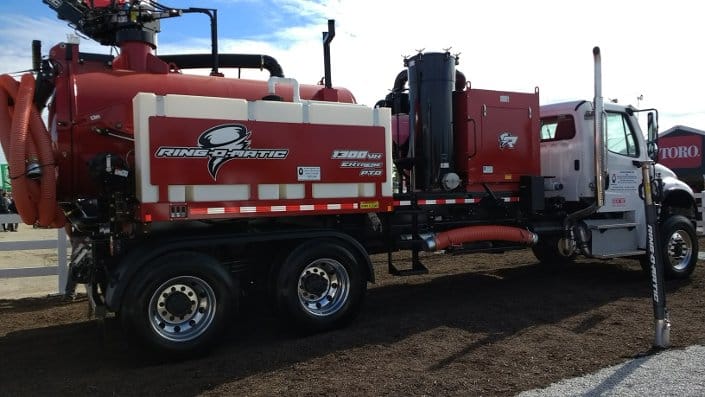 New owner has big plans for future of Pella, Iowa company
Pella, Iowa-based Ring-O-Matic is now under new ownership. Brian Metcalf, Ring-O-Matic president and CEO, bought the company Dec. 31. The construction equipment company specializes in the design, manufacture and customization of vacuum-excavation machinery and equipment.
"The timing was right," Metcalf said, "And, of course, location was a prime consideration." Metcalf had returned to his hometown of Pella to serve as Ring-O-Matic's CEO a little over two years ago, after a 24-year career in top leadership positions with industry-leading manufacturers.
RELATED: Trenchless Technology's Vacuum Excavator Spec Guide
His career began with Vermeer dealerships in 1990. Metcalf then moved to positions at Vermeer Manufacturing and Pella Windows and Doors prior to joining HammerHead Trenchless in 2007. He was acquainted with Ring-O-Matic before leaving his position as President and CEO of HammerHead in Lake Mills, Wisconsin.
Metcalf is optimistic about Ring-O-Matic's market position as industry demand for its product lines increases. "Soft excavation through air and hydro vac'ing in general is a rapidly growing market," he said. "There are already places in the world where 'hard excavation' – using a backhoe or mechanical excavator – has become the exception, not the rule. We expect to see ever-increasing need for our core product line over the next five to 10 years."
RELATED: Ring-O-Matic Makes Major Additions to Dealer Network
To equip the North American market for the change, Ring-O-Matic's immediate goals include focusing on "a few key underserved areas," Metcalf said, in what he described as "our already exceptional dealer network." It also means adding specialized equipment for markets adjacent to Ring-O-Matic offerings.
"Ring-O-Matic already offers North America the widest range of extremely robust, extremely strong vac-ex equipment. Our units range from small, 100 gal. models to 3,000 gal., PTO-driven truck-mounted rigs, all of them purpose-designed from the ground up." Further, customers aren't limited to the Ring-O-Matic product catalog, Metcalf said. "We invite customers to bring us the unique challenges they face so that we can custom-build a solution for them when necessary—we take a solutions-based approach to those challenges. We want our customers to have a choice. Our standard product offering gives them dependable best-in-class performance while our custom-built units offer unique solutions to contractors looking for a competitive advantage."
Continued support of its existing products and the addition of other specialized construction equipment, Metcalf said, will help Ring-O-Matic dealers further expand their own customer base and help keep their customers competitive as the market continues to evolve.