As the use of trenchless technologies continues to increase throughout Russia, one of its most historic cities will host trenchless professionals from around the world. The 26th International No-Dig Conference and Exhibition comes to Moscow June 3-6, making it the temporary Mecca of the trenchless world — bringing with it the latest equipment, technologies and innovations to share with attendees from around the globe.
Russia is a perfect spot to highlight the benefits of trenchless technology.
The City of Moscow is steeped in a powerful history. Located on the Moskva River, Moscow is home to the Kremlin, Red Square and St. Basil Cathedral, to name a few. That is in its past. Today, the city is the largest in Europe and is the country's economic, financial, educational and transportation center. It possesses a complex transport system that includes the world's busiest metro system, which is famous for its architecture.
In recent years, its underground infrastructure has taken center stage, as work to upgrade and rehabilitate the pipeline network has become a priority, and trenchless technologies are slowly emerging as a viable and accepted answer to their situation.
The 2008 conference also marks a first for the International No-Dig Conference: For the first time, Russia is hosting the largest and only international event that solely focuses on trenchless technology.
The four-day conference combines education, the latest equipment, site visits, recognition of trenchless accomplishments and interesting social networking.
The 2008 International No-Dig Conference is hosted by the Russian Society for Trenchless Technology (RSTT) and organized by the International Society for Trenchless Technology (ISTT) and SIBICO International Ltd.
Sponsors of this outstanding trenchless event include Insituform Technologies, Herrenknecht, Robbins HDD, Ditch Witch, Vermeer Corp., TT Group, Per Aarsleff, Mechgrundostroy, HOBAS, Digital Control Inc., GNB Broker, Bentoprom, Baltproject LLC and Aliance-KR.
The conference, which combines a top-notch and high-quality technical program with a first-rate exhibition, is being held at the International Exhibition Center called the Crocus Expo — described as one of the largest and most respected exhibition grounds in Russia. No-Dig is collaborating with the third CityPipe Fair, which focuses on piping systems in municipal infrastructure (construction, diagnostics, repair and operation), as well as the well established Russian environmental exhibition ECWATEC.
Visitors to the Crocus Center will have access to all three exhibitions. The total exhibition space is expected to exceed 20,000 sq m and attendance, based on past shows, is projected to be about 15,000. By combining their efforts with the other exhibitions, RSTT expects a large number of Russian visitors, therefore exposing them to trenchless technology and its many benefits. The No-Dig conference alone will have more than 60 exhibiting companies, representing countries from around the world, including the Netherlands, Italy, Germany, Russia, United States, Poland, Ukraine, Lithuania, Switzerland, the United Kingdom, Finland and Denmark.
Moscow No-Dig organizers say that this show is specifically intended to become a tool for increasing the knowledge and further application of trenchless technologies in Russia and Commonwealth of Independent States countries.
RSTT History
Saying that hosting the annual International No-Dig Conference is a huge moment for the trenchless community in the Russian Federation is an understatement. Preparation for this conference has been ongoing for nearly three years. But the story of trenchless technology in this country started in 1995 when a group of engineers in the Russian Tunneling Society decided to form RSTT. At the time, much of the focus on utilities was in new installation rather than rehabilitation and the group was challenged in attracting members from outside the tunneling world. By 1998, the group faced financial difficulties and ceased operation in 2000.
But the need to install and refurbish underground utility networks was ever present and Russian cities began to address that need. By 2002, a well organized group based in Moscow resurrected the RSTT, making its primary goal to get the trenchless community to Moscow for a No-Dig Show. And here we are!
"I believe that this positive decision [to hold the conference in Moscow] was influenced by both the progress of Russia in the application of trenchless technologies for placement, rehabilitation and repair of pipe networks, as well as by the potential of their development in Russia," said RSTT Chairman Stanislav Khramenkov. "New methods of construction, maintenance, rehabilitation and repair based on trenchless technologies, which until recently were considered to be a novelty, or a risky innovation, have now become a part of our everyday work. And this is only the beginning. I am sure this trend will continue to accelerate in Moscow and will spread out to the other big cities of Russia and indeed to the other countries of the former USSR."
The technical program has been planned as a high-quality potpourri of trenchless topics and technical papers, covering the gamut from new installation and rehabilitation. Conference workshop sessions will cover the following issues: new machines, techniques and developments for trenchless applications; trenchless techniques in cold climates; market conditions; trenchless techniques and practices for new installations; trenchless techniques for in-line replacement and upsizing; trenchless techniques for repair and renovation; utility corridor design, construction and maintenance; quality assurance for trenchless techniques — in theory and practice; pipe jacking — choices and practices; and asset management and life cycle analysis.
During No-Dig 2008, four field visits to trenchless technology sites in Moscow and the surrounding region are being planned to give visitors a firsthand look as to the work being done in the country. These sites will showcase renovation of a water supply network; a CIPP renovation of a sewerage pressure header; an HDD project; and a microtunneling project.
One of the spotlight events at each No-Dig Conference is the presentation of the ISTT No-Dig Awards. The No-Dig Awards 2008 will be announced during the Gala Dinner on June 4. Awards will be presented for work in 2006-2007 for the following categories: Project of the Year, academic research or training; new machine tool, material, system or technique; and student or young professional paper.
There will also be the opportunity to take in the sights and sounds of Moscow and the region. The Organizing Committee has developed a social program that includes a Moscow city tour and excursions to popular tourist sites. This is an excellent opportunity to get to know Moscow better, visit its historical sites and monuments, etc., allowing you to enjoy the historical and cultural heritage of Russia.
For more information and details about the 2008 No-Dig Conference, visit the event's official Web site at www.nodig2008.ru.
Sharon M. Bueno is managing editor of Trenchless Technology International.

Alfa New Technologies
Alfa NT is an exclusive distributor of leading technologies in the area of trenchless pipeline repair. The company is able to supply the entire process of pipeline repair and thus a comprehensive solution to any problem in the area of pipeline renovation.
NWLC, Distributor of Astec Industries
Astec Industries Inc. is one of the world's leading manufacturers of equipment for pipeline and utility trenching. The Astec Underground Group combines the marketing of the American Augers and Trencor products to be the innovative leaders in both trenchless and trencher technology to install utilities and pipelines worldwide. American Augers Inc. manufactures state-of-the-art boring machines, directional drills and fluid/mud systems used in the underground construction or trenchless market. Astec Underground Inc. manufactures utility trenchers, horizontal directional drills, auger boring machines, mud pumps and mud cleaning systems.
Bentoprom Group
Joint stock company BENTOPROM Group of companies was set up in late 2001 for the production of high-quality bentonite and perlite products in accordance with international standards ISO and API/OSMO with the use of only the best raw materials from foreign and Russian sources. The industrial enterprises are situated in the Belgorod, Leningrad, Sverdlovsk and Moscow regions. The factories are equipped with modern high-tech machinery with up-to-date systems of automation and process control.
BKP Berolina Polyester GmbH & Co. KG
Structural Pipeline Rehabilitation with the Berolina-Liner System. The light curably liner is tailor-made for each pipeline rehabilitation application with regards to its length, diameter and wall thickness. The cured liner belongs to the groups of Reinforced CIPP, due to the material used and to its design with various number of continuous glass-fiber fabrics.
Chevalier Pipe Technologies
In the span of just a few years, CPT has grown to be a global leader in pipeline rehabilitation. In spite of its relatively brief history, the rapid development of CPT, with locations on four continents, is due in large part to the company's decisive competitive advantage.
Ditch Witch
The Ditch Witch organization is introducing a horizontal directional drill that builds on the success of its popular Ditch Witch JT2720 Mach 1 unit. The new JT3020 Mach 1 is an extended-range, self-contained machine with 30,000 lbs (133 kN) of pullback and the capacity to bore pilot holes up to 4.5 in. and backream diameters up to 12 in.
Digital Control Inc.
Digital Control Inc. (DCI) introduces the TensiTrak Pullback Monitoring System, which provides critical installation and data to HDD operators, allowing real-time monitoring of product pull force and downhole mud pressure without a wire. Real-time pull force/tension monitoring can prevent damage to the product and costly reinstallation.
ENDOCONTROL
From its inception in 1985, Endo Service has specialized in the design, development and manufacture of Remote Viewing Instruments ( RVI ) and Systems. Remote Viewing is the ability to view objects located within inaccessible areas, hostile environments or that require surveillance or acquisition from a distance. Endo Service offers the highest quality and broadest line of optical inspection systems.
Trelleborg epros
Trelleborg epros is a manufacturer and supplier of materials and systems for the trenchless relining of sewer pipes. Its product line includes: stoppers and pressure testing systems; sectional repair with either patch rehabilitation (diameters 32 to 1,200 mm) and DrainMESleeve (800 to 4,000 mm); full length relining of pipes (diameters 50 to 1,000 mm) and lining equipment; lateral repair with the Top Hat system; and manhole rehabilitation.
GeoRemStroy LLC
GeoRemStroy LLC specializes in trenchless renovation of water pipelines under railways and highways and also in municipal pipelines renovation. Specialists with GeoRemStroy jointly with the German company Brandenburger repairs pipes with a seamless polymer sleeve, a high-quality light impregnated resin fibreglass seamless sleeve.
GUP Mosinzhproekt Institute
Mosinzhproekt Institute (established 1958, RSTT member) provides documentation for construction of Moscow engineering infrastructure objects. The Institute projected almost all modern Moscow engineering and transport infrastructure: 25,000 km of engineering networks, 4,000 km of auto-roads, 100 transport crossings, 300 underground passages, 400 km of subterranean collectors, water reservoirs, accomplishment objects; also 3rd and 4th transport circles.
Herrenknecht
In Moscow, the new Herrenknecht Combisegments formwork technique for utility tunneling is being used. With this technique, assembly tracks are cast into the concrete of the segments before the lining segments are installed in the tunnel. In only one step the cable racks are mounted in the tunnel on the tracks later. In another project, segments for a sewage tunnel in Moscow are being built in the same Combisegments formwork with integrated GFK inliners.
HOBAS
HOBAS is a successful international organization and the leading supplier of flexible, high-performance pipe systems and manufactures and markets CC-GRP Pipes Systems and supplies advanced production technology and management know-how to a steadily growing customer base. HOBAS provides individual solutions for a wide range of applications such as sewage, potable water, raw water and irrigation, drainage, thermal cooling, industry and hydro power. In addition to sliplining, HOBAS Pipe is suitable for jacking, microtunneling all other installation methods for new construction and rehab.
IDS INGENERIA DEI SISTEMI SPA
IDS spa — INGENERIA DEI SISTEMI — is an engineering company specialized in the development of radar systems, associated hardware and software applications. It is organized in four divisions: Naval, Aeronautical, Aeronavigation and Georadar. The Georadar Division has developed two GPR technology solutions designed for the two phases of trenchless work: RIS MF, an advanced series designed for detection and mapping, and Detector DUO, a product for a real-time pipe location and site inspection technology.
Insituform Technologies
Insituform Technologies Inc. will exhibit the full line of its latest water and sewer rehabilitation products at the 2008 No-Dig Moscow Show. Insituform will present the new Insituform Blue family of water rehabilitation products: iTAP (a robotic method of reinstating service connections from inside the main); Thermopipe (a non-disruptive, close-fit pressure pipe rehabilitation system; and PolyFlex and PolyFold lining systems (polyethylene pressure pipe systems).
Ka-Te Systems
KA-TE PMO-renovation robots are real all-arounders and have an unrivaled usage spectrum in the sewage pipe: cutting, grinding or stopping with a special technology are part of the basic program of these remote controlled high-tech machines, which allow the renovation of sewage pipes avoiding street works and associated traffic problems.
Müller Umwelttechnik
Müller Umwelttechnik is a leading European company in the sewer and waste disposal technologies. Due to the many sided disposal operations in sewer cleaning, such as road drain cleaning, cesspit and tank emptying, and the disposal of hazardous materials, the liquid waste disposal vehicles manufactured by Müller are, as a rule not standard, but built to individual customer requirements, taking into consideration proven fittings, and requirements in power, size and equipment.
NRG Nordic Renovation Group Ltd.
NRG Nordic Renovation Group Ltd, Forssa, Finland, is a company that specializes in providing total solutions for pipeline renovation, based on no-dig techniques. Its Flexoren sliplining system is a method intended for sewer relining. Flexoren is quick to install and it is the most cost-effective alternative, especially in cases where the line to be renovated is long. The Flexoren method is excellent for renovating gravity sewers with a 125 to 300 mm diameter.
Per Aarsleff A/S
Per Aarsleff A/S, Aabyhoej, Denmark, is a company of civil engineers and contractors with approximately 2,800 employees. Since the early 1980s, the company has been a world market leader within trenchless pipe rehabilitation. Per Aarsleff A/S develops, produces and installs CIPP and GRP solutions, as well as various types of PE pipe solutions. Per Aarsleff A/S's factory is capable of producing liners up to 2,200 mm in diameter.
Pure Technologies
Pure Technologies, Calgary, Alberta, Canada, and Columbia, Md., is a world leader in the delivery of non-destructive, continuous condition assessment and monitoring, dynamic risk and asset management for owners of water and wastewater pipelines. Pure provides a suite of proprietary technologies for leak detection, non-destructive condition assessment, asset risk management and advanced data analysis.
Robbins HDD LLC
Today, Universal HDD is a leader in design and manufacture of custom horizontal directional drills and equipment. With the introduction of the 2008 product line, we raised the standards for everyone else. Machines like UNI 24×40, UNI 60×70 and UNI 160×240 are the most powerful, reliable and toughest rigs on the market. In Russia, Universal HDD is represented by UNIRUS, an official dealer and distributor of our equipment.
Schonstedt Instrument Co.
Schonstedt Instrument Co. provides solutions for the detection and location of objects and phenomena below the surface of the ground or water. As a full business unit we design, manufacture, market and service instrumentation for surveyors, utilities (water, power, telecom, cable, sewer), ordnance removal, construction, excavation and exploration. Schonstedt specializes in instruments to locate iron and steel (ferrous) objects and pipes and cables (linear underground conductors).
Tracto-Technik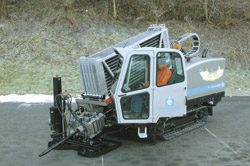 Tracto-Technik, together with its local partner MECHGRUNDOSTROY, will be introducing its latest technologies for the trenchless installation field at the International No-Dig 2008 Conference and Exhibition in Moscow. The Grundoburst technique was developed for the renewal of existing pipes. The technique allows for quick and effective working methods, thanks to the patented quick-lock rods. The product pallet has since been expanded to accommodate machines with 125 t and 250 t thrust and pulling force. Now pipes can be installed with almost any material and up to a diameter of 1,000 mm. The 125 t bore rig is equipped with a twin-thrust technique, which allows for uninterrupted insertion and pull-in of the bursting rods. Pipe relining and swage-lining is also possible with Grundoburst equipment.
Vermeer Corp.
The Vermeer D20x22 Series II Navigator horizontal directional drill is powered by an 83-hp Kubota diesel engine and provides 2,200 ft-lb of torque for turning cutting tools and pulling large backreamers. The Hydroburst HB160 static pipe bursting machine from HammerHead has the versatility to replace potable water, sewer and gas lines as small as 4-in. and the muscle to replace pipes as large as 24 in. The HB160 is designed with production in mind, and is capable of a two hour calculated burst time for a 400-ft burst including rod payout and pullback.
VMT GmbH
For the implementation of a successful curved and extended distance microtunneling project, reliable high precision underground navigation and structural analysis/real time monitoring of the jacked pipes are required. Up-to-date navigation methods including Gyro and Laser technology will be on display. These may be applied in remote systems without the need to expose site personnel to the dangers within the pipeline. These automatic navigation systems provide a continuous indication of the TBM position enabling early and appropriate steering actions to be taken should misalignment occur.
Volta
Volta Macchine Srl, Bolzano, Italy, was founded in 1991 as a specialized producer and wholesaler of accessories and machinery fit for laying telephone and electrical cables, pipes, and renewal and relining winches. The importance of Volta Macchine in the marketplace is achieved thanks to a competent staff of technicians who continue to better output, productivity, performance, efficiency and reliability of the company's products and who are able to make innovations and develop auxiliary equipment according to the needs of the customers.
WAGAMET Ag
WAGAMET Ag is oriented toward the design and development of new equipment in the fields of gas and water technology. The objective is to provide a comprehensive range of problem solving products involving gas and water in order to prevent costly gas and water losses, as well as consequential damage. All products are certified and meet all international and national standards.
Wolfgang Rausch GmbH & Co KG
The Wolfgang Rausch GmbH & Co KG develops, produces and supplies since 1982 with proven know-how and innovative ideas the high-tech equipment for the optical pipe and sewage inspection. Since March 2000, the company was the first manufacturer of TV inspection systems certified according to ISO 9001. Next to different TV inspection robot systems, the company also manufacturers systems for targeted part repairs of sewage pipes.


For more information and a complete list of exhibiting companies that will be at the Interenational No-Dig Conference, visit www.nodig2008.ru