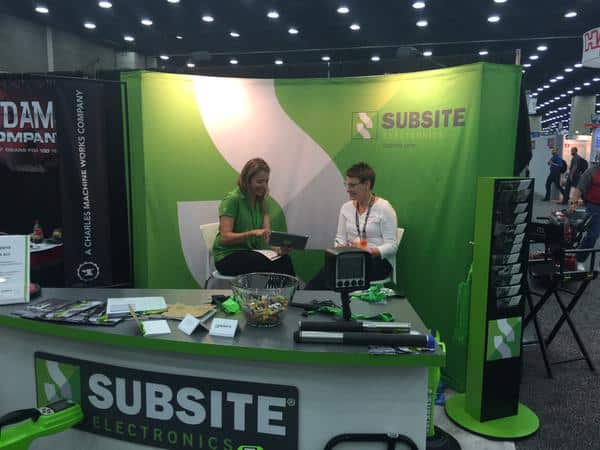 Day two at ICUEE 2015 in Louisville was a busy one for the
Trenchless Technology
and Benjamin Media staff. Between exciting talks on the ICUEE Demo Stage Presented by Benjamin Media and the rain letting up, we were constantly on our feet.
It was so busy in fact, we had to split our recap story into two parts. Be sure to check out the links below to our video blogs of the Ditch Witch FXT50 and RS MaxPatch (at the HammerHead) booth.
HammerHead Shows New Pipe Bursting Machine, Gas Slitting Technology
Our visit to the HammerHead booth gave us a chance to learn about a few new products this Wisconsin-based company produced for the rehab market. We spoke with HammerHead marketing manager Jason Haas to get the lowdown on these technologies.
The HydroBurst 100XT Static Pipe Bursting System is considered HammerHead's next generation of pipe bursting machines. The 100XT gives contractors 99 tons of pulling force for their sewer, water and gas line replacement jobs. The system sports a tethered remote control and with streamlined functions that pay out rod very quickly due to the pipe industry's first automated rod spinning assembly and unique design of its hydraulic cylinders.
The system has the ability to turn off the cylinders to decrease the tonnage its pulling, which in turn increases the production level. "We turned that power in speed," said HammerHead design engineer Adam Czuprynski.
The pulling machine's water-cooled PP4500 hydraulic powerpack with 72.7 hp Kubota engine pumps hydraulics fluid at up to 43.5 gpm and 4,500 psi. In 50-mode, the unit directs all hydraulic fluid to just two of the cylinders, which then can move twice as fast as in 100-ton mode.
Also on tap at the HammerHead booth was a demo of RS Technik's RS MaxPatch spot repair system. Check our video blog post about MaxPatch here.
HammerHead's new Same Path technology for gas line slitting will allow contractors to simultaneously decommission and replace – and even upsize – existing gas line mains and services safer, faster and more cost-effectively. Used together with its HydroGuide winches, breakaway pin kits and Subsite locator, the patent-pending Same Path tooling uses 3- to 20-ton winches to slit and replace 1/2 – to 4-in. diameter runs of PVC, HDPE, MDPE and Aldyl-A, reducing the risk of damage to adjacent utilities.
Haas said that this technology was developed through several years of collaborate engineering and field testing between HammerHead and PG&E and Southwest Gas, both of which are soon to give the technology their seal of approval.
Same Path slitting head and expander pairings less than half the length of bursting tools used to slit pipe. The combination of short length and flexible connection means the Smart Path slitting process always follows exactly in the path of the in situ pipe, regardless of meandering bends common in plastic gas line installations. Runs up to 400 ft have been completed using the technology.
Ditch Witch Shows Off Vacuum Excavator Line and Backreamers
There's a lot to talk about at the Ditch Witch booth from new drills, vacuum excavators to backreamers. We'll give you a glimpse of each through our visit with this HDD leader.
Seth Matthesen, senior HDD product manager at Ditch Witch walked us through its upgraded and Tier IV final smaller drill rigs: JT9, JT25, JT30 and JT-30AT. He noted that the tweaks to the machines have created more powerful and cost-effective machines The new Ditch Witch Tier 4 HDD models further increase customers' underground project productivity and competitiveness. Tier 4 engines are available on all models with the JT60 and JT100 coming in early 2016.
"We approached this engineering challenge by asking, 'What redesigns would most benefit our customers?' instead of focusing on how to quickly get Tier 4 models to market," said Matthesen. "The result is Tier 4 HDD models that not only meet customers' power and reliability requirements, but include customer-inspired enhancements that ease operation, service and productivity."
Ditch Witch product manager of HDD tooling and drill pipe Jeff Davis walked us through their new line of backreamers, designed to help underground construction operators improve productivity and tool durability on HDD jobsites. New to all model designs, the HD backreamers are now equipped with standard API threads to fit any industry drill under 100,000 lbs.
The new models include the Beavertail HD, Warthog HD, Kodiak HD and Compact Fluted HD backreamers. "The API treading is a universal thread, making the reamers compatible with all tooling instead of just Ditch Witch Tooling," Davis said.
To reduce friction and the possibility of jams while drilling, the Kodiak HD backreamer enables cuttings and fluid to flow over the product and out the bore hole by providing optional drilling fluid from the rear of the tool. Similar to the Kodiak HD design, the Compact Fluted HD backreamer reduces friction and the possibility of jamming by forcing fluid out the swivel plate. The improved heavy-duty casting design provides smooth pushback and maximum durability. Integrated swivel with a clevis or tab option reduce the possibility of binding by placing the produce closer to the reamer and eliminate the need for multiple connections between the drill and reamer.
The Ditch Witch MR90 is a self-contained unit that can mix and recycle drilling fluid—or "mud"—as well as handle spoils. By reclaiming, recycling and reusing drilling mud, drill operators can save on disposal and transport costs. The MR90 saves operators even more time and money because it's the only mud recycler on the market that can be transported full of fluid—one of many cost-efficient features that no competing models offer.
The 25-hp MR90 is equipped with a hydraulic pit pump that provides more than enough mud for recycling. Pump hydraulics can be controlled by an optional remote control, an exclusive Ditch Witch feature, which can simplify operation for smaller directional drill crews. Another exclusive MR90 feature is an automatic pit pump control that is designed to prevent overflow.
The MR90 is the most compact cleaning package on the market that can meet the demands of standard-size directional drills. The unit plus its optional, 14,000-GVWR trailer may be pulled by some 3/4-ton trucks. The trailer features integral tool storage that holds all operational components.
The MR90 is equipped with a 110-gal clean tank and a 340-gal first-pass mud tank. Each tank has a 3-in. connection at the drain for vacuuming out mud, to minimize jobsite cleanup. The MR90 also includes a 300-gal fresh water tank to provide extra drilling fluid capacity and support for equipment cleanup, along with a high-pressure wash pump.
The Ditch Witch FXT50 Air Vacuum Excavator features a dual air pressure system that allows the operator to switch instantly from high pressure for excavating jobs to low pressure for use of auxiliary air tools.
There's the increased CFM and pressure which promotes performance and productivity. There's PTO driven air compressor that provides air on-demand and also a choice of air systems. And there's a ton more, but instead of us telling you, let product manager Jason Proctor guide you around the vehicle in the video above.
To learn about the FXT50 Air Vacuum Excavator, check out our video blog at this link.
Barbco Produces the PitBoss CommandAir Blower
The team at Barbco has partnered with U.S. Shoring and Equipment to produce a ventilation blower that fills a much-needed void in large diameter confined space construction, such as utility tunneling.
The PitBoss CommandAir30 is a 24,000-cfm confined space blower designed to accommodate most non-hazardous confined space ventilation requirements by pumping in fresh air.
The blowers are adjustable from 12 to 24 in. ducts.
Barbco makes the machines and they are distributed by U.S. Shoring and Equipment, the construction manufacturer's exclusive dealer. Barbco also makes the PitGuard Rail and Bridge, which makes the jobsite safer for workers.
"We've been working on this for more than a year," said Chad Penley of U.S. Shoring and Equipment. "The feedback has been fantastic. This definitely fills a need for large diameter blowers."
Thanks for reading Part 2 of our day two recap of ICUEE 2015. In the event that you missed
Part 1, you can read it at this link.