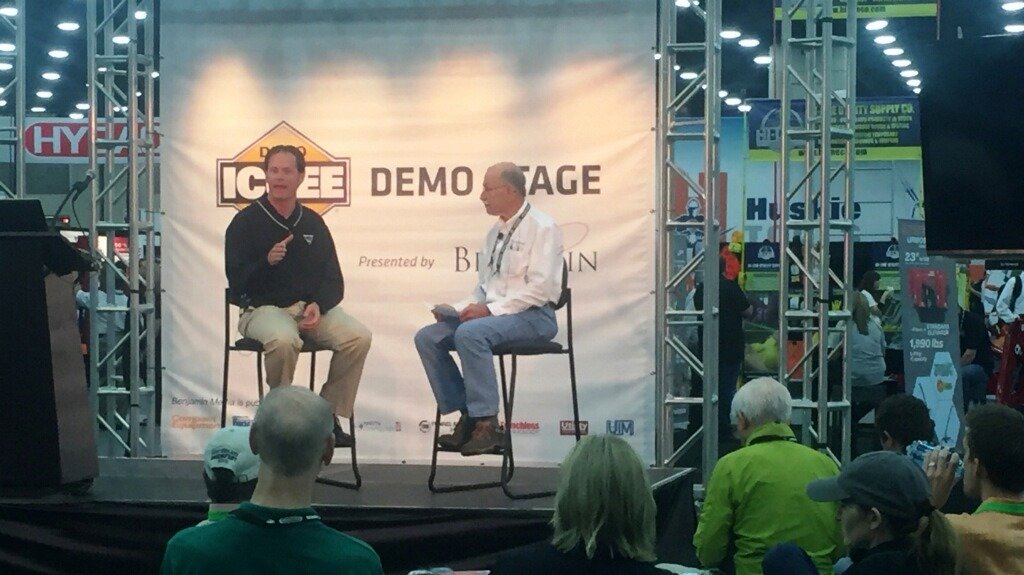 ICUEE 2015 had plenty to offer attendees Wednesday with the outdoor demos finally able to get into full swing after the rain finally left Louisville by midday. For the first day and a half, the indoor exhibits – as well as the ICUEE Demo Stage Presented by Benjamin Media – benefited from the soggy weather as waterlogged attendees stayed inside. But the sounds of engines roaring and hammers pounding returned outside on Wednesday afternoon, allowing construction manufacturers to show eager and curious potential customers firsthand how their equipment operates.
I spoke with Pat Monroe, public relations manager at the Association of Equipment Manufacturers (AEM), which owns the ICUEE Show, asking how attendance has fared for the show through two days. Monroe said the 2015 event was the largest thus far with more than 18,000 attendees.
The Demo Stage continued to be a popular spot for attendees to learn about the latest in a variety of topics. Trenchless technology was front and center on the Wednesday schedule with Jim Wiest of Michael J. Byrne and Dr. Sam Ariaratnam, representing NASTT, give great presentations and insight. BMI president Bernie Krzys sat down for a one-on-one interview with soon-to-be Vermeer CEO Jason Andringa, discussing a variety of topics and attracting the biggest crowd of the Demo Stage day.
Trenchless Technology
took in several trenchless hot spots Wednesday, getting great looks at what HDD industry top dogs Ditch Witch and Vermeer have to offer, as well other key players in the trenchless industry, such as HammerHead, McLaughlin and The Robbins Co., among others. Below is a snapshot of some of the cool equipment we took in.
McLaughlin Mfg. Shows Off New Vacuum Excavators
Wednesday started off bright and early with a before-show media event at the McLaughlin Mfg. outdoor booth. McLaughlin Midwest regional manager Cody Meacham took construction editors on a tour of the company's latest vacuum excavating equipment, including its MegaVac VX200.
The MegaVac VX200 is a new truck-mounted vacuum excavator series that fills a hole in the market by giving utility contractors productive potholing at an affordable package price, with the capacity and power they need to stay on the job longer, Meacham said.
The 6-in. vacuum excavator series features spoil tank capacities ranging from 1,200 to 3,000 gals and a standard option of 800 gals of fresh water. It has a 6-in. hose diameter with a 3,200 cfm blower at 18 in. of mercury.
The MEGA VX200 6-in. series was designed after listening to customers who said they wanted a vacuum excavator for their potholing jobs and fluid management needs that fills a gap between smaller trailer-mounted vacuum excavators and the largest truck-mounted units.
"It has really been the customers who have shaped the specifications of this vacuum excavator," says McLaughlin president Jeff Wage. "The MEGA VX200 will help them be more productive and, with the options for spoil tank capacity, stay on the job longer while reducing time away from the jobsite dumping spoils. It also has the reliability they need and is supported by the extensive Vermeer global dealer network."
The MEGA VX200 is powered by a 200-hp John Deere Tier 3 engine. The system features the McLaughlin industry-exclusive 3-stage cyclonic filtration system that allows for both wet and dry vacuum excavation while prolonging filter life and helping to keep maintenance costs low. Additionally, the McLaughlin patented cam-over hydraulic rear door provides a 360-degree positive seal, without additional clamping requirements to keep fluids securely in the debris tank. No components are inside the tank, so maintenance is external.
This vacuum excavator will be available this fall through the Vermeer global dealer network.
McLaughlin also showed its new Hole Hammer piercing tool, which has a moving head and positive turn rear-end, a combination that is perfect for aggressive conditions. This tool is available in 2 ½ and 3 in.
Vermeer Talks HDD Rigs
We had planned to bring you the latest in Vermeer's HDD fleet earlier, but heavy rains forced us to postpone our visit on Tuesday. We met up with Vermeer product manager of trenchless products Tod Michael Wednesday morning, learning about a couple of the rig maker's pipeline drills, D60x90 S3 and D220x300.
With the launch of the D60x90 S3 Navigator horizontal directional drill (HDD), Vermeer has extended its S3 drill portfolio to meet the needs of contractors whose projects cross over between the large underground utility and small pipeline installation markets. Asked to describe the D60x90 S3, Michael said: "Speed, simplicity and sound."
In June, Vermeer introduced its D23X30, D24X40 and the D40X55 S3 drills with a media preview at the company's headquarters in Pella, Iowa.
Check out assistant editor Mike Kezdi's coverage of the Vermeer S3 drills here.
With 60,000 lbs of thrust/pullback and 9,000 ft-lbs of rotational torque, contractors can use the D60x90 S3 to install long shots of large fiber bundles; gas distribution lines; smaller diameter pipeline crossings; and water lines in crowded, urban areas requiring a smaller footprint.
Powered by a Caterpillar Tier 4 Final diesel engine, the D60x90 S3 offers a 17-hp boost — from 185 to 202 hp — compared to its Series II predecessor, for increased speed and jobsite productivity.
"Because we have more horsepower available to run the rotation, thrust and mud functions on the drill, we expect exceptional performance from the D60x90 S3," Michael said.
A 107 dBA guaranteed sound power level and an operator ear rating of 82 dBA make this drill 10 points quieter than its predecessor — which makes for a quieter working environment with less neighborhood disturbance and easier communication among the crew. The D60x90 S3 has rubber-covered steel tracks — like its smaller S3 counterparts — to reduce impact in urban jobsites.
Common controls on the Vermeer S3 models can simplify operator training and make it easier for operators to transition from one S3 drill to another. The common control system includes the digital display, improved onboard diagnostics and joystick controls. A DigiTrak Aurora interactive, full-color touch-screen display delivers real-time, easy-to-view locate information and more to help increase operator productivity. In early 2016, on-rig bore planning will be released.
An onboard self-diagnostic system empowers contractors to make machine adjustments when required and helps to maximize productivity. The InSite Fleet remote monitoring system comes standard on the D60x90 S3.
Check out this video blog about the Insite Tooling on our Website: Vermeer Explains New InSite Productivity Tools for HDD Contractors at ICUEE
For added versatility, there are two drill rod options available on the D60x90 S3: a 2.875-in. diameter, 15-ft Firestick or a 3.5-in. diameter, 15-ft Firestick. The D60x90 S3 can carry 600 ft of 2.875-in. drill rods — more than most competitive drill offerings — enabling contractors to complete longer shots more efficiently.
The Vermeer D60x90 S3 Navigator HDD will be available in December 2015.
The Robbins Co. Unveils Its Remotely Controlled Small Boring Unit
Though The Robbins Co. didn't bring its new 36-in. remotely controlled small boring unit (SBU) to ICUEE, the company can't say enough about the SBU it describes as a game-changer for the trenchless industry.
"This is something we have built for years but is now in a compact model," said Robbins Co. SBU product manager Ken Clever of this latest SBU entry. Prior to this new model, the smallest diameter SBU was 48 in. With the much smaller diameter, there's no man entry; the machine is remotely operated and controlled on the surface.
Check out this video blog with Clever discussing the SBU-RC.
The SBU-RC is an unmanned, articulated mixed ground and hard rock boring machine for use with the standard auger boring machines (ABMs) or pipe jacking systems. The system is made for line-and-grade sensitive crossings and small diameter crossings, as well as longer crossings up to 500 ft. Clever said the SBU-RC is a cost-effective alternative to microtunneling in hard rock.
To excavate the material, a circular cutterhead mounted with disc cutters fractures hard rock in to chips. Spoils are removed using a tube connected to a vacuum truck. The SBU-RC incorporates a smart guidance system by TACS, installed in an operator's station at the surface, which shows an operator future projections of the future bore path so steering corrections can be made before the machine is out of line and grade.
Right now, Robbins has a prototype machine but can build to order.
Because we saw so many cool things on Wednesday, we had to split our recap into two parts. Follow this link for the exciting conclusion of
"ICUEE Day Two: A Trenchless Technology Recap."
Until then, there are still things to see at ICUEE 2015, so keep track of our activities by following
@TrenchlessTech
on Twitter for periodic updates throughout the day.