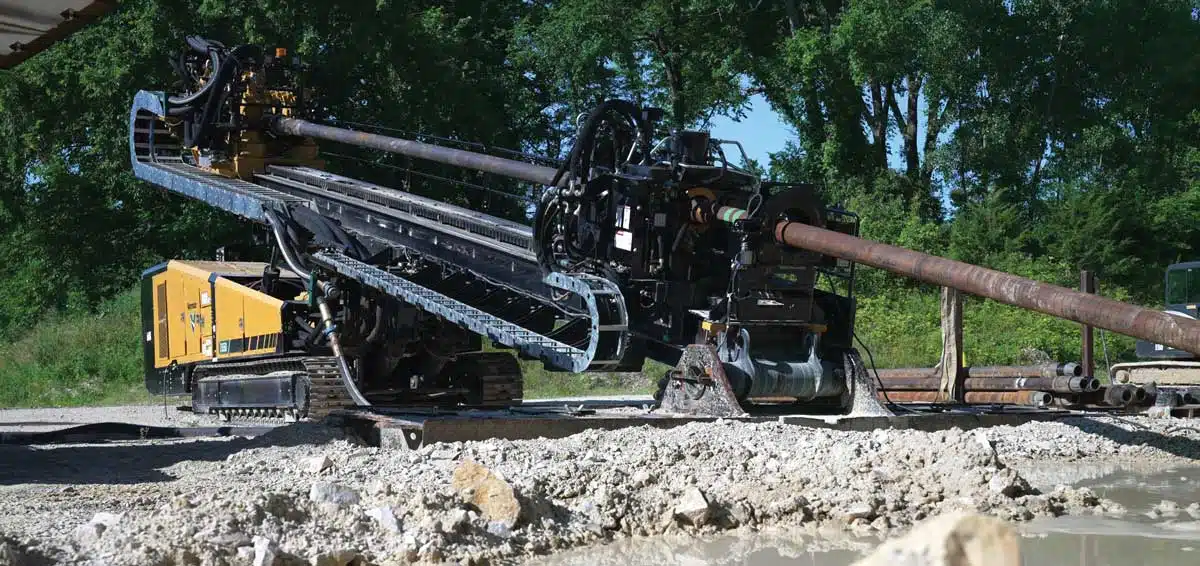 Things are looking positive, strong and steady for the horizontal directional drilling (HDD) market these days, whether the work involves compact, midsize or maxi rig work. When's the last time all three market segments were in such good places?
On the compact and midsize side, HDD contractors are continuing to feast on the smaller size projects, led by the telecom and fiber-optic sectors. For maxi riggers, there has been a resurgence in recent years, with increases in bidding projects, expansion into new market segments and more projects getting under way, much to the delight of the manufacturers and contractors that occupy space in the big rig market.
Historically, maxi rig work has been dominated and impacted (for better or worse) by the cyclical oil and gas industries; however, today, maxi rig work is being driven by the push into renewal energy, carbon capture, large diameters and even some fiber-optic and telecom work. This uptick and expansion has given manufacturers and contractors a bounce in their step and a confidence in their forecasts when talking about the present and future of maxi rig work.
We reached out to a few HDD rig manufacturers and contractors for their insight on the strengths and weaknesses of the maxi rig market, as well as the latest trends they are seeing.
Maxi Rig Work Uptick
Overall, the word is that maxi rig work has picked up in recent years, after being slowed a few years back by the oil and gas downturn. Even as that work has started to return, other doors opened for large diameter work, gaining interest and strength in renewable energy, offshore wind farms and carbon capture pipelines, among others.
"Maxi HDD has demonstrated tremendous resilience in traditional oil and gas markets," says Vermeer Pipeline sales manager Andy Bremner. "New market factors are driving growth in renewable transmission, infrastructure supporting data centers and water and sewer. All of which are seeing significant investments from both the public and private sectors. There is a lot of activity across the market, with plenty of domestic government funding and substantial growth projected."
Josh Ugrich is president of Minnesota-based contractor North Country Directional Drilling and he sees a lot of positives in the maxi rig market for 2023 and going forward. "In 2022, we started to see there may be large diameter pipe coming back through budgetary quotes, constructability reviews and word of mouth," he explains. "Now in 2023, the reality of large diameter pipeline is present and NCDD has had a part in that by installing numerous 36-in. lines. Looking into the future, between recent bids, constructability reviews and meetings, the push for large diameter pipe is here to stay, for a little bit anyway, where utilizing maxi rigs is a requirement for success.
"We see this trend frequently, though, [and] we also realize that this is typically always a roller coaster trend," he adds. "But between the large diameter pipe scheduled in the Southern portion of the country and plans in place for carbon capture, the need for the large maxi rigs is relevant in today's industry."
The American Augers team has seen a stronger 2023 for the big rigs, as well, most notably HDD rigs in the 100,000- to 250,000-lb range for fiber-optic installs in urban corridors.
"As the demand for fiber-optics continues to rise, maxi rig projects are increasingly being used in urban areas, presenting additional challenges in already congested jobsites," says American Augers product manager Richard Levings. "Contractors working on compact sites face significant concerns regarding equipment size and weight restrictions. These limitations make it difficult to accommodate the extra equipment necessary to support maxi rigs. Because of this, the maxi HDD industry has been adapting and evolving to address these challenges. One notable development is the increasing reliance on telematics and insights by operators to gain better visibility into their operations, resulting in a more productive and efficient process."
Cory Baker is chief operating officer at HardRock Infrastructure, a Texas-based contractor. Baker sees a lot of growth in the market, with the potential for even more to come, with contractors navigating larger diameters and longer lengths. He describes the current outlook as an exciting time to be in HDD. He tempers that excitement, pointing to a few areas that are negatively impacting maxi rig work: pricing and labor struggles.
"The bad part of our market is pricing. We have seen all our consumables go up from the actual rig to drilling mud and everything in between," Baker says. "The market has not allowed us to go up in price, but it has demanded more in safety and project management. With crossings getting longer and bigger, of course the risk and cost goes up as well and hopefully we will see a trend for the opportunity for our prices to go up."
All agree that the struggle for finding, hiring and retaining qualified workers for the HDD sector has not gotten any easier — it's been a challenge across the construction industry for many years. So, how can HDD make inroads in this industrywide problem?
Baker and Ugrich offer some insight as they work to build their crews. Ugrich suggests that the industry needs to adopt a multi-faceted approach in attracting qualified operators to their ranks.
"This includes investing in training programs, promoting the industry, providing apprenticeship opportunities, offering competitive incentives and collaborating with educational institutions," he says. "These efforts can help address the shortage of skilled operators and ensure the availability of qualified personnel will be available in the years to come."
Baker has been frustrated with the search for growing the horizontal directional drilling workforce, explaining that HardRock's part, the company has offered incentives and increased pay to no avail in retaining qualified and reliable crewmembers.
"We have increased benefits and hourly wages and we still cannot find quality labor who can come in and learn our trade," he says. "At HardRock, we are managed by guys who worked their way up from the bottom. I always say there is so much opportunity in our industry and our next CEO and COO are already working out there in the field. We must find a way to make HDD sexy again to bring attention to our industry and get the youth back involved."
HDD Market Growth
Our panel sees promising pockets of growth for maxi rig work and specifically point to renewable energy, carbon capture, undergrounding, fiber, and water and sewer.
Bremner notes that in North America, several utilities have begun to harden the electrical grid to improve reliability and resiliency. He also says that outside of North America, such as Europe, there is a push toward renewable energy that requires underground infrastructure to support electrical transmission and distribution. "With a lot of power being placed underground, these projects often require 100,000-lb [rigs] or larger," he says.
Baker and Ugrich both note the uptick in large diameter work as a critical cog in the horizontal directional drilling wheel, as well as the increased and commonality of intersect crossings. "The big movement in the maxi rig industry is the amount of 30-in. and larger pipe being installed currently," Baker says. "This is brought on by the increased demand for natural gas pipelines. The other big movement you are seeing is the increased number of intersects that occurring. This is due to the longer crossings being designed and the environmental factor using hydro fracture analysis to determine the amount of pressure the over burden soil can handle."
"We have also noticed a large demand for intersect method pilots with maxi rigs," adds Ugrich. "This style of pilot construction has become more and more common and does provide some flexibility for the contractor during the construction of the pilot and even so while reaming the hole, depending on the size of the ream pass and formations down hole encountered."
Horizontal Directional Drills and Electrification
Success of electrification and hybridization of the HDD market depends on various factors, such as technological advancements, cost considerations, infrastructure development and regulatory frameworks. But the positive impact of electrification and hybridization is tipping the scale toward moving in this direction.
"Lower environmental impacts, minimizing noise pollution and regulations are leading factors for adoption as the industry adapts to the changing landscape," Levings says. "For example, electrification can lead to reduced carbon emissions and lower environmental impact compared to traditional diesel-powered equipment. The use of electric or hybrid systems can contribute to cleaner air quality and support sustainability initiatives."
Ugrich adds that as governments and industries continue to prioritize renewable energy projects, such as undergrounding cables for wind and solar farms, the demand for environmentally friendly HDD solutions and equipment grows with it.
"It's very possible that the electrification and hybridization of HDD equipment could have a positive impact such as through environmental sustainability, cost-savings with fuel, reduced noise and vibrations and improved efficiency," he says, cautioning there may be some negative aspects to this as most of the work is away from available power sources. "There will definitely need to be more studies and baseline testing to see how it will truly shape the future of the industry."
Baker believes electrification/hybridization to be the horizontal directional drilling industry's future, noting that the HardRock team is studying how electric rigs will benefit their business.
"Just imagine if on municipal projects in town that you could take a drop from the grid and run your rig with nearly no decibels," Baker says. "This to me is the future. I do believe the manufacturers have some more work to do to be able to take power from the grid with the inconsistent power that goes through the grid. When we reach this point, I do believe that the electric rig will take over this work."