Today's underground construction operators are continuously looking for ways to work smarter and do more with less. Challenged with workforce shortages, difficult underground terrains and congested jobsites, productivity is paramount to a successful jobsite.
To help combat some of these challenges, contractors are looking to their equipment to help them stay productive. One machine that is proving to keep operators efficient is horizontal directional drills (HDD). To help boost performance and uptime, without compromising jobsite footprint, contractors are filling their fleets with horizontal directional drills (HDD). And Oklahoma-based B&H Construction is no exception.
Headquartered in Goldsby, Oklahoma, B&H Construction specializes in horizontal boring for utility installation and rehabilitation. Since 1981, the company has been supplying gas and fiber connections to municipalities, corporations and residential customers throughout Oklahoma and northern Texas.
"Over the years, utility projects have continued to grow, whether it be through new construction or rehabilitation work," said B&H Construction owner Donnie Beller. "Now on any given day, we typically have close to 25 directional drill rigs running on various jobs, and we continue to look for and evaluate new drills to add to our fleet."
To meet various customer and jobsite needs, the company has long operated a broad range of horizontal directional drills – from small and compact to larger, more powerful HDDs. But in recent years, the company has learned the two drill categories are no longer mutually exclusive.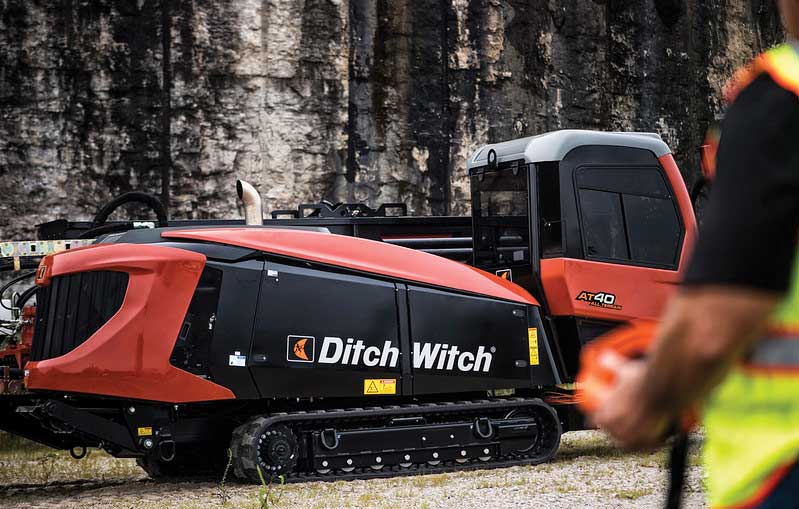 City Challenges
Oklahoma and Texas are home to an assortment of arid plains and mountains, consisting of diverse terrains made up of hard soils, clays and rock. Historically, these conditions have caused challenges for HDD operators – impacting productivity.
"On many of our projects we end up working through multiple soil types, typically getting harder and more difficult the deeper we dig," said B&H Construction drill supervisor Steve Crossland. "Often, we'll need to change tooling as we encounter new ground conditions, or if we encounter hard rock, we may even bring in a larger machine and a mud motor. The time it takes to switchover eats into our productivity."
In addition, the company has started working on more installation projects in urban areas on the Northeast side of Oklahoma City. Encountering hard rock or soil is more frequent in this area of the state. Adding to the challenge of tougher ground conditions, urban projects offer little extra space for setup on a project. So, running a large drill or full mud system is difficult in space-restricted areas.
To help meet these challenging ground conditions and jobsite requirements, the company needed a small drill that would not compromise power, efficiency and performance.
Small, Yet Mighty HDD
In 2018, Beller and his team tested a Ditch Witch AT40 All Terrain directional drill. Offering 160-hp and delivering 40,000 lbs of thrust and pullback, the drill has the power to accomplish a wide range of projects in a variety of ground conditions, helping the B&H construction team see increased jobsite cycle times. Additionally, the drill's compact size proved beneficial in urban areas as it could also comfortably fit within a small, compact jobsite where other larger drills could not.
All Terrain (AT) technology utilizes power from the drill instead of sending mud downhole, so it doesn't require the mud systems or other support equipment required by traditional drills. The drill only requires a fluid management system to flush out debris from the bore, which opened up the opportunity to use much less drilling fluid than is needed with typical mud motors. The AT technology also helps improve operator steering and efficiency in hard-to-navigate ground conditions like hard rock, soil and cobble.
"The AT40 performed great in the hard ground conditions my team encountered and was easy to tow anywhere in the city and maneuver around small jobsites," added Beller. "Once they realized we would no longer need to use the big mud systems, it was a no-brainer to purchase more. We now have three AT40 units in our fleet.".
B&H Construction has seen noticeable improvements in jobsite productivity since running the AT40 HDD units. And having one machine to dig through a variety of ground conditions without extra support systems or changing out tooling/systems in the middle of a project has proved invaluable and boosted HDD uptime. Furthermore, the AT capabilities have allowed the B&H Construction team to dig longer bores more quickly and efficiently.
"On one installation project, we bored through solid rock an unprecedented distance in just three days. This distance typically would have taken us a week to a week-and-a-half using a traditional drill and mud motor," said Crossland.
Operator Efficiencies
Beyond productivity gains, B&H operators have also found benefits from the drill's modern operator cab. With boosted operator comfort inside the cab and extensive visibility of drilling operations, the AT40 was specifically designed with the HDD operator in mind. To further improve operator efficiency, the AT40 incorporates an ergonomic two-stick control.
"The control makes it easier for our team to train new operators and help transition operators from other competitive units to the AT40. It's important to have equipment that any of our operators can use to promote uptime," added Crossland.
Seth Matthesen is category manager, horizontal directional drilling at Ditch Witch.