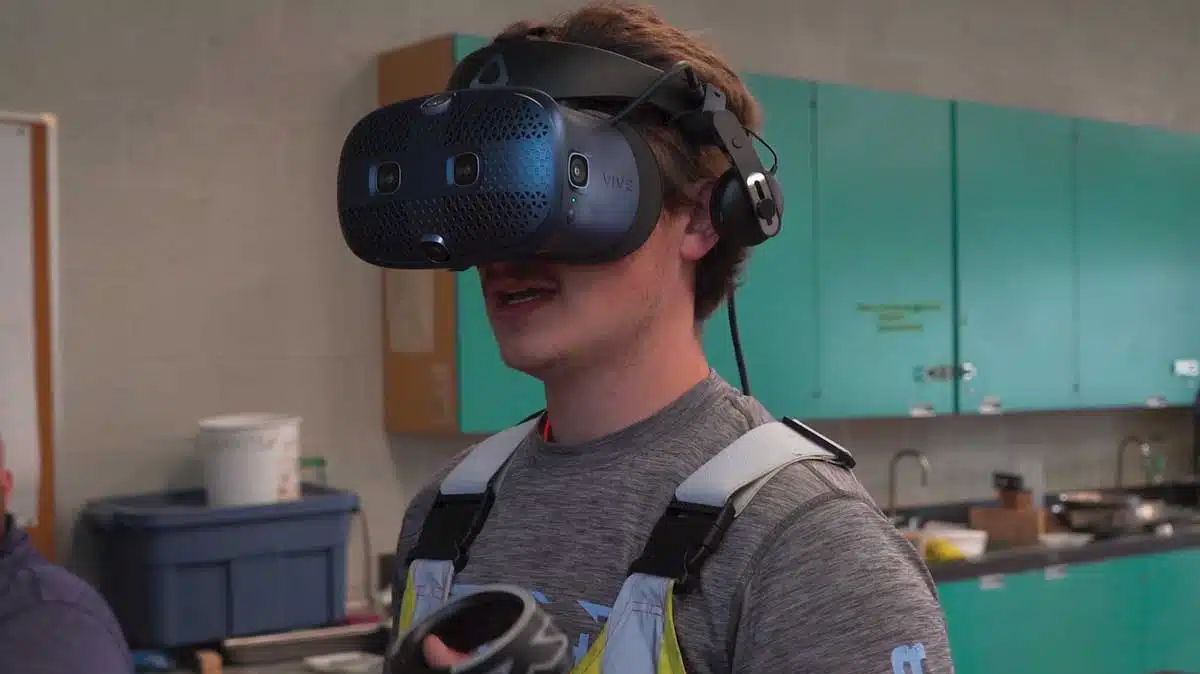 When it comes to horizontal directional drilling (HDD) a common refrain from contractors and project owners alike is a lack of qualified workers. One program in Ontario — the Fleming College Resources Drilling Technician program — has sought to change that for the last 23 years.
The two-year college program is the only one in Canada that provides training on all facets of drilling and at completion students receive an Ontario College Diploma. During their time at Fleming, students learn the theory, techniques and methods relating to each type of drilling. The hybrid program emphasizes safe working practices and students spend time in the classroom and hands-on with a full range of drilling equipment.
"Our first class graduated in 1978," said Tania Clerac, dean of Fleming College's School of Environmental and Natural Resource Sciences. "We have a long history of supporting most of the drilling sectors with our graduates. It's been thriving and growing as a course."
"We have a winning formula that's been proven and that is very much our applied learning approach," Clerac continued. "Two-thirds of the program is applied learning in the field and it builds a strong foundation. We can produce students who work safely and are trainable."
The HDD portion of the course — taught in the third semester — has benefited from donations from systems owners and manufacturers alike to make sure the students have hands-on training opportunities in class.
While working in the field at a dedicated area at Fleming's Frost Campus, students work with a Ditch Witch JT2020 Mach 1 directional drill and Subsite locating system donated several years ago by Enbridge Gas. However, with approximately 40 students going through the program, having only one HDD rig can lead to some downtime as students wait their turn to learn.
The HDD training was recently taken to the next level with the addition of state-of-the-art training systems from Digital Control Inc. (DCI) and Vermeer Canada. On the Vermeer side, the school received a Vermeer HDD Training Simulator and from DCI, two Aurora Vision virtual reality (VR) training systems. The latter provides VR training on DCI's DigiTrak Locating System.
"Vermeer Canada and DCI's two VR systems have brought the program to the next level," said Clerac. "The students have work boots on and are working the field and now we have the ability to augment that training with the VR systems."
Joshua Spray, DCI's territory manager for the northeast United States and the eastern half of Canada, found out about that program from his contact at Vermeer Canada and made the trip to Fleming College campus to have a look.
"A specialist at Vermeer Canada knew Fleming was using older equipment that wasn't up to speed with what we are using in the field today," Spray says. "He asked me if I would be interested in coming up to Fleming to talk to them about getting the equipment updated and help advance the program. That sounded like a great idea."
Things escalated quickly from there.
Spray spent time getting to know the program and even guest lecturing an HDD class on locating using a DCI Falcon F5 unit. After this, the discussions began with Fleming College and internally at DCI about adding the VR component.
"Most people are not really aware of the virtual reality training simulator that we have. It's relatively new to the market, so I brought it up to them that it might be something that would work," Spray says. "My original thought was that the college would buy one, but after talking to the people in the office [at DCI] we decided that we had a couple demo units and it would be a better idea to loan them the equipment for their use as long as they want them."
The DCI donation also includes a Falcon F5 locating system with Aurora monitor and a TeraTrak R1 topography and bore planning system to give the students the most up-to-date equipment to use in the field.
"They did a great job creating their own room for the VR piece in addition to an already built space for other simulators," said Spray. "The DCI VR sets are in a fish tank looking room where students who are walking by can see the students who are engaged in the virtual reality system and there are monitors outside that they can see what the students are doing in the virtual reality program."
Both Clerac and Spray agree that the industry benefits from a program like Fleming College's because the students — soon to be new hires — receive proper first-person training, compared to second-hand training from someone on the crew. It's also important for companies to be involved.
"Being able to be involved with schools like Fleming College and teach students the correct way to do things is important," said Spray. "One, if you're not learning it the right way, you are opening yourself up to a lot of liability and pain in the long run. Two, it makes your job a whole lot easier whenever you know the correct way to do something you have a lot less problems."
On a more internal perspective, for DCI, being involved with the school helps get the company's name out there and visible with the students, Spray notes. "When they get out into the real world this is what they'll know and be trained on," he says. "This means they will be comfortable with our systems which makes them more marketable to the companies using our equipment. Or it could lead them to ask the company they work for to purchase our equipment."
"I think it's definitely mutually beneficial," said Clerac. "If anyone is interested in supporting our program, please reach out."
On Fleming College's wish list is a newer HDD rig with 20,000 lbs of pullback. For more information about the program or how you can get involved, contact Jim Smith, program coordinator, at jim.smith@flemingcollege.ca.
Advancing Women in the Trades
DCI's generosity didn't end with the hands-on equipment and VR donations.
While coordinating the equipment donation, Spray connected with Fleming College about a scholarship donation to help a student attend the program.
DCI answered with the DCI Award for Excellence in HDD, a $1,000 scholarship.
"We are grateful for DCI's generosity and support for students," said Fleming College President Maureen Adamson. "It is clear that DCI believes in what we are doing at Fleming and this scholarship is an important step in helping more students succeed."
Several female DCI employees have stepped up to mentor students in the college's Building Bridges for Women in Trades and Technology program. This program aims to help close the gap between the number of skilled tradespeople and the growing demand for workers by focusing on recruiting female students.
"To my knowledge there isn't a program like this in the United States when it comes to actively trying to get women into the trades," said Spray. "This is a really important step for us and for the industry as whole to support that."
Spray noted that the DCI team is incredibly supportive of the initiative and eight female employees have stepped up to become mentors to students in the Building Bridges Program at Fleming College.
"They are excited to help them guide their way through their first steps into the industry which can be kind of an intimidating spot when it is generally a male-dominated industry," he said.