In honor of our 25th anniversary, we are compiling monthly lists of some of the fun, interesting or important things we have learned along the way.

So far, we covered the top trenchless innovations – Top Innovations That Drove the Growth of the Trenchless Industry – and our publisher's top trenchless travel destinations – Bernie Krzys' Top 15 Trenchless Travels.

For our March list, we decided to go down a more fun path and cover some of our favorite mascots related to the trenchless industry. Some we have written about, others we have helped promote and some we've helped auction off (in the case of a fairly popular Sewer Rat at NASTT's Educational Auction at the No-Dig Show). Without further ado, here is our countdown of Eight Great Trenchless Mascots.
Enjoy the third installment of our Trenchless Technology lists, marking our 25th anniversary. For our April list – publishing April 26 – we will highlight the top trenchless cities—and there are lot of great trenchless cities out there to choose from. Any preferences? If you have some thoughts to help us decide which cities to select, email Mike Kezdi, associate editor, at mkezdi@benjaminmedia.com.

8) The Mascots of Safe Digging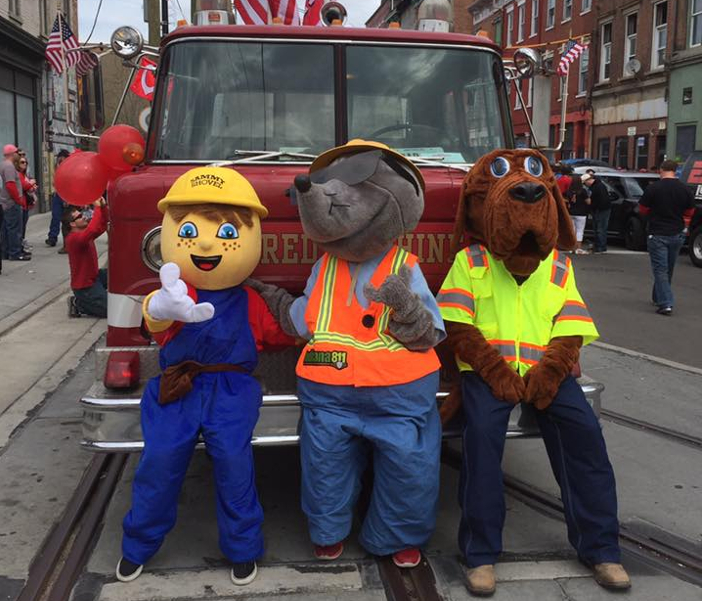 April is right around the corner and that means it is Safe Digging Month. We have a trio of safe digging mascots at the 2016 Findlay Market Parade in honor of Cincinnati Reds opening day. From left, Sammy Shovel, Ohio Utilities Protection Services (O.U.P.S.); Holey Moley, Indiana Safe Digging; and Blood Hound Underground Utility Locators' bloodhound mascot.
7) Matt's Timberlands
While we are not sure if Ted Berry Co. Inc. has an actual mascot, we have an idea. Matt Timberlake is known for his #drainspotting on Twitter, so frequent are photos of the tips of his shoes and a sewer grate or manhole that we suggest, free of charge, Matt's Timberlands as the mascot.

6) Promoting Clean Water
We offer this two-for-the-price of deal – Niles the Crocodile representing the Water Environment Federation and DC Water's Wendy Waterdrop at the Rally for Water in Washington, D.C., during Water Week 2017. Both represent the water industry well.
5) Grundy Mole
Wayne and Garth aren't the only stars from Aurora, Ill. Grundy Mole is known around North America as the mascot for TT Technologies. Grundy and his friends are shown here representing World Trenchless Day 2016. FYI, World Trenchless Day 2017 is Sept. 28. Be sure to check out worldtrenchlessday.org for more information.

4) Representing Perry
While one half of this photo isn't trenchless related, it certainly checks all the boxes for a great mascot. The Ditch Witch Super Witch VII is a tricked-out Ditch Witch RT95 with a 502-cubic-in., 850-hp Chevy engine under the hood. On the right is the new Ditch Witch JT40 HDD, as you can see the Ditch Witch crescent moon logo is prevalent on the JT40 and the entire Ditch Witch product line.

3) Our Friend Wally
While there are many great waterdrop mascots, there is only one that shares our Northeast Ohio roots. Wally Waterdrop is known and loved by many in our neck of the woods as the mascot for the Northeast Ohio Regional Sewer District. Here we see Wally at sewer district's annual open house event mingling with his friends.

2) Mortimer
Each year one, sometimes two, lucky businesses in the trenchless industry get a chance to host Mortimer, NASTT's sewer rat. Mortimer's travels are well documented and the right to host him is part of the annual NASTT No-Dig Show Educational Fund Auction. The goal of the auction this year is to break the $1 million mark. Who is going to take Mortimer for the year? Find out at the show.

1) Emilio the Fish
Meet Emilio, he tops our list of Eight Great Trenchless Mascots because he is our mascot. Well not Trenchless Technology's per se, but Benjamin Media as a whole. While Emilio represents our sister publication Water Finance & Management, everyone at Benjamin Media Inc. has taken this lovable gold fish as our own.