New technologies are constantly reinventing the way underground construction is approached. It's not a brand new trend, but it's certainly an ever-evolving one.
Across the trenchless industry, new technology is being applied in both the areas of new installation and rehabilitation work. But with many cities' budgets for infrastructure work still stretched thin, utilities are looking for ways to save money and implement the proper condition assessment initiatives before rehab or replacement is even discussed. Cue the pipeline inspection equipment.  
Inspection equipment is a prime example of the technological growth in the trenchless industry. Much in the same way the average person would prefer to own a 60-in. plasma flat screen and enjoy high-definition capability, cities want the best inspection equipment available to help it determine the condition of infrastructure in order to implement the right solution.
From the manufacturing perspective, knowing what the customer needs to be able to make those decisions is exactly the type of attitude CUES Inc., a manufacturer of pipeline inspection equipment, rehabilitation equipment and decision support software, has worked to cultivate for a half-century. CUES knows the importance of commitment to customers, and according to company officials, that has helped the company continue its vision of growth as it celebrates 50 years in business in 2014.
Company History
CUES has been in business since the early 1960s when Penetryn Systems, a company involved in the restoration of railroad bridges, formed a sewer division that eventually expanded into providing services for the inspection, cleaning and grouting of sewers. Based on the work the company was doing, it soon realized the market potential in municipal sewer inspection and rehabilitation, and formed CUES — an acronym for Community Utility Equipment Supply.
Today, CUES is a global manufacturer of closed circuit television video (CCTV) inspection equipment and rehab equipment, such as joint sealing, lateral reinstatement cutters and grouting systems. The company also manufactures pipe profiling equipment and is regularly engaged in the design, manufacturing and support for the widely used Granite XP decision support software system for sanitary and storm sewers, industrial process lines and water lines.
CUES' headquarters and 70,000-sq ft manufacturing facility are located in Orlando, Fla. The company employs more than 240 workers and has additional facilities with stocking warehouses and service personnel located in southern and northern California, Atlanta and Toronto. 
Despite the company's undeniable growth, CUES' efforts to remain a key player in the inspection equipment market weren't always successful. Ownership has changed hands a few times over the years and in the early 1990s, the company suffered record losses. What followed was a major housecleaning with that resulted in a reduced workforce and new management led by current CEO Sandy Milley.
Without hesitation, CUES employees point to the efforts of Milley and the renewed focus on high-quality product development and customer service as the reason for the company's resurgence and success today.
"At the time Sandy came in, the business appeared to be doing fine, but there were some process problems here," said Paul Stenzler, CUES vice president of sales. "There was a disconnect in quality and customer service and there were certain attitudes and processes that were not up to par to create a company of excellence. When Sandy came in, he immediately dedicated himself to working copious extended hours to learn the business, product line and manufacturing, sales and engineering processes, and subsequently instituted systems to monitor, measure and improve all target items."
Sandy Milley agrees that the commitment to customer service has helped define the company over the years and credits the efforts of his employees for bringing the company back from the decline of the early 1990s.
"The dedication and perseverance of the CUES employees over the years in supporting our customers has been an inspiring progression," Milley said. "There were points where this devotion carried the company through extremely difficult periods."
Innovative Product Push
Before the company's restructuring in 1991, CUES had already been a leader in several product innovations in the inspection equipment marketplace, led by Ken Guthrie, CUES general manager until 1988. Among CUES' innovations during his tenure was the first lateral inspection system that enabled municipalities to access lateral services from the mainline for the purpose of CCTV inspection. CUES also went on to develop the first solid state mainline inspection cameras, replacing tube cameras. The company also produced the first self-propelled camera carrier in the industry.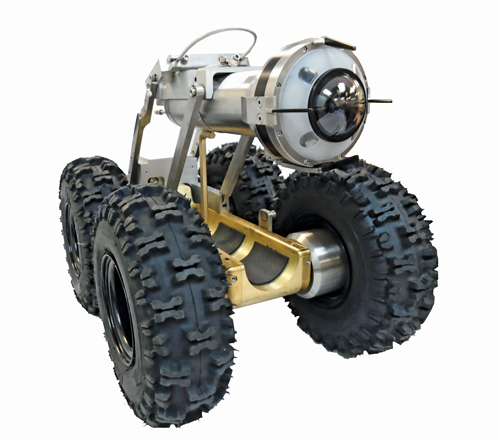 When Milley entered the company, he was able to re-energize CUES not only by pushing the importance of working closely with customers, but also continue to push the drive for more modern equipment. With technological innovations turning out at a rapid pace, that mindset is perhaps even more prevalent.
Stenzler said without a doubt a big product push and popular feature on CUES inspection equipment in recent years has been the introduction of digital side scanning systems — in particular, CUES' Digital Universal Camera (DUC) with side scanning capability. These systems are driven through the pipeline without stopping while taking a picture four frames per second coordinated with a flashing strobe light. The digital processing software for the DUC system then stitches the pictures together in a high resolution, panoramic view that is eight times the traditional resolution of a conventional sewer inspection camera. The user can immediately access an unfolded flat view of the entire pipe section, and jump from one area of interest to another so that particular areas can be quickly viewed and assigned the resultant condition assessment observation.
"It's a departure from traditional inspection equipment," Stenzler said. "It speeds up the process of inspection and condition assessment of the pipeline system because it can produce digital video where you can immediately skip to an area of interest and rapidly complete the condition assessment. With conventional video, if the operator forgets to pan or tilt, a critical observation can be missed, resulting in a potential major error of omission for the asset on record. This camera doesn't miss a thing, so you can go back and review all details of the video at any time. It's been a great product for us. A lot of cities are evaluating it as a priority tool to increase production and to service consent decree requirements. It is retrofittable to almost any industry standard multi-conductor system."
It is also worth noting that CUES has also thrust itself into sonar and laser pipe profiling, of which Stenzler said the market has grown significantly in the last five years, and mandatory in some states to be used in performing a condition assessment.
"Our investments in new software and camera and robot technology over the years demanded a determination by our people to overcome countless tripwires in all aspects of our business," added Milley.
The Road to Success
Stenzler insists that CUES' attention to customers has been able to carry the business to where it is today. CUES' focus is not necessarily on how fast they can respond to customer concerns or problems, but also on how the company maintains relationships with customers in an effort to constantly improve products and services.  
"It's good to keep your pulse on it [the industry]," Stenzler said. "We keep trying to bring our business and staff closer to the customer. When you proactively strive to speak to a customer and seek input [on a product or problem], you increase the probability of defusing the problem or improving the product while nurturing a mutual partnership. Communication with our customer base is a primary priority for CUES.  
"I like being in constant daily contact with our customer base. It's a learning experience every day. The technology in our industry is rapidly evolving on many different fronts and it's very competitive with new companies coming in with new approaches. And they're all viable. We have to be on our toes and never get complacent."  
Milley also reflected on CUES' history and place in the trenchless equipment market after 50 years. Although not with the company since its inception, Milley said he has enjoyed the challenges of the evolving trenchless industry and keeping up with the demand for new and improved equipment.
"Having been a part of CUES for nearly half its existence, I have been amazed at how challenging the tasks during each era have been, he said. "We all are in a very difficult business of adapting technology to a harsh and varied environment. 
"The industry has enjoyed significant leaps in adapting all sorts of new technology in hardware and software which placed a greater premium on the individuals designing, supporting and selling the equipment. After 23 years at CUES, I remain humbled by the challenges and thankful for the relationships with employees, customers and colleagues in the industry."
Andrew Farr is an assistant editor of Trenchless Technology.