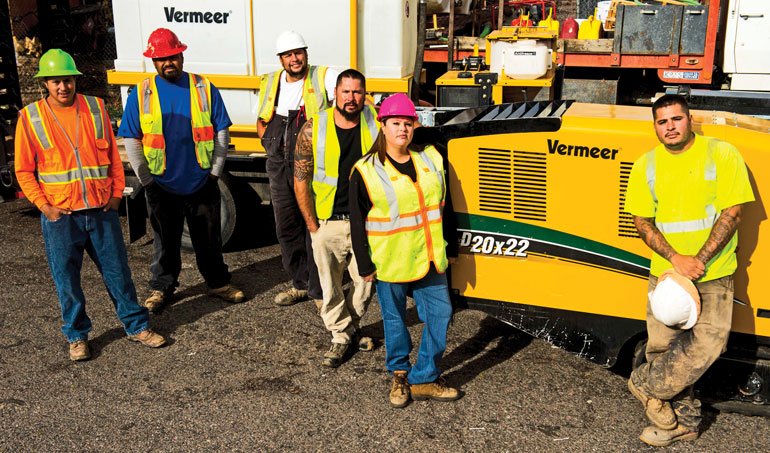 Turning a Job into a Family Business
There's something about horizontal directional drilling (HDD) that sticks with people working on, and around, HDD rigs every day. It's the perfect combination of machinery, technology and creative problem-solving. And once someone's been on a drilling crew, it's hard to imagine doing anything else.

Pat Rodriguez of Arvada, Colorado, realized his passion for drilling five years ago when he was a laborer working on a drilling crew. After paying his dues, one day his employer asked if he was ready to get behind the controls of a HDD rig, and soon after that, he completed his first shot. From that moment on, drilling became more than just a job for him. It became his way of life and something that he would eventually share with his family.

Today, Pat, his four brothers, Gene Rodriguez, Chris Rodriguez, Joe Martinez and Rusty Martinez, his sister, Venus Cameron, and close family friend, Ropati Tauiliili, own and operate Mile High Flawless Drilling, a directional drilling company specializing in utility installations. The company operates three drilling crews and owns four Vermeer horizontal directional drills, three Vermeer vacuum excavators by McLaughlin and a fleet of trucks.
RELATED: Vermeer Acquires Remaining Interest in McLaughlin Group

The journey to get to where they are today has not been easy for Pat and his four brothers. When Pat started working for another drilling operator he had just finished serving a short prison sentence. "I made some mistakes when I was younger," said Pat Rodriguez. "When I was released, I just wanted to get my life on a good path and spend time with the people who mean the most to me — my family. A friend of mine helped me get a job digging holes, and I was determined to make the most of that opportunity."
Pat's youngest brother, Rusty, could tell that his older brother enjoyed the job. "Whenever we got together, Pat would plant little seeds with the rest of us," said Rusty Rodriguez. "It got us excited about the work he was doing and the idea that someday we may all go into business together."

Soon after Pat began running a directional drill for his previous employer, his brother Chris joined him. Chris was a natural with the locator. "At that point, we had already agreed that we were going to have our own drill crew someday," explained Rusty Rodriguez. "I was managing a warehouse, one of my brothers was running a barber shop and another was doing landscaping work at the time. We were all saving our money so we could eventually buy a drill."
Purchasing their First Drill
The family made a leap of faith the day they purchased their first directional drill. It was a 1996 Vermeer D24x40 Navigator horizontal directional drill. "That was a good day," said Pat Rodriguez. "We were all excited about taking that first step, but we knew we needed more than just a drill to get the business off the ground."

The brothers bought a new Vermeer VX30500 vacuum excavator and DigiTrack F2 locating system. "Just getting started, we had some concerns about getting financing for these purchases," said Rusty Rodriguez. "I had good credit, but we weren't sure if that was going to be enough. We sat down with Hanson Turnbull at Vermeer of Colorado. He got us the equipment we needed and financing. From day one, he and the rest of the people at Vermeer of Colorado have helped us along the way."

Now having the right equipment, the only thing the brothers were missing was a name. "The name Mile High Flawless seemed like a good fit since we're located in the Denver area and do great work," said Pat Rodriguez.

RELATED: HDD Voices: How's the HDD Market in 2017?

First Job
Mile High Flawless got its big break when a former employer gave Pat a lead for a project in Longmont, Colorado. The project called for high-speed cable to be installed in residential neighborhoods and was scheduled to last two years.

The job required the crew to drill through homeowners' backyards using their old D24x40. "We had too big of a machine to do the job efficiently," recalls Pat Rodriguez. "We would line up the drill at the end of the block and shoot down to the cul-de-sac. It was working but to close the gaps between shots, we would either trench or take down fences to get the drill rig in someone's backyard. It just wasn't ideal."

After a few weeks, the company purchased a used Vermeer D7x11 Navigator HDD to work in backyards.

"We were a few months into the project, and we all had been saving our money," Pat Rodriguez explained. "I told my brothers, 'Guys, we need to get a new drill.' I had my eye on a Vermeer D20x22 S3 Navigator HDD and knew it would make us more productive. It was a huge step for us, but we all agreed to move forward."

The first day on the job, the new Vermeer D20x22 S3 bored 900 ft.

Bump in the Road
Seven months into the project, the Mile High Flawless crew suffered a major setback when the general contractor lost their contract. It was a scary time for the brothers, who had just invested in a third drill.

"We took every job that came our way, and they were usually the ones that no one else wanted," said Pat Rodriguez. "I think Hanson at Vermeer of Colorado recognized how hungry we were and how dedicated we are to doing the job right. He supported us by giving out our card to general contractors in the area who were looking for subs. He went above and beyond to help us get back to having more steady work."

By August 2016, Mile High Flawless's fortunes shifted when they landed three major contracts around the area installing high-speed cable and fiber optics for Comcast.

RELATED: Trenchless Technology's Vacuum Excavator Spec Guide

To keep up with their workload, the brothers added another directional drill in fall 2016 and two new vacuum excavators. This time it was a Vermeer D23x30 S3 Navigator HDD and Vermeer VX30800G vacuum excavators.

"We can drill right under someone's yard, and they never hear the drill — they just see the locator," explains Pat Rodriguez. "The drill operator and locator can also hear each other better over the radio, too."

Rusty recently made the switch from doing splices and laying boxes to becoming a drill operator for the family, and he learned behind the controls of a Vermeer D23x30 S3. "I think all of the onboard technology helped me learn faster," he said. "The machine's sensors are a great reminder if I forget a step. After operating that machine for a bit, it was a lot easier for me to jump on our other drills and feel comfortable behind the controls."

The Future
Mile High Flawless's workload has reached the point that they needed to add a third drilling crew. So, the brothers have brought their sister, Venus, into the business to run a horizontal directional drill.

"We're thrilled with how we've managed to grow the business in such a short period of time, but getting the chance to spend every day with family is what makes this all worth it," said Pat Rodriguez. "Our family has always been there for each other, and now we're doing something special together."

"Horizontal directional drilling is in our blood now — I don't think any of us can imagine doing anything else," Rusty Rodriguez concludes.

Kayla Breja is product marketing specialist, utility at Vermeer Corp.