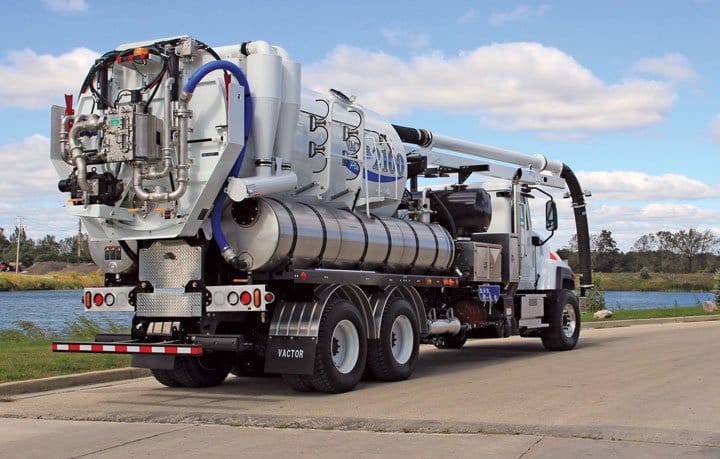 The folks at Great Lakes TV Seal Inc. know a few things about pipe cleaning and CCTV. No surprise there since they have been in the game since 1984 and have continued to add new dimensions to their repertoire of trenchless offerings along the way.
And they love what they do. Really.
"We love the challenge. For us, it's people calling us because they have a problem and maybe they've gone to three other people who couldn't solve it but we can," says Great Lakes TV Seal co-owner Brett Healy. "We don't want to be the biggest, we want to be the best."
Based in Green Bay, Wisconsin — which, people (unless you live under a rock) equate with the Green Bay Packers — Great Lakes TV Seal Inc. has cultivated its reputation through Wisconsin and upper peninsula of Michigan based on experience, knowledge of industry and a get-it-done mentality. In the beginning, the Healys started with just two employees and today, the company has 25.
The company's bread and butter is its pipe cleaning and televising/inspection work; however, that foundation is the impetus for all on the trenchless rehab work. Great Lakes TV Seal also handles the gamut of trenchless methods including cured-in-place pipe (CIPP) and spot repairs, lateral lining, lateral connection repairs, robotic cutting, hydro cutting, hydro excavating, chemical grouting, cementitious coating, as well as epoxy coating.
"It's always been our philosophy to be a one-stop shop," says Healy. "The cleaning and televising is what spawns everything else we do."
Some Background
Great Lakes TV Seal Inc. was purchased by Brett Healy's parents — Jeff and Denice Healy — in 1984. The couple had owned a restaurant but was looking for a business opportunity in the service field that was what they called "recession proof." Enter into the world of pipe cleaning and inspection. The Healys purchased the company from an excavation company and have never looked back.
2017 is a year of transition for the family-run company as Jeff and Denice Healy are stepping into retirement at the end of the year. Their sons, Brett and Greg, are taking over the operation as co-owners but don't expect a lot of changes: both have worked alongside their parents since the beginning and have excelled in the pipe cleaning and trenchless techniques.
RELATED: Combined Benefits: Combo Sewer Cleaner Recycling Systems Save Time, Money and Water and Increase Productivity
"We've both worked here since before we were in high school," Brett Healy says. "My brother Greg, went to school to be a mechanic and I became a civil engineer. We both found our way back to [the family business.] By the time both of us finished college, we already had 20 years of experience in this business. Even at 20 years old, we knew a lot more than some of our counterparts so it was obvious to us that we would stick with the business."
Even though Jeff and Denice Healy are venturing into a well-deserved retirement, they probably won't venture too far. "They will be here for years and years to come," Brett Healy says, laughing. "It's in their blood. They'll call it retirement but they'll be here."
Technology Evolution
When the Healys got into the cleaning and inspection market, it was pretty much it: cleaning and CCTV work. "Back then, cleaning and televising was pretty much all anyone ever did," Brett Healy says. "There wasn't a whole lot of rehab work being done by the municipalities."
Today, the company has a full range of trenchless options at its disposal, including three Vactor combo cleaning trucks, three Aries grout trucks and 10 CCTV trucks (Cobra, Aries and IBAK), as well as Schalm and Picote cutters.
The company has recently added a Vactor Recycling System to work in concert with its Vactor 2100 Sewer Cleaning Systems — an addition that saves Healy's crews time and adds to their productivity. Brett Healy says Vactor came and to demo the system and they bought it immediately. "It's like having a car that makes its own fuel," he says. "[The system] adds 20 to 30 percent to our productivity."
RELATED: FS Solutions Providing Vactor, Guzzler and Westech Vacuum Truck Rentals
The company uses the water recycling system on inflow and infiltration control projects to help clean pipes in preparation for TV inspection and rehabilitation work. "For inflow and infiltration, the Vactor water recycling system is a helpful tool for prepping the pipe," Healy says. "The ultimate advantages of the system for us are water conservation and productivity. Because we no longer need to stop work to go fetch water to refill the water tank on the sewer cleaner, we save anywhere from three to five hours a day on the job. In some remote areas where we work, we can be a good 30 to 45 minutes away from the nearest source of water."
The evolution of the trenchless market and its technology has allowed companies like Great Lakes TV Seal to grow with the industry. Brett Healy says that the advancement in the equipment and technology has allowed their business to continue to expand their offerings. "The equipment has evolved to make it less labor intensive and much safer for the worker," he says. "I remember the days when you had to go down into the manhole with a 5-gallon bucket and a cut-off shovel to remove the dirt. The equipment evolution has really aided in our success as a company. Televising has grown leaps and bounds from the days of just writing on a pad of paper to using software and from a straight camera to the pan-and-tilt. Now we're talking about laser profiling, GIS and panorama. All of these services help rehab and we can obtain much more information by putting the camera into the pipe."
He also says that the sewer cleaning trucks have greatly evolved in the sense they are multi-purpose. Sewer cleaning, industrial applications, as well as hydro excavating can all be served from one truck. The trucks have become user friendly as to the ease of operation and the amenities they provide to the operator, Healy says. He also notes that the selection of engineered, Tier 3 nozzles has greatly improved production with lower long-term costs.
Another key evolution is the knowledge of the customer — the municipalities — who have learned the impact of knowing what is below ground and how to maintain them.
Sharon M. Bueno is managing editor of Trenchless Technology.