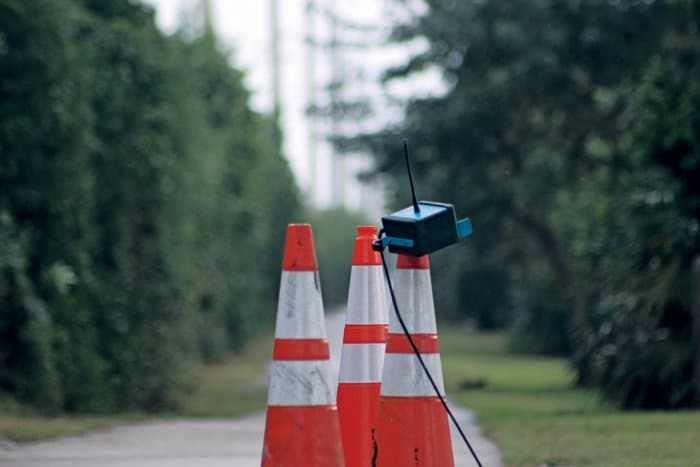 Unexpected failures of recently rehabilitated water main pipeline compelled New Jersey American Water to review and revise its long-standing rehabilitation strategies  older approaches that now seem outmoded as a result of conclusive trials of acoustic-based pipeline condition assessment and leak detection technologies from Echologics.
When Rehabilitated Pipe — Isn't
"It was one of those sections of water main in our distribution system that had no leak history whatsoever," says engineering manager Michael Wolan of New Jersey American Water. "But what happened after we rehabilitated that particular pipeline is still a painful and prominent memory."
A state subsidiary of one of the largest publicly traded water and wastewater utility companies in the United States, New Jersey American Water serves almost 3 million people through 8,600 miles of water and sewer mains ranging in size from 2- to 72-in. in diameter. More than half of the New Jersey American Water distribution system consists of pre-1960s pipelines that require ongoing pipeline rehabilitation of approximately 100,000 ft of pipe every year.
Pipeline rehabilitation typically adds several decades of additional service life. However, one particular rehabilitated water main started leaking and breaking in many different locations simultaneously — less than five years after being cleaned and lined. The costly and time-consuming cleanup and emergency pipeline replacement sent New Jersey American Water in search of a way to avoid similar situations in the future.
"What happened is that we removed the accumulated tuberculation that was essentially holding it together and ensuring pipe integrity," says Wolan. "But the real problem was automatically assuming that a rehabilitated pipe was structurally sound. We needed hard data about the true condition of our pipes — and that's when we began investigating new technology solutions from Echologics that would help us optimize our pipe rehabilitation programs."
Acoustic-based Pipeline Condition Assessment
New Jersey American Water invited Echologics, a Mueller Water Products subsidiary specializing in water infrastructure technologies, to participate in a 2014 trial deployment of its pipe assessment technology.
The test: deploy ePulse acoustic-based pipeline condition assessment tools to assess and determine the structural integrity and wall thickness of several miles of problematic cast-iron mains, then analyze the data using Echologics EchoLife software to accurately determine the remaining service life (RSL) of the pipe segments.
The Echologics ePulse technology is a non-intrusive condition assessment method for assessing the condition of water mains without taking the pipeline out of service. The acoustic-based technology involves inducing a low-frequency acoustic pressure wave measured by acoustic sensors that are externally connected to pipe appurtenances to the pipe itself. The pressure wave causes the pipe wall to "flex" on a microscopic level.
Thicker pipe walls are more resistant to this pipe flexing, causing the acoustic pressure wave to travel faster, and indicating a pipe wall in good condition. As the pipe wall deteriorates, the degradation and corrosion cause sound to travel measurably slower.
"Cleaning and lining a pipe is like scouring the interior wall with Brillo pads, then 'refinishing' the walls with a thin cement mortar coating," says John Marciszewski, Echologics LLC business development director. "The process removes accumulated tuberculation and corrosion, but also reduces the original pipe wall thickness.
Condition assessment can detect if the process has severely degraded the structural integrity of the pipe to the point where it can no longer withstand the stress of high operating pressures under load."
When the ePulse acoustic data is captured, Echologics field engineers use advanced algorithms to convert the data into a measure of the average minimum wall thickness of the inspected pipe segment. The calculated wall thickness measurement is compared to the original thickness of the pipe to determine the average percentage of wall loss.
The condition assessment technology simultaneously checks the pipe segment for leaks during an inspection, avoiding the need to perform separate inspections for condition assessment and pipeline leaks.
The Millburn-Maplewood Trials
The pre-1960 cast iron mains involved in the trial of Echologics ePulse were a water distribution system maintenance challenge. Located in the Millburn-Maplewood area of New Jersey, these mains suffered from frequent leaks and pipe breaks, along with heavy mineral-deposit tuberculation on the internal pipe wall surfaces, a condition that causes significantly decreased water volume and high levels of water discoloration, especially during higher-flow conditions.
The utility's pilot of the new cleaning and lining approach using ePulse technology was performed in two phases, with the level of pipe rehabilitation required based on the RSL data. The rehabilitation methods involved employing cement mortar lining for pipe segments with service life greater than 30 years, and a polyuria-based structural liner for segments with service life less than 30 years.
The first phase of the condition assessment pilot involved 36 segments of pipeline in Millburn/Maplewood region, testing 20,904 ft of 4- to 12-in. diameter pit cast iron mains. Phase One testing results revealed:
• 30 percent or more of pipe wall loss in most of the pipelines. One segment did not return data.
• 50 years or more of remaining service life in three pipe segments.
• 15 to 50 years of remaining service life in nine pipe segments.
• 15 years or less of remaining service life in 23 pipe segments.
The second stage involved 13 segments of pipeline tested in the Millburn region only. A total of 6,465 ft of pit cast iron mains of 18- to 24-in. diameter were tested. Phase Two testing results determined:
• 10 percent or more of pipe wall loss in most of the pipelines.
• 50 years or more of remaining service life in 11 pipe segments.
• 20 years or less of remaining service life in two pipe segments.
The ePulse trial results caused New Jersey American Water to review and revise its long-standing rehabilitation strategy. Previously, New Jersey American Water retired and replaced those mains that had multiple leaks in the past five years with ductile pipe via an open cut process.
For those mains that did not have multiple leaks in the past five years, New Jersey American Water rehabilitated the mains using cement mortar cleaning and lining methods. The condition assessment capabilities of ePulse technology seemed to demonstrate that these earlier approaches were outmoded — but New Jersey American Water wanted further confirmation of this conclusion.
"We took physical pipe samples and sent them out for metallurgical testing to verify whether the areas that Echologics identified as deficient actually were deficient," says Wolan. "The Echologics data turned out to be highly accurate, creating a high confidence level in their technology, and enabling us to make crucial replace-or-rehabilitate decisions based on solid information."
A Proven Tool in the Water Utility Toolbox
Among the key lessons learned from the Millburn/Maplewood trials was that leak detection methods alone are not enough. Acoustic condition assessment should be applied where survey-level condition assessment of large networks is required.
Further, non-intrusive condition assessment methods that do not require removing pipe sections from service minimize the need for excavations and service disruptions, which greatly reduce customer and community impacts.
"After the success of the trials, we proceeded to test another 100,000 ft of New Jersey American Water pipeline using ePulse technology in 2014, and we tested an additional 100,000 ft for them last year in 2015," says Marciszewski. "The ePulse technology is now a fully integrated process within New Jersey American Water's asset management program. It is used for late-summer/early-fall testing to determine following-year capital spending priorities, for both proposed rehabilitation and replacement projects."
"The Echologics technology is now a proven tool in our toolbox," says Wolan. "Replacing pipe is not a 'green' alternative — and on a yearly basis we are definitely saving hundreds of thousands of dollars using Echologics technology. Capital is expensive, and we have many needs. Utilizing new technologies like Echologics enables us to better understand where to apply our capital resources more effectively, and where they will provide the most value for our customers."
David Stewart Jones is a freelance writer and researcher based in Toronto. Correspondence can be addressed to Trenchless Technology, or emailed to davidstewartjones@outlook.com.