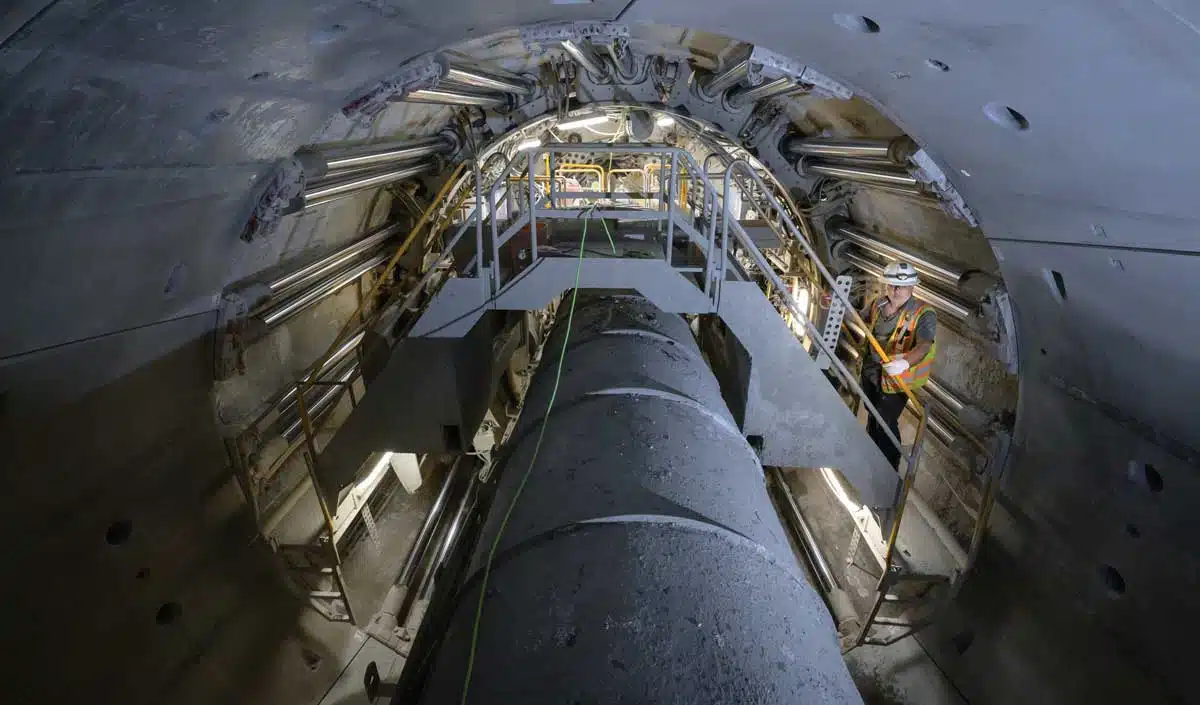 Underground infrastructure construction is one of those sectors that isn't often on the news or a part of daily dinner table discussions unless something catastrophic happens. As we often say, it's out of sight, so it's out of mind.
However, as those in the trenchless industry already know, it's these important infrastructure components that keep households and businesses running around the clock. And, in many cases, the argument could be made that the underground infrastructure is more important than some infrastructure aboveground.
Making sure this infrastructure is in place, maintained and updated on a regular basis falls on three groups of people. Those are the owners of the infrastructure, the engineers who design the new installation or rehabilitation/replacement components and then the contractors who do the work.
It's safe to say that the last three years have been a rollercoaster for the contracting community. Many companies said they were busier than usual during the height of the pandemic in 2020 only to be met with labour shortages, supply chain issues and price hikes in the subsequent years.
We wanted to take a few pages and touch base with some contractors doing work across Canada, as well as more localized work to gauge their thoughts on where underground infrastructure construction stands, what roadblocks they see to doing their work and where things might be headed.
Participating in this discussion are:
George Bontus, P.Eng., director of engineering, Insituform Technologies Ltd.
Mike Ireland, director, Preconstruction Services, Michels Canada
Tyler Leeming, vice president, Infrastructure, Capital Sewer Services Inc.
David O'Sullivan, president, PW Trenchless Construction Inc.
Brian Ratchford, chief operating officer, Capital Sewer Services Inc.
Jason Squires, vice president, Infrastructure and Power, Michels Canada
What are some of the challenges facing contractors in Canada?
Ireland: Major challenges lie in many areas for contractors in Canada. These include permitting delays, varying policies within overlapping agencies, engineering timelines, acceptance of changing construction practices and methods by municipal and regional owners, skilled trades shortages, and immigration approvals for temporary workers and management professionals with experience. The most significant challenge is the changing cost of fuel or material supplies in long-term contracts when there are no change mechanisms in the contracts to recover huge amounts of capital. All contractors need to have a reasonable source for maintaining financial viability when large projects have massive increases because of supply-and-demand values.
O'Sullivan: One of the big problems that I see is underground infrastructure construction in general — and trenchless more specifically — is it is only a small part of civil engineering being taught to students in university. It's about 5 to 10 per cent of their course. The joke is that trenchless is probably mentioned in Year Three on a Tuesday afternoon in Mid-March of their five-year degree program and that's about it.
Bontus: No. 1 is the variability in costs including raw or supplied materials, labour costs and fuel. It has always been an issue, but recently the availability of skilled, as well as unskilled labour, has impacted maintaining competent crews. These can all factor into costs as well as scheduling, but we will continue to struggle with the seasonal weather factor.
Have supply chain issues impacted your work?
O'Sullivan: Yes, to some extent. The bigger issue was ordering product from oversees. The costs of shipping went up four- or five-fold and was a bit reluctant to come back to normal pricing. But I think it's coming down to close to what it was. The costs for a container load of material from Dubai is about the same price as it costs me to bring a container by truck up from Texas or Chicago. This means that on the West Coast of Canada, Dubai and anywhere east of the midwest of the United States or Canada are equally priced.
Ireland: Supply chain issues have been different across the varying Canadian landscape. What is an issue in Ontario may not be an issue in British Columbia or Alberta and vice versa.
Ratchford: We had some issues. We were, at one point, months between some material deliveries, which forced us to reschedule works to reallocate resources and push some contracts work off if we could. We had to pick and choose the jobs that we were able to perform because our raw materials were limited. That has improved significantly over the course of the last year. As far as our cured-in-place operations go, I'd say we are 95 per cent returned to where we were pre-pandemic in terms of material turnaround.
Challenges we're still faced with is other components that require manufacturing. For example, if we have to purchase valves or HPDE for our bypass operations, we are sometimes months from delivery because nobody is stocking material. Inventory levels are very low and a lot of the times these things are not being produced until they are ordered. You can look at 6- 8- 12-week turnaround times. It's forcing us to look as far ahead as we can into a project so we can make decisions on purchased or orders to get the ball rolling. It has been a challenge in that regard.
On the financial side, we are still feeling the hump. The material costs for anything that is petrochemical-based, which is basically all our resins, discharge piping for bypass and several other components that we use, we are probably at 75 to 80 per cent higher in cost than we were pre-pandemic even though the supply chain issues have eased up, our pricing has not come down anywhere near the same levels that we had previous.
Bontus: We have a robust procurement system, but it can be a challenge to tie down material costs and delivery. The risk of costs increases makes it is difficult to bid work outside 30 days, or greater, periods due to the cost rollercoaster for materials and services.
How strong is Canada's construction labour force?
Squires: Canada's labour force with skilled tradespeople is in short supply for the amount of construction that needs to be completed.
Ratchford: To hire and train your workforce to meet the demand is a challenge. A lot of what's happened through COVID has changed a lot of ways that people view work now. People have had opportunities to take their jobs and work from home, they've had opportunities to work outside of the trades. We're seeing other businesses expanding and it's giving people more options to look it when it comes to jobs. We are seeing that pinch big time. We see it from both ends, from the project management side and the field execution side.
Bontus: Skilled labour has been in short supply in many areas of expertise. CIPP is a niche construction market, so requirements are different than other markets. We do use "industry standard" personnel for some of our equipment, but other tasks require specialized training. We have ongoing issues maintaining both skilled/specifically trained personnel, as well as entry level employees. In Western Canada, we are impacted by the demands of the oil and gas industry where often wages are higher.
How does this impact the work that you do?
Ratchford: As the contractor, you want to say that you never have enough work on the books. As the management that has to administrate, coordinate and execute the work, that becomes a huge challenge. We try to get more efficient in our operations. How we schedule and sequence. Maybe we'll adjust the means and methods used on a job to complete it in a quicker manner, which gives us more capacity to do work. We are constantly looking at the jobs, the type of works involved, and how they fit with our existing schedule and backlog. Then, we determine what resources we need and where those resources are coming from. How can we work it with other projects? For example, we won't go and do one job in Winnipeg, we'll go and do four jobs. We might implement multiple crews for a job to tackle the different facets rather than have one crew for the whole job. It becomes more of finessing to maximize our existing workforce and assets to get the most out of them as we continue to try and add to them, as well.
Squires: Michels Canada is a union contractor and our discussions with the trade groups we utilize are always ongoing. We frequently discuss not having enough people, strategies for recruiting new people, and supporting the development of all these potential employees for their future working at Michels Canada. The impact of a contractor not having enough qualified tradespeople and crew members for any project is that the speed at which we can complete safe, reliable construction projects can be diminished.
How do you help solve this issue?
Ireland: Michels Canada stays involved with governmental, educational, institutional- and industry-related associations and groups to promote the quality of life available through employment in the construction industry with skilled trades.
Ratchford: What we try to offer people to entice them is the work environment itself. It's the type of environment that you can enter in at the entry level and there is opportunity for growth based on the employee's desire to grow and take on more responsibilities. As someone who wants to come in and learn, work to get ahead, we provide every opportunity we can in that regard. It is performance based and can happen as quickly as the individual's drive and abilities allow. We provide training for skillsets and certifications that an employee may need at no cost to them. We pay for it because it enhances their skillset and benefits us in the end because it makes our workforce more versatile.
Bontus: We pay competitive wages, offer opportunities for advancement and training to achieve it. We provide significant and annual training and certification to protect employees, promote safety and improve individuals' skills.
What, if any, internal initiatives do you have in place to advance the industry as a whole?
Squires: Michels Canada is proud to have been recognized for having Canada's best health and safety culture for the past two years. We believe that by creating a culture where everyone feels safe, valued and supported, we are contributing to the industry's advancement by retaining a strong, cohesive and dedicated workforce. We also participate in all related associations that promote quality construction, offer training and career advancement opportunities to our team, and support of field crews with safe, sophisticated equipment.
O'Sullivan: I am hands-on with cities, consulting engineers and educational institutions. I do about 10 to 12 presentations a year or I help fund sliplining and pipe bursting courses through NASTT-BC. We just finished a pipe bursting course here in November and PW Trenchless helped fund 10 scholarships for municipalities. This helps us and the industry when consulting engineers and or cities are aware of pipe bursting, its pitfalls, and requirements. It makes them more comfortable in specifying it.
The more education we can push out, the better it is. We have a major deficit on knowledge about trenchless across North America as a whole. Education is such an important part of the success of this industry. We need to educate the owners and the consultants to know what the processes are and then how to ask the right questions of the contractors. I've been working with the University of British Columbia and some of the other universities here to try and I do what I call a "trenchless tapas," which is a 45- to 50-minute lecture on what trenchless is to just give them a flavor.
Ratchford: In the last year we've gotten more active in the trenchless industry from the promotion standpoint. We're attending key conferences, becoming participants, and sponsoring certain events as part of those conferences. We're also presenting papers and information about certain jobs and successes where something unique might have been done. Someone might be able to benefit from that knowledge. We've made a conscious effort to start doing more of that. We're planning on presenting papers and promoting the industry as a whole through lunch and learn sessions with municipalities and consulting firms. We're also working with universities and colleges to promote hiring students right after they graduate, as well as through co-op programs.
What is your overall view of the underground infrastructure market in Canada?
Squires: Canada's business climate for new construction and maintenance of underground infrastructure systems is robust in all provinces. In some instances, vital infrastructure upgrades remain years behind schedule. The pace at which market needs are being met is somewhat limited by a shortage of qualified, reliable companies able to perform specific kinds of work in certain areas of the market.
O'Sullivan: I don't know what the overall market is in Canada but in British Columbia trenchless is about 10 to 15 per cent. We've been trying to grow it for a long time and it's happening very slowly. It comes in fits and starts.
Ratchford: It's continuing to grow and grow at a healthy rate and what I mean by that is that is the number of projects being tendered and the number of municipalities tendering the projects continues to grow. It's by far still a long way off from being where it really needs to be but compared to what it was, it's growing a decent rate which provides a lot of opportunities for existing businesses and of course for other companies looking to start, which we are also seeing as well. I think that infrastructure funding drives lot of program work and some smaller municipalities are starting to realize that there are benefits in participating in these programs, so they are assessing their systems and establishing goals for performance. As the funding comes available, they can take advantage of that.
Is there growth ahead for underground infrastructure construction in Canada?
Bontus: Development and new construction to support expansion continue to maintain pace or grow. This can be area dependent. Trenchless rehabilitation is generally maintaining scope, and with more owners interested in less disruptive and more cost-effective means to maintain their systems, the market has potential to grow. Local markets conditions can result in variance.
Leeming: The entire trenchless industry is growing greatly, and I think a lot of that has to do with education, as well as the history and the success of the products. Before they were seen as a risk, because it was not well known. Today, it has a good name for itself, and it shows in the projects that have been completed.
Ireland: We have seen a balance for the most part over the past five years in Canada. That said, contractors and skilled trades are ready to construct the infrastructure needed to support energy transition and future fuels when government and industry are ready.
O'Sullivan: The sectors are growing because more-and-more cities are becoming knowledgeable about their assets and which ones are in the "red zone." They can't disregard them anymore without getting in trouble. It helps engineering departments go to councils and request more funding.
Ratchford: We're seeing growth in all facets but there are two main areas that we are seeing the most growth. One of the sectors that is really coming around is the trunk rehab…the large diameter, difficult to access, high sewer flows and very deep projects. We are seeing more and more of that type of work coming out for tender and that's from all provinces. The other area that we are seeing an increase in is the number of municipalities that are tendering working. If I go back even three years ago, we might have tendered 75 projects. In 2022, that number is almost 150.
Squires: We are encouraged by the growth of trenchless construction across many industries in Canada and are positioned to offer our services to current and new customers.