Serving nearly 2 million people in Montgomery and Prince George's counties in Maryland, the Washington Suburban Sanitary Commission (WSSC) is the eighth largest water and wastewater utility in the country, operating and maintaining nearly 5,500 miles of water main lines and more than 5,300 miles of sewer main lines. As you might expect, making sure that all the pipelines are in good condition is quite a challenge.
Approximately 150 miles of WSSC's large diameter pipelines are composed of prestressed concrete cylinder pipe (PCCP), a popular choice for water pipelines installed in the 1960s and 1970s. WSSC realized long ago, however, that these pipes were subject to premature failure and the agency has been actively inspecting them since. In fact, WSSC patented a sonic/ultrasonic method to test the PCCP in the 1990s.
Despite its best efforts, WSSC experienced three large-scale failures of large diameter PCCP within the past two years. One failure of a 66-in. PCCP transmission main made national news coverage that included dramatic video of stranded motorists being rescued by helicopter.
Given the length and diameter of PCCP pipe (77 miles of PCCP greater than 48 in.) in WSSC's transmission system, it is not practical to implement the conventional approach of replacing every pipe segment. Instead, WSSC implemented a program that relies on innovative trenchless technologies to identify and repair problematic locations to safely manage major PCCP transmission mains. The program is now part of WSSC's ongoing operations and has so far been implemented on five major transmission mains with several more to be included in the future. Because of its innovative approach and use of technology to cost-effectively craft a repair program, WSSC and its consultants and contractors have been recognized as the 2009 Trenchless Technology Project of the Year for Rehabilitation.
"In smaller cities implementing a program like this is much more manageable, but considering that WSSC is the eighth largest utility in the country, the scale of this project was significantly larger," said Mark Holley, president of Openaka Inc., WSSC's consultant for the testing and monitoring program.
The early part of the program focused on WSSC's Potomac Transmission Main, a critical asset for WSSC to meet its water demands. This 96-in. PCCP pipeline is WSSC's largest water main and was manufactured in 1968 by a company with past quality problems. To proactively manage the pipeline, Openaka, Pure Technologies and NDT Corp. performed a condition assessment of the main, utilizing non-destructive testing technologies (visual/sounding inspection electromagnetic inspection and sonic/ultrasonic testing). The complete assessment found more than 95 percent of the main in good condition, but it also identified significant problems, including several pipe sections in an advanced state of distress requiring immediate repair. Additional pipe sections had low to moderate levels of deterioration.
With this information in hand, WSSC had to make some hard decisions regarding the future of this main. Replacement or sliplining likely would cost in excess of $100 million, a financial challenge for WSSC and especially undesirable since 95 percent of the pipe was in good condition. The challenge then was how to safely manage the pipes with damage so that the full service life could be recognized. WSSC implemented a state-of-the-art asset management program, relying on continuously monitoring the structural condition of the main so that risk could be tracked and mitigated, if necessary, on an ongoing basis. The monitoring program involves using Pure Technologies' SoundPrint fiber-optic acoustic monitoring cable that is installed in the pipe and is able to detect wire breaks in the PCCP, which are a precursor to failure.
"If you just start wholesale replacing pipe, you would be spending a lot more money upfront than you need to do, and you would be giving up useful life of the bulk of the pipeline," said Gary Gumm, chief engineer for WSSC. "Since we can't afford it and since it's not practical to keep the pipes dewatered for an extended period while you are replacing them, this technique allows us to have the pipelines out of service for a much shorter period of time, fix only the pipes that need it and provide a monitoring system to give you some assurance that you're not going to have any problems that are going to show up unexpectedly."
The first step of the program involved confirming the condition assessment results. Several pipe sections at high risk of failure were excavated and significant corrosion or hydrogen embrittlement problems were confirmed. These sections were repaired by replacement and external tendons. The remaining distressed pipe sections were strengthened with a trenchless repair technology by Fibrwrap Construction, which uses an innovative carbon fiber strengthening material to internally repair the pipes.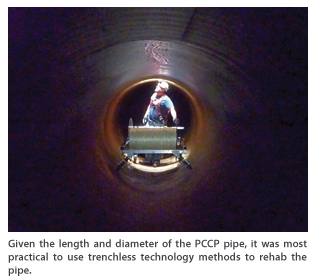 "The use of the Tyfo Fibrwrap system allows for pinpoint repair of only the pipe sections in distress, saving WSSC millions of dollars," said Heath Carr, CEO of Fibrwrap. "Without this method, entire pipelines would have to be excavated and either sliplined or replaced, costing taxpayers much more. Fiber wrap, applied as a wet lay-up system, is becoming the new standard because of its long-term durability and the value it provides both pipeline owners and the public."
To manage the pipes with lower levels of deterioration, acoustic fiber-optic sensors are being installed in an average of 12 miles of pipeline annually, to continuously track their structural condition. Alarms are now raised when pipe sections deteriorate to a point of undesirable risk. This management program enabled WSSC to safely extend the service life of the pipeline and avoid a major capital program, along with providing an early warning system of imminent pipe failure. Based on this success, WSSC is now implementing similar management strategies on other large diameter PCCP mains, as they are brought into the on-going inspection schedule.
"We are in the process of using this on all of our large-diameter PCCP mains," Gumm said. "By June 2013, we will have inspected and will be monitoring all mains 48 in. and larger. This approach allows us to use our money better, and it allows us to better juggle the resources we have."
Through the combination of innovative trenchless technologies and repair methods, WSSC was able to safely renew a vital piece of infrastructure while minimizing expense and impact to neighboring properties. The project included the successful use of the following:
Advanced technologies: The project utilized advanced trenchless condition assessment technologies to determine the structural condition of a vital water transmission main.
Innovative trenchless repairs: The project utilized an innovative repair methodology involving internal carbon fiber strengthening.
State-of-the-art pipeline management: A state-of-the-art monitoring and management program has been employed to continuously track the condition of the pipeline to ensure problems are detected as they develop so that the pipe can be proactively maintained.
Multidisciplinary solution: The project team included a major water utility, multiple specialty condition assessment/monitoring firms, general contractors and a carbon fiber repair contractor. All parties worked together in a nearly seamless fashion.
Rapid schedule: On the 96-in. portion of the Potomac Pipeline, which involved removing the main from service for the inspection and construction, the project was successfully completed and the pipe was returned to service in less than four months. During this short time, the pipe was inspected, evaluated, repaired and an acoustic monitoring cable was installed in the full length.
By implementing a trenchless solution as compared to conventional methods, the project realized the following benefits:
Capital savings: The project saved WSSC and its ratepayers approximately $100 million as it enabled the utility to safely extend the life of the Potomac Pipeline.
Limited pipeline outage: The pipeline outage was limited to four months instead of what could have been years with conventional methods. Given the criticality of the pipe, conventional methods may not have been feasible since WSSC may not have been able to meet its water demands during a lengthy sliplining or replacement project.
Minimal excavations: The entire pipeline was inspected and repaired with minimal excavations. This reduced traffic congestion and logistical problems in heavily developed commercial and residential areas.
Better management: The bury-and-forget-it approach has been totally abandoned. The condition of the pipe is being continuously monitored and the risk associated with corrosion and deterioration of the pipe is continuously tracked and evaluated.
"Using this type of approach allows you to pinpoint the problem and address it on a pipe-by-pipe basis," said Mike Higgins, vice president of Pure Technologies Inc. "By addressing only the weakest links, you can focus repairs where they are needed and save millions of dollars."
Jim Rush is editor of Trenchless Technology.
    
Owner: Washington Suburban Sanitary Commission
Engineering: Openaka Inc.
Testing Services: NDT Corp.
Testing and Monitoring Equipment: Pure Technologies Inc.
Subconsultants: DaccoSCI, EBA Engineering and URS
Rehab Contractor: Fibrwrap Construction Inc.