As the City of Grande Prairie, Alberta grew, so too did other towns in the County of Grande Prairie. One of the impediments to continued growth was a lack of stable and quality water and sanitary services to the surrounding towns.

To address this need for sustainable utility services, Aquatera Utilities Inc. was born in 2003 when the City of Grande Prairie, the County of Grande Prairie and the Town of Sexsmith came together to create the for-profit utility provider. The Town of Wembley joined as a shareholder in 2019.
For-profit utilities are not unheard of, but Aquatera is unique in that its shareholders are the municipalities that it serves. This means that the dividends are paid back to the municipalities.

RELATED: EnviroBore Directional Drilling Expands Fleet to Meet Customers' Demands
Today, Aquatera has grown to include 150 employees and manages approximately 398 km of gravity sewers, 84 km of sanitary forcemains and 786 km of water mains for 80,000 customers across the region in northern Alberta. Aquatera also manages the solid waste collection and recycling for the City of Grande Prairie.
"Our oldest pipes date to the late 1930s; we have clay tile on the sanitary side and asbestos cement (AC) on the water side. We started using PVC for both sanitary and water in the late 1970s," says Ralph Wohlgemuth, P.Eng., engineering services manager. "There are a few tile and brick manholes in the older residential areas, most are concrete manholes now."

Wohlgemuth, who grew up in the region, says he can remember a time when Grande Prairie had a population of 10,000. According to the 2016 census, Grande Prairie was at 63,166 and ranked as the seventh largest city in Alberta. It was also one of Canada's fastest growing cities from 2006 to 2011. What this means for Aquatera is that the sewer and water systems are relatively new and in decent shape.
Like many utilities across Canada, some of the sewer installs that pre-date Aquatera's formation were done using trenchless methods. The amount of trenchless used, however, has greatly increased since Aquatera formed. The utility frequently uses horizontal directional drilling (HDD) and auger boring to install new utilities and cured-in-place methods to perform spot or full-scale repairs on its sanitary sewer assets and manholes. The utility has looked at pipe bursting and sliplining but has yet to pull the trigger on tendering projects using those methods.

Assessing the System
"We've done a number of surveys over the years to compare our systems to others and the last one was about five years ago," says Wohlgemuth. "As a result of that survey, our distribution collections manager termed our systems as very solid and with low maintenance costs. I think we are one of the lucky ones that have a relatively new system with not a lot of issues. But we do have some."

Those issues include root intrusion in the older sections of the system where the clay tile and concrete pipes are. These areas are marked for annual or semi-annual root cutting. These areas are also earmarked for rehabilitation in 2021 to help eliminate the root intrusion.

"We have 42 mainlines being lined in 2021 to address root cut issues. We are trying to whittle those out," says Wohlgemuth. "The focus of our lining program this year is on those zero lot lines where access is an issue and the impact on the customer is high if we have to do a dig repair. We try to minimize that by doing lining work."

Aquatera is a data-driven utility, as such, it is proactive in its cleaning and condition assessment of the system with this work being done in-house. Depending on the section of the system, Aquatera cleans the smaller diameter residential collection side of the system on a three-, six- or 12-month basis. The major trunklines are done less frequently. All of the sanitary system is coded using NASSCO's PACP standards using PipeLogix software.

RELATED: Clearing Up a Clarifier's Leak in Calgary

Cured-in-Place Solutions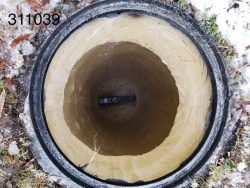 From this data, the utility can determine which areas need to be renewed or replaced. No stranger to the cured-in-place (CIP) renewal of its systems, Aquatera outsources this work. For a short period of time, it had a subsidiary contracting company that did this work.

"We did have a subsidiary company that did cured-in-place pipe (CIPP) and they did our CIP manhole work, as well," says Wohlgemuth. "Unfortunately, they were not able to sustain themselves and we had to close them down, so we lost that capability. We made the tough decision to get out of the business because we couldn't make it work based on the capital cost to keep current and keep in there with the competitiveness of that industry."

The 2021 CIPP program – put off from 2020 due to the COVID-19 pandemic – will be completed by Insituform Technologies, a company based out of Edmonton, Alberta. There is no manhole rehab work planned – save for a pilot with a geopolymer solution – because Aquatera prefers CIP manhole rehab, which was performed by its now defunct subsidiary. The manhole rehab was performed using the Triplex product, and Wohlgemuth notes there is no one in the area who installs that product, speaking to a larger issue of contractor availability in northern Alberta.

"Competition and availability are the biggest challenges on the CIPP side. It certainly makes you wonder about the cost of the work," Wohlgemuth says. "When we went out for this round of CIPP that we will do this summer, we did a public tender. Four companies said they would submit, and in the end only one of them did."

RELATED: NASSCO PACP – The Standard in Canada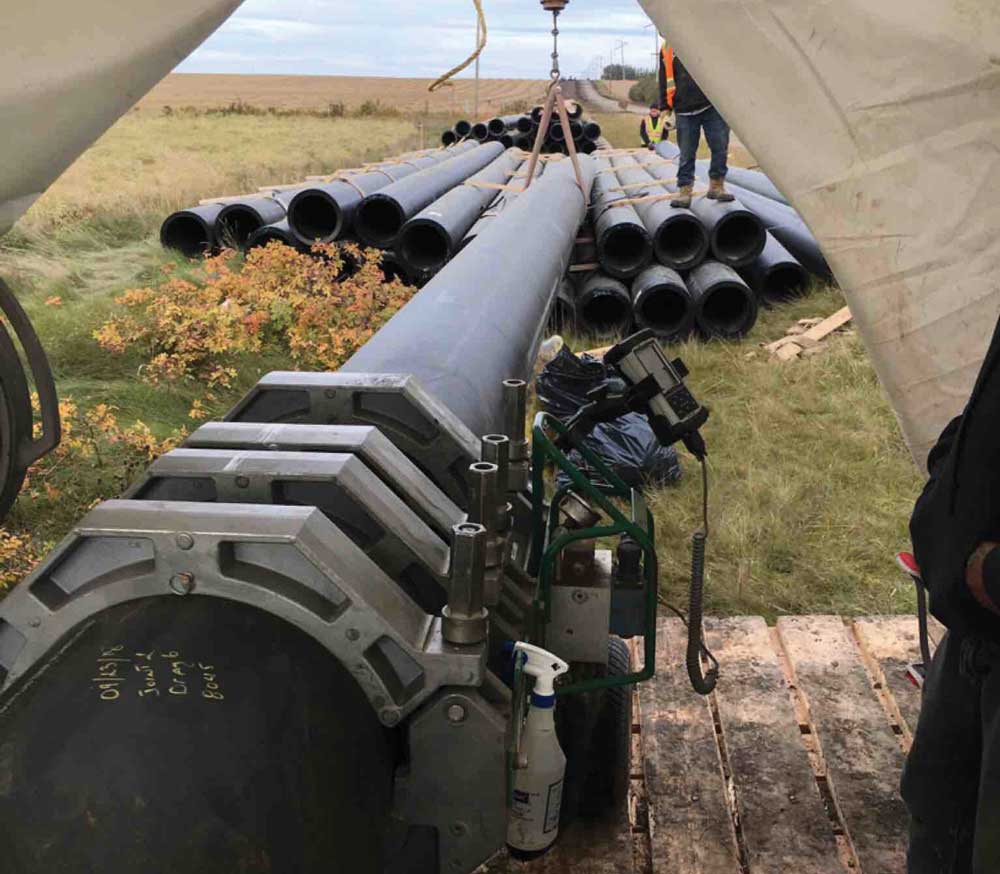 Of the four that indicated they would bid, two were not able to meet the criteria of previous experience and the third was in Ontario, and Wohlgemuth surmises that they opted not to bid due to mobilization to northern Alberta. He adds that they were surprised to see only one bid, but that it was an indication of the market and that Aquatera would look at ways to increase the number of bids for the next round of work.

One of those ways is a shift in the way it allocates its rehabilitation dollars. Instead of one program – spread over two years – the contractor would have the option to complete all the work in one chunk. The hope is that a contractor from Ontario would then be willing to mobilize to northern Alberta if it knew the work could be done in one shot versus smaller jobs spread over several years.

Aquatera can do this because of its data-driven management of the systems. It can easily determine if a pipe is in critical need of repair, full rehabilitation or if a smaller spot repair could suffice.

"Our capital plan right now is a 10-year plan and our goal by the end of July is to have that built out to a 25-year plan," says Wohlgemuth. "That will include new construction, as well as the rehab, refurbishment or replacement of existing assets. We are also looking at our system's condition and maintenance data to see where that is pushing us."

Growing its System
Speaking to the new installation side of the business, while growth in the region has slowed, new infrastructure is still needed. The challenge facing Aquatera is the need for the infrastructure to be buried below the frost line – approximately 3 m – or be insulated.

Much of the work before Aquatera was completed via auger boring to cross roadways, but the rest was done via traditional open-cut methods. In the last 20 years, environmental regulations have strengthened as a measure to protect wetlands, stream beds and other waterways. This has lent itself to pushing for more trenchless new installations.

"We've learned that not every trenchless [install] method is suitable for all soil types, so we do look at the soil type and conditions and figure out what needs to be done," Wohlgemuth says. "A significant part of our decision to use trenchless technologies is based on the cost of surface reclamation and the traffic impacts. If we are on a major roadway or intersection, we try to stay away from the open-cut pieces."

Aquatera has two ongoing projects, an 800-m install using auger boring and an 800-m tunnelled installation at 12 m deep. The latter is the utility's first go at tunnelling and involves the installation of 1,050-mm pipe in 250-m sections using intermediate jacking stations. In both cases, the steel casing will be lined with a PVC pipe.

"Most of our casing and auger bores are for road crossings for sanitary lines where we need to have slope and grade," says Wohlgemuth. "One of the issues we have experienced in the past is with grade accuracy on the auger bores because you can't steer it. Recently, we've done a number of longer bores with the laser guided technology on the boring machine and those have worked out really well."

Additionally, Aquatera uses HDD to install PVC and high-density polyethylene (HDPE) – with an edge towards HDPE installs due to ambient temperature constraints when fusing pipe." The temperature constraints around fusing HDPE and PVC are certainly something we have learned, and that limits our construction windows," Wohlgemuth says. A lot of HDD work in Northern Alberta is done in the winter after the ground freezes and the area is accessible to heavy equipment. "We've found that PVC is less forgiving than HDPE because it is a more brittle material, and it can tend to crack when fusing it."

Like the rehabilitation challenges, a lack of competition on the new installation side hampers some its work. While HDD rigs in Alberta are plentiful thanks to their role in Canada's oil and gas industry, not many contractors are adept at installing sewer and water lines, which are more grade and slope contingent than oil and gas pipelines.

Aquatera is working with its new installation contractors to improve the utility's data logs in terms of accurate location of the new pipelines and integrating that with its Cityworks GIS system. It is doing the same with its condition assessment data, growing the digital catalog of its assets and improving on its data-driven mandate.

Looking to the future, Wohlgemuth says that while the utility had some pandemic-related setbacks – putting off its 2020 relining program to 2021, decrease in revenue from payments and bulk water orders and a slowing of its water meter program – none of the larger projects were interrupted. He adds that no employees were laid off and that the solid waste side of Aquatera has seen an increase in revenue because more people are home and taking this time to work on their residences.

"We've done some things to minimize the impact, like not hiring our temporary summer staff last year. We've looked at some of our cost efficiencies as a company and are asking what we can do better," says Wohlgemuth. "Certainly, we have felt it but not to a devastating impact that is for sure."

Mike Kezdi is managing editor of Trenchless Technology Canada.