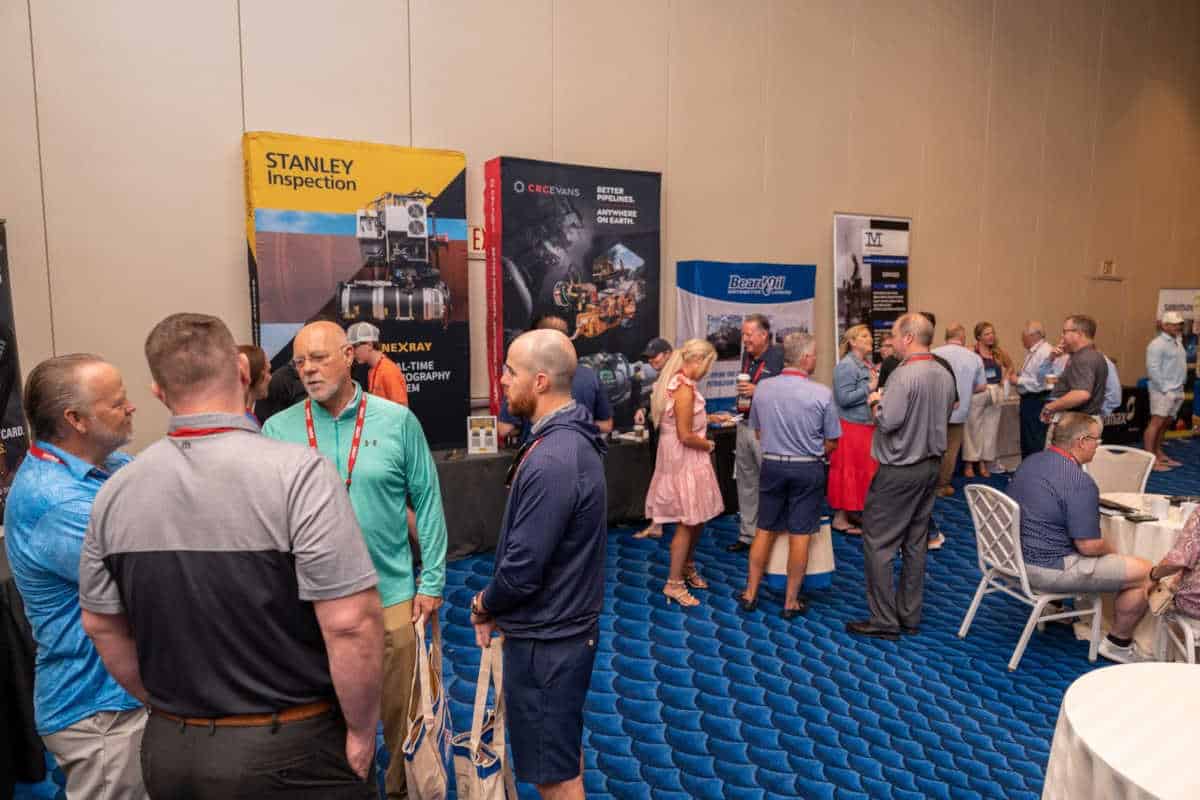 Nearly 330 American Pipeline Contractors Association (APCA) members traveled to the Bahamas in March for the 52nd Annual APCA Convention, which boasted record attendance, a powerful education program, a new slate of association leaders, the launch of the new APCA Hall of Fame, the first-ever APCA Auction, and plenty of good times at the fabulous Baha Mar Resort.
APCA members welcomed new president Roy Weaver, Weaver LLC, who said that he is proud of the opportunity they have given him and looks forward to working with them, the board, and the staff to promote and protect merit-shop pipeline construction.
"APCA members don't back off, back away, or back down when things get tough," he said. "We keep going to work every day because we know what we do makes a difference for our country."
Other new officers are first vice president Kevin LaBauve, WHC Energy Services; second vice president Nick Bruno, Bi-Con Services; and treasurer Chris Jones, HardRock Directional Drilling, and new board members are Shannon Driver, Holloman Corp., and Adam Nitsche, Pumpco, Inc.
APCA inducted the first three people into its Hall of Fame, recognizing their contributions to the association and the merit-shop pipeline construction industry: Jimmy Montgomery of Montgomery Trucking Co., David Dacus of Troy Construction, and Shell Sanford of Sunbelt Equipment Marketing Inc.
APCA also presented outgoing President Taylor Dacus, Troy Construction, with the 2023 APCA Distinguished Service Award and honored outgoing Associate President Jason Hunt, Montgomery Trucking.
Educational programming kicked off with keynoter Ross Bernstein, who spun fascinating stories about champion athletes into wise and practical business advice. Day two featured a government relations panel with Sue Forrester, American Gas Association, and Sarah Magruder Lyle, Common Ground Alliance, and a presentation by Susan Waller, Natural Allies for a Clean Energy Future, explaining how the group's strategy to promote natural gas is gaining traction with groups that are not typically part of our base. "We are really making a difference right now," she said.
Industry learning continued on day three with the Annual Associates Exhibit & Breakfast and a session on Carbon Capture Pipelines, moderated by Mark Bridgers, Continuum Capital, and with speakers from ExxonMobil and Navigator CO2 Ventures. On the convention's final day, members learned about recent developments in labor law from Greg Guidry, Ogletree Deakins.
Outgoing president Taylor Dacus closed the convention with a passionate state-of-the-pipeline industry speech, recognizing the APCA leaders who preceded him and taught him so much and thanking APCA members for entrusting him to lead the association and for their generosity to the pipeline industry.
APCA members meet next at the 2023 Mid-Year Meeting, Oct. 1-4 at the Westin Savannah Harbor, Savannah, Georgia.