February is here and that means that the organizers are putting the finishing touches on the Water & Wastewater Equipment, Treatment and Transport (WWETT) Show. The WWETT Show is the world's largest annual trade show for wastewater and environmental service professionals, and it's set to take place Feb. 20-23, at the Indiana Convention Center in Indianapolis.
The Expo Hall will showcase new and innovative products from exhibitors including trenchless-focused companies like Applied Felts, Aries, CUES, Emagineered Solutions, HammerHead Trenchless, InfoSense, MaxLiner, Miller Pipeline, ProKASRO Services USA, RapidView, Sealing Systems Inc., Super Products, TRUVAC, Vermeer MV Solutions and Vivax-Metrotech.
Read on to find out more about what these companies will be showcasing at the show. And this is just scratching the surface of the great trenchless technologies on display at WWETT.
Trenchless Technology magazine will also be there, so be sure to stop by Booth #6732 and say hello to Kelly VanNatten, publisher; Dan Sisko, trenchless ambassador; Sharon Bueno, editor and Mike Kezdi, managing editor. We'd love to talk trenchless with you!
The Expo Hall is open from 9 a.m. to 5 p.m. on Feb. 21 and 22 and from 9 a.m. to 1 p.m. on Feb. 23.
For more information about the show, visit wwettshow.com.
APPLIED FELTS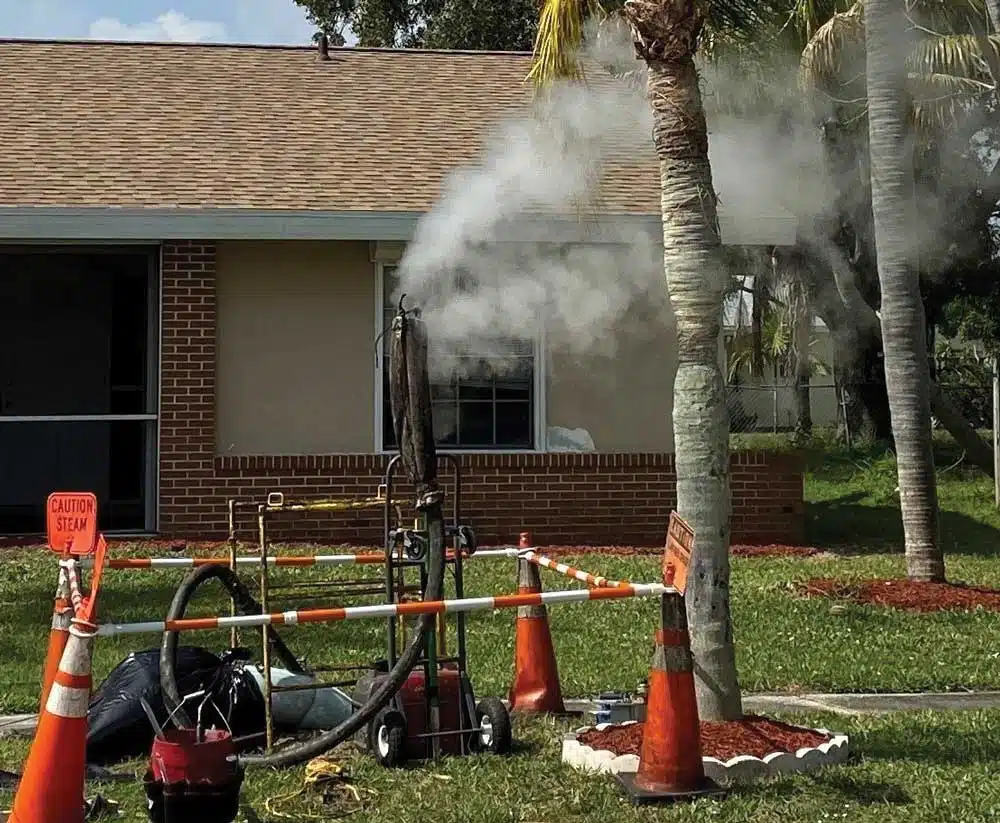 INTRODUCING EnviroCure® CIPP liner! Eliminate styrene emissions and odor.
Applied Felts' proprietary all-felt or hybrid felt/glass liners coated with a styrene barrier, vastly reduces if not eliminates styrene odors and emissions on the jobsite before, during and after your installations – taking away the significant cost and unpredictability of styrene-free resin systems.
EnviroCure's heat-cured, STYRENE IMPERMEABLE polymer coating eliminates styrene emissions and odor, reducing on-site styrene emissions to less than 1 part per million (IUPUI Test, Oct. 2021). EnviroCure is a polyester felt liner with multi-layer, polyamide coating containing conforming to ASTM F1216 and ASTM F1743. To accommodate the requirement for liners of varying thicknesses, multiple layers of needle-punched felt are employed.
EnviroCure® is manufactured by Applied Felts and wet-out by FerraTex Solutions. Streamline your next job with pre-impregnated, styrene impermeable liners delivered to your jobsite from FerraTex's five regional wet-out facilities.
Stop by WWETT Booth #1151 to learn more.
Aries Industries
Aries Industries is a leader in the design and manufacturing of pipeline video inspection, rehabilitation equipment and software. We deliver durable and innovative products, supported by expert service professionals. Our products are built to maximize productivity and withstand the rigors of inspecting and rehabbing mainline and lateral pipes.
Our video inspection equipment combines innovative designs with high-quality construction and durable materials. Inspection products include video cameras, transporters, and fully integrated portable or vehicle-mounted inspection systems. For pipeline rehabilitation, we provide powerful cutting tools and a vehicle-based grouting system to address groundwater infiltration. Our easy-to-use data management software allows customers to collect, analyze, and report inspection data.
Aries Industries builds fully customizable high cube trucks, vans, and trailers. Our vehicles are built for operator comfort, safety and productivity. We offer vehicle retrofitting to add inspection and rehab equipment to existing vehicles and we can refurbish flooring, cabinetry, lighting and more.
CUES C550c Portable & Modular System
Easier. Faster. Simpler.
The Flexitrax C550c is designed around simplicity of operation. Ready to use in 30 seconds from powering on, it requires minimal training to operate, letting you concentrate on pipe inspection.
A large 12.1" / 307mm HD, daylight visible screen combined with full-size keyboard and dedicated function keys guide you through the survey process, making the system faster and easier to use.
Built in is a high capacity internal lithium-ion battery, providing power for up to a full day's typical usage, and 128Gb of solid state memory, sufficient for over 90 hours of video recording.
Tailored solutions.
This portable and modular crawler system enables operators to customize the Flexitrax C550c solution for the inspection of a vast range of pipes, in all locations. The Flexitrax C550c can be readily transported and easily wheeled onto site through our rugged, ergonomic design, allowing you to reach access points beyond the range of your vehicle.
www.cuesinc.com
salesinfo@cuesinc.com
www.cuesinc.com/equipment/flexitrax-C550c
Emagineered Solutions
THE SHOOTER® by Emagineered Solutions is the original continuous air-inverter for CIPP and for decades has been the standard in the industry. Simple to operate and built to last, THE SHOOTER® is the right tool to make your company more efficient and profitable for years to come. THE SHOOTER® 12 has a range of 4"-12" and up to 15" with the Conversion Kit, a Knife Gate for after the liner tail passes and comes with either the Self-Lubricating Hand Truck or the Basic Non-Oiler Cart. THE SHOOTER® 24 for 15"-24" is trailer-mounted and comes with a Knife Gate and Remote Operating Station on the fender. An optional Conversion Kit expands its range from 6"-24". Additional equipment offered include full steam packages with portable dry steam generators, steam hose, A and B Stations, Water Cure flanges, and LED UV Y adapters. THE SHOOTER® is proudly crafted in Redmond, Oregon USA.
HammerHead Trenchless
HammerHead® Trenchless manufactures and delivers a unique combination of rehabilitation, replacement and installation equipment and consumables for the underground construction market. Besides being a full solutions provider in rehabilitation and replacement, HammerHead also offers unmatched field support and project consultation to its customers worldwide. HammerHead products are proudly made in the U.S.A. and sold and serviced in more than sixty countries.
HammerHead will be showcasing products with demonstrations at the WWETT Show in Booth #5433. One of the products that will be featured is the Bluelight LED CIPP lining system. This system is used in laterals and small drainpipes using innovative technology that empowers CIPP lining pros by alleviating the time pressures of other CIPP systems. With more than 2 million feet installed worldwide, the Bluelight LED lining system is a proven solution for lateral rehab. www.hammerheadtrenchless.com.
InfoSense (SL-RAT)
InfoSense, Inc. is the manufacturer of the Sewer Line Rapid Assessment Tool, or SL-RAT®, an award-winning acoustic inspection technology used to screen for blockages in small diameter gravity sewers. The SL-RAT is a highly portable onsite assessment tool that utilizes transmissive acoustics to safely provide a very fast and low cost understanding of blockage conditions. The SL-RAT is utilized by hundreds of utilities around the world to rapidly screen collection systems and better deploy costly cleaning and CCTV resources. This patented technology offers real-time blockage assessments in 3 minutes or less with no-flow contact at 1/10th-1/20th the cost of alternatives. Visit us at Booth 4435.
MAXLINER – Introducing WovoX™ and WovoGlass ™
Introducing WovoX: The Next Generation addition to the WovoLiner® suite of products. No question, a GAME CHANGER!
Upsize 4" transition liners to 6"
Multiple bends up to 90 degrees
Increased consistency for calculating stretch and drawback
Yes, you read that right – more control.
Not too short, not too long. Up to 2 existing pipe diameter changes with one liner, 90-degree turns, no wrinkles, no folds, without sacrificing finished thickness.
Introducing WovoGlass™ (available in coated or uncoated), benefits include:
Increased physical properties
A thinner profile capable of multiped bends up to 90 degrees and transitions
Multiple Uses – inversion, pull-in-place and spot repairs
Greater flexibility
Less resin needed
Heat Cure, Light Cure & Ambient Cure
The Wovo System helps installers looking to add in-building lining to their repertoire with a product capable of lining around multiple bends easily and with spectacular finished qualities.
Stop by WWETT Booth #1151 to learn more.
ProKASRO Services USA
The name ProKASRO stands for progressive sewer rehabilitation systems and is the market leader in pipeline rehabilitation equipment development and manufacturing. Since its foundation in August 2000, ProKASRO has developed tailor-made solutions to rehabilitate pipes and sewers including Ultra Violet light curing equipment capable of rehabilitating pipes from 4 – 80 inches as well as pneumatic, electric, and hydraulic robots, laminated cap (top hat) placement systems, and resin injection rehabilitation equipment. In November 2017, ProKASRO launched its first US service center in Centennial, Colorado. 100% German made, 100% American supported. ProKASRO Services USA is meeting customer demands and providing local support and service. PSU provides training, repair services, sales, and rental of state-of-the-art sewer and water rehabilitation equipment for your every need.
PSU is looking forward to welcoming colleagues and present & future clients at the WWETT Show in Indianapolis at our booth #3111 to discuss and demonstrate our products.
RapidView
If you are a municipality looking to improve your city with cost effective equipment, or a contractor wanting a reliable fleet of equipment that will keep your business moving, then RapidView has you covered. RapidView IBAK North America specializes in the highest quality sewer pipeline inspection and rehabilitation equipment in the industry, including push cameras, mainline, lateral launch, high definition, 3D mapping, 360° pipe and manhole scanners, portable systems, cutters, software, and fully converted vehicles with complete system mounts. Debuting at WWETT 2023 will be the LISY 4.0 Lateral Launch System featuring an all-new electric lift, improved observation camera, redesigned quick change funnel attachments, and heavy-duty funnel rotate motor. Stop by booth #5009 at the WWETT Show and check out all of the latest and greatest RapidView IBAK equipment, software, trucks and more!
(800)-656-4225 | www.rapidview.com
Sealing Systems, Inc.
Introducing Flex-Seal 2.0®! This all-purpose sealant adheres to many surfaces and has over 800% elongation. Flex-Seal 2.0® is designed to prevent inflow/infiltration and to provide corrosion protection at the grade adjustment ring section or joint section of manholes and catch basins. Flex-Seal 2.0® is 100% safe and Prop 65 compliant! The internal seal is manually applied using a paint brush and the kit is designed to cover 12 vertical inches on a 27" diameter manhole. Visit www.ssisealingsystems.com for more Flex-Seal information and information on our External Chimney Seal, Chemical Grout, External Joint Wrap and manhole inserts.
Sealing Systems, Inc.
9350 County Road 19
Loretto, MN 55357
1-800-478-2054
www.ssisealingsystems.com
Super Products®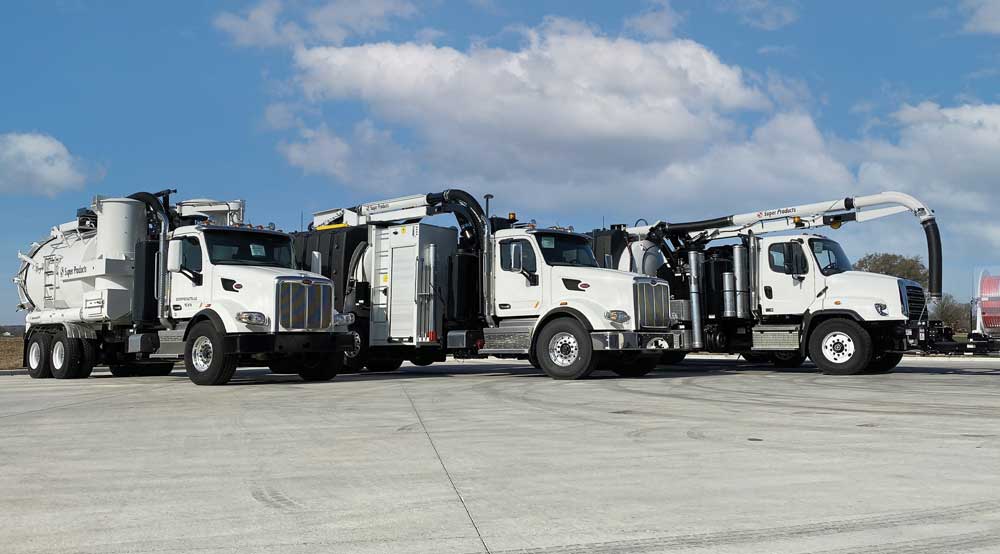 Super Products LLC, an Alamo Group Company, is celebrating its 50th Anniversary. For the past 50 years, Super Products has been at the cutting edge of vacuum truck development featuring advanced technology and customized solutions driven by customer needs. All units are engineered for a wide variety of applications and designed with the operator in mind while being recognized for high quality, durability and ease of operation. Super Products gives contractors and municipalities access to the industry's most efficient and progressive vacuum excavators, combination sewer cleaners, industrial vacuum loaders, truck-mounted jetters and liquid vacuum trucks. Join the company at WWETT Show 2023 to celebrate its proud history and promising future. Super Products will feature the largest vacuum excavator in the industry, the Mud Dog® 1600, the most versatile combo unit in the industry, the Camel® Max Series, as well as the industry's original industrial vacuum loader, the Supersucker®.
TRUVAC
TRUVAC Delivers Performance, Precision, and Productivity to Meet Today's Demanding Excavation Needs
TRUVAC is the industry leading brand of vacuum excavator trucks and trailers designed specifically to satisfy safe-digging requirements of businesses and organizations that locate and verify underground utility lines and pipes. TRUVAC is a brand dedicated to advanced, safe-digging technology to deliver maximum productivity, maximum performance, and maximum payload in every vac truck and trailer they build.
TRUVAC has an expansive coverage of dealers and factory trained technicians across North America. That adds up to a lot of know-how. Whether we are training at our manufacturing facility, online in a virtual class, or going coast-to-coast with our excavator training roadshow, we take a lot of pride in making sure our team knows how to keep your TRUVAC equipment running at max performance levels.
When it comes to quality, engineering, innovation, and reliable service, no other vacuum excavators can match TRUVAC. For more information about our products and services please contact us.
815-672-3171
www.truvac.com
Vermeer VXT300 Truck-Mounted Vacuum Excavator
The Vermeer VXT300 truck-mounted vacuum excavator is outfitted with an 8-cubic-yard spoil tank, a 6-inch dig tube and the ability to carry up to 800 gallons of water so crews can maximize productivity on the job. It is built on a Kenworth T370 truck chassis with a 350-horsepower diesel engine and a 6-speed automatic 3,000 RDS Allison transmission. The truck's PTO drive powers its Roots 624 vacuum blower with a maximum flow of 3,500 cfm free air and maximum suction of 18 inHg. With a water pump capable of producing 10 gpm at 3,000 psi, the VXT300 delivers productivity on large jobs as well as when digging at deeper depths.
About Vermeer Corporation
Vermeer Corporation delivers a real impact on the way important work gets done through the design, manufacture and support of high-quality industrial and agricultural equipment that helps connect people to the necessities of life, manage natural resources and feed and fuel communities. With a reputation for being built tough and built a better way, that equipment is backed by localized customer service and support provided by independent dealers around the world. To learn about Vermeer Corporation, products, the dealer network, financing options and careers, visit vermeer.com.
Vermeer MV Solutions, Inc. reserves the right to make changes in engineering, design and specifications; add improvements; or discontinue manufacturing at any time without notice or obligation. Equipment shown is for illustrative purposes only and may display optional accessories or components specific to their global region.
Please contact your local Vermeer dealer for more information on machine specifications.
Vermeer, the Vermeer logo and Vermeer MV Solutions are trademarks of Vermeer Manufacturing Company in the U.S. and/or other countries. All other trademarks, registered trademarks and service marks are the property of their respective owners. © 2023 Vermeer MV Solutions, Inc. All Rights Reserved.
Vivax-Metrotech Corporation
Vivax-Metrotech Corporation, headquartered in Santa Clara, California, has been a worldwide leader in locating technology for more than four decades. Vivax-Metrotech manufactures high-end solutions for locating buried utilities and video pipe inspection. We offer free local support and on-site training through our nationwide distributor network. Visit us at www.vivax-metrotech to see our full line of video inspection and buried utility locator products.
Our vLoc3 Series utility locators introduce innovative tools for locating buried utilities assuring damage prevention while gathering information for analysis. The RTK-Pro receiver is the first to add RTK GNSS accuracy to a utility locator allowing for centimeter mapping accuracy. This year we are pleased to announce our new vCamDrain camera system. The vCamDrain inspects drain lines from 1-½-inches to 4 inches up to 70 feet in length. The vCam-Drain features a Wi-Fi Reel that works with your smartphone or tablet, eliminating the need for a viewer.
Vivax-Metrotech Corp is a worldwide leader in manufacturing buried utility locators and video inspection cameras.
+1 (800) 446-3392
info@vxmt.com
www.vxmt.com