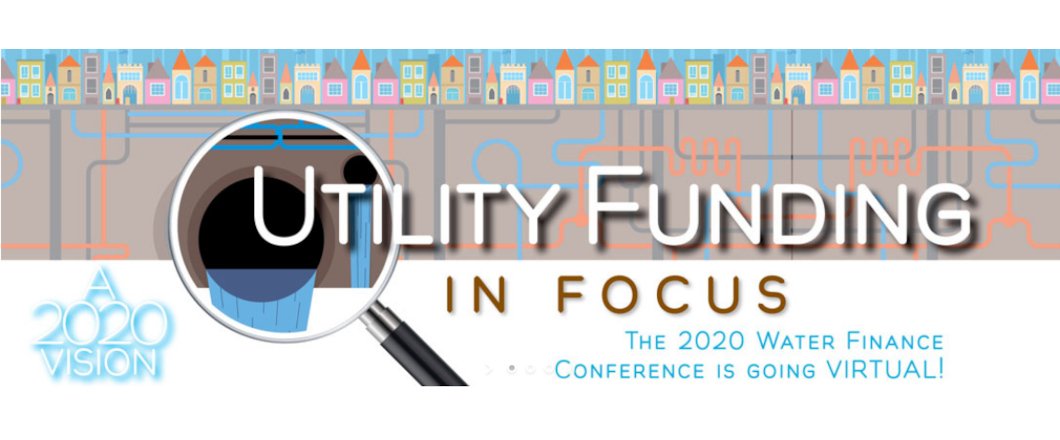 The 2020 Water Finance Conference is shifting to a virtual format. The sixth annual event, which exclusively covers financing in the U.S. water utility sector, was originally scheduled for Aug. 19-20 in Washington, D.C.
Due to ongoing concerns about the coronavirus pandemic, the 2020 Water Finance Conference will now be presented as two-hour online sessions on Sept. 8, 10, 15 and 17.
The Water Finance Conference caters to executive-level water utility professionals, including directors, general managers, superintendents, CEOs, CFOs and finance managers. Content is also geared toward consultants, financial advisors, attorneys and service providers involved in the financing of municipal water, wastewater and stormwater systems.
RELATED: Understanding the Basics of Asset Life Cycle Costing and Risk Based Criticality Scoring Using a GIS Centric Approach
The event is hosted annually by the journal Water Finance & Management, published by Benjamin Media. The event is presented in partnership with main event sponsor, the National Association of Clean Water Agencies (NACWA), which represents public wastewater and stormwater agencies of all sizes nationwide.
The theme of the 2020 Water Finance Conference is "Utility Funding in Focus: A 2020 Vision" and will cover a range of relevant topics in the water finance realm, including rates and affordability amid COVID-19, funding federal and state mandates, partnerships and consolidation and revenue recovery through digital technology adoption.
RELATED: 2017 Trenchless Technology Roundtable – Navigating an Uncertain Future
Each two-hour session will present one of the above themes that will be covered with at least one in-depth presentation and a wide-ranging panel discussion. Attendees will have the opportunity to network with presenters, panelists, other attendees and the conference sponsors, as well as submit questions throughout the session.
Individual sessions will cost $75 to attend or you can attend all four full-day sessions for $200.
Visit the conference website at waterfinanceconference.com for further information and updates. Registration and full agenda details are coming soon.
Contact Andrew Farr at afarr@benjaminmedia.com or 330-752-1919 for questions regarding the agenda. For sponsorship information, contact Maura Bourquin at mbourquin@benjaminmedia.com or 330-940-2211.
SOURCE – Water Finance Conference