Each year Trenchless Technology hosts its Roundtable to get a glimpse of the conditions that are shaping the market. This year, we polled leading manufacturers on their thoughts related to innovation and opportunity, as well as the impact of the pandemic affecting the global community.

Ulrich Schaffhauser
Member of the Board of Management of Herrenknecht AG
In the Board of Management of the Herrenknecht AG Ulrich Schaffhauser (born in 1964) is responsible for the Business Unit Utility Tunnelling and the Business Areas Mining and Exploration. He joined Herrenknecht in 1992 as a design engineer after completing his degree in mechanical engineering at the Offenburg University of Applied Sciences. Since then the graduate engineer (FH) has held various management positions in the Business Unit Utility Tunnelling, including as Head of Production and from 2011 as Chairman of the Executive Board.
Martin Dana
President and CEO at Hobas Pipe. He holds a Bachelor of Science degree in Finance from the College of Business Administration at the University of Oregon in Eugene. He is a 27-year veteran of the pipe industry, starting his career in 1993 with Oregon Steel Mill's Napa Pipe division, selling pipe to the oil and gas industry. Dana joined Hobas after spending the previous 18 years at Northwest Pipe Company in Portland, Oregon. Northwest Pipe Company is the largest manufacturer of engineered steel water pipe systems in North America. While at Northwest Pipe, Dana held various positions including, Vice President of Sales, Vice President of the Tubular Division and Vice President of Business Development.

Dave Wisniewski
Vice President with Vermeer Corp. He has 29 years of experience in the construction industry, including 23 years with Vermeer. His positions have included Regional Manager, Global Accounts Manager, Director and VP of Underground & Environmental Commercialization. He is active with the Distribution Contractors Association, having served on the Served on the Board and various Committees, including his current position as the co-Chair of the Government Relations Committee.
Justin Akkerman
President at Akkerman Inc. He became president earlier this year, taking the reins from his father Maynard. In 2014, Justin entered the family business, where he assumed the role of operations manager. He has been responsible for the corporate administration, providing direction for the management team, and managing the production and inventory control. Justin received his formal education from the University of Minnesota Twin Cities in Minneapolis, earning a bachelor's degree in civil engineering in 2006 and his professional engineer licensure in the State of Minnesota in 2012.

RELATED: Trenchless Technology Roundtable – The Contractor's Point of View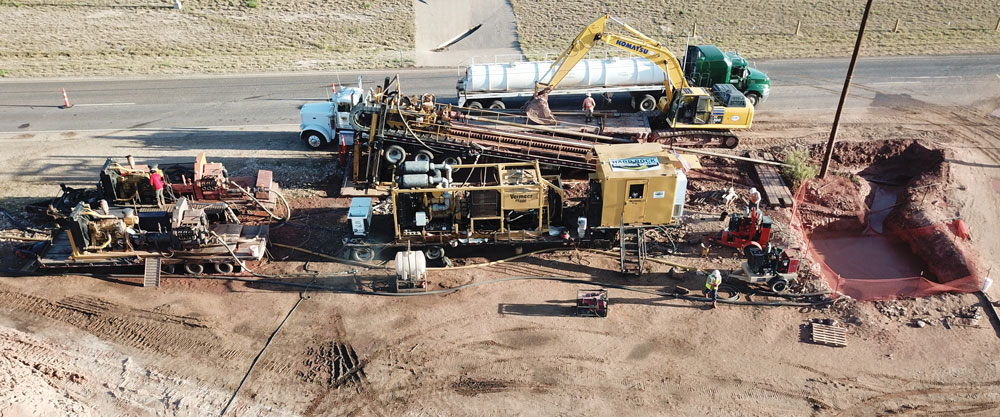 First of all, tell us how the pandemic has impacted your business. How has it affected the markets you serve? Has there been any impact on your suppliers? How have you been forced to change your operating procedures?
Schaffhauser: All in all, over the past weeks and months we've dealt with this exogenous crisis relatively reasonably. The whole time, the care of our employees has been at the forefront. So with our employees' support, for example, we have even been able to keep our operational processes at the headquarters in Germany running solidly. In the same way, in these peculiar times our engineers and specialists are also available with the best possible support for our customers and project partners. We respond carefully and preventively to our project partners' requirements as well as the respective country-specific guidelines. In order to stay in contact with each other as productively as possible across the Group as well as with our business and project partners, we use all available communication channels, for example increasingly video conferences and digital formats. In the meantime, almost everywhere around the world, everything is slowly moving forward again.
Dana: Hobas being a large pipe manufacturer has essentially two sides to the business. The corporate facility and the manufacturing facility. The corporate side was immediately, March 17, moved to a work-from-home situation for all employees. The manufacturing side stayed onsite but with very strict policies, education and oversite to ensure safety of employees as well as to ensure supply of products to our customers would not be interrupted. The markets we serve are considered essential, and therefore very little interruption was experienced in general. Our supplier base has been largely unaffected. We did implement some logistical changes to incoming deliveries of raw material and outgoing pipe shipments to limit and ensure safe contact with Hobas personnel. For the office staff, working from home is new and, thanks to a strong IT infrastructure, the implementation has been very smooth. We continue to work from home as of early June and until the risks of the virus are better understood we will remain working from home for some time. For the production staff, we have implemented a number of new procedures including; new protocol for entering and exiting the facility, PPE must be worn at all times (includes N95 mask which were standard before coronavirus), temperature checks prior to the start of the shift and small groups for all lunches and breaks. All travel, even for salesman, was stopped and we are constantly using new tools like Microsoft Teams, Zoom and other electronic forms of face-to-face meetings. Our field service personnel, who work on a daily basis with our customers in the field, have also had to adapt. Many of the training sessions that once took place in person are now handled online. We made a number of changes and implemented a lot of technology to adapt to our current normal.

RELATED: 2016 Trenchless Technology Roundtable —Trenchless Across the Continent

Wisniewski: First of all, you could write a complete book on the questions you have posed here. Our organization sits right in the middle of the overall supply chain and therefore we have been impacted on the receiving, sending and operational sides of our business. Fortunately (or unfortunately), we have had some tremendous experience in dealing with crisis situations having had our Pella, Iowa, campus take a direct strike from an EF3 tornado less than two years ago. While that particular event was focused primarily on our operations and the actions we implemented were to mitigate the impact of losing a large percentage of our manufacturing footprint, the experience reaffirmed that we can overcome adversity. In the case of the COVID pandemic, we reacted with the appropriate level of urgency to protect and monitor our supply chain, monitor our customer's work log and communicate frequently to all the stakeholders (suppliers, dealers, customers and most importantly our employees). We are very fortunate that the majority of the markets and therefore the contractors we serve are essential to maintaining the backbone of our society (infrastructure). As a result, many of our contractor workforces have remained active in their businesses, although at a slower pace as they adhere to the requirements and social protocols this pandemic has mandated. The reality is that most of our businesses were flourishing before this pandemic hit and in some cases the reactive measures we have had to take while fighting the virus' spread have only enhanced the need for more infrastructure development. Telecommunications is a perfect example. The need for connecting our society to high speed data and the 5G buildout have been pronounced as we see the strain school-at-home and work-at-home have placed on the data network. The need for replacing the nation's gas infrastructure has not gone away, but our contractors have not been able to enter consumers' homes during this period of time so the service connection backlog has grown. As a result, contractors are doing the best they can to stay the course and install their vital services through this disruption, but it will leave a wide wake in its path that will require even more attention.

Akkerman: The recent pandemic has made for an interesting past three months. We experienced a slight lull in activity. Like everyone, we were not looking too far ahead since things were changing daily. The safety and well-being of employees remained our top priority. We are fortunate that we remained open throughout this time, and our safety culture is very strong and transparent. We have seen due dates slip from some of our foreign component suppliers, but overall, it has not affected production as much as we initially anticipated. On the positive, we have noticed good quality customer service from our local suppliers because they are not making sales calls and work almost exclusively from their home offices. Our sales team has been grounded during this time, but they are adept at working remotely, and virtual meetings have become a daily occurrence. Our traveling technicians continue to travel and support our customers. There is still some uncertainty as projects are delayed, postponed, or even canceled due to safety and project funding.

How would you rate the state of the trenchless technology market right now? What is your long-term outlook on the market? What market segments are the strongest? What areas have the most potential for growth?
Schaffhauser: We anticipate a generally stable market at a high level. Many of the national and international funding programs launched and planned in America, Europe and Asia/Australia involve substantial infrastructure investments. These have a stimulating potential, are essential for urban development and environmental protection and will create and secure jobs and economic prosperity. In addition, in our view, the fundamental and forward-looking market trends are generally intact: more and more traffic and utility infrastructures are being planned and built underground. Countries and municipalities worldwide are investing to modernize supply and waste disposal networks or to build them from scratch. In the water and sewage sector in particular, many projects are geared toward the long term. We also see potential in the energy sector, for example in the expansion of underground high-voltage grids instead of overhead lines.

RELATED: 2018 Trenchless Technology Roundtable – The New Face of Trenchless Technology

Dana: Regarding the long-term outlook, I am a little hesitant. With everything going on around us, it is difficult to determine how much of an impact it will have on our business. We know municipal revenues will be significantly down over the next couple of years and this always has an impact on infrastructure spending. However, if the Federal government were to pass an infrastructure bill prior to the November election perhaps our expected market activity decline will only be for a short period of time. However, the rehabilitation market is quite strong. We see this on both the water and the sewer side. Hobas is producing products for the rehabilitation of potable water lines, a market that has been growing for us. Additionally, we have added a non-circular sewer product to our portfolio that will also enhance our position in the rehabilitation market. Given the likely budget issues our customers will face, we expect to see more work coming from the rehabilitation market. Rehabilitation is often utilized for emergency repairs and we do expect critical infrastructure to be maintained or replaced even with budget constraints.

Wisniewski: The trenchless market will continue to have a solid future. As I mentioned earlier, the need for power, telecommunications, water and gas utilities is immense and trenchless is a preferred way to install these utilities. The COVID pandemic has been an eye opener and is certain to help create greater urgency around the need to ramp up data connectivity. The core utility markets will continue to be the anchor markets for directional drills. The vast majority of horizontal directional drills produced are in the small to mid-range and they are installing utility infrastructure.

The other technology that is closely associated with HDD that is growing is hydro-excavation. These two technologies run in tandem and have a dependency upon each other. Potholing is a required practice for crossing utilities and drill fluid disposal is a necessary part of the job. In some cases, the embedded infrastructure is packed so tightly that even HDD is not feasible and hydro-excavation is the most effective way of creating a path for new utilities.

Akkerman: Based on current and future project projections, the trenchless technology market remains steady. As the technology and contractor expertise increases, we believe that the slurry microtunneling has the most potential for growth and it has become a widely accepted method in the U.S. However, since 2020 is an election year compounded with the lasting effects of the pandemic, there could be a slowdown in the trenchless market.

How do you view innovation within the trenchless market? How is the use of new technology viewed by contractors and owners? Are they willing to take on new technology or do they prefer to use more traditional approaches?

Schaffhauser: In recent years, a lot has happened in the markets, which can also be seen in technological progress. You can see this, for example, by how well established microtunnelling projects with curves along the alignment are in the United States now. Or the Direct Pipe method developed by Herrenknecht: it led to a significant technological boost in the installation of pipelines, especially in heterogeneous, water-permeable soils. Numerous reference projects have been carried out highly successfully and the advantages of the method are now recognized in the industry. The innovation potential is always faced with administrative hurdles as well. We are experiencing this currently with E-Power Pipe in Germany in connection with the politically proclaimed energy transition. The method for environmentally friendly underground cable installation was awarded the Bauma Innovation Award last year, for example. We closed a technical gap: small-diameter drives with 10 times greater lengths (over 1,000 m), shallow depths, high precision and speed are possible. There are initial, successful references, and yet everything takes forever, including the process of open tenders or the necessary technical understanding of administrations. Here we can see, for example, that there is a much more open-minded understanding of innovation in the U.S.A., and when clients and contractors see the advantage of the new technology, they use it more quickly. That is good for progress.

Dana: I see lots of innovation occurring, and new technologies seem to come along quite often. Not all have the staying power in the market though; the products need to provide real long-term benefit to the owners, not just a quick fix. From the owner's side, we see more of a focus on investments in long-term solutions. The contracting side looks more at the shorter term, from the installation advantages perspective. I think more than ever new technologies are being taken into consideration. But, civil engineers by nature are not huge risk takers and like proven solutions, so existing traditional approaches will continue to be the most common.

Wisniewski: True innovation generally introduces a process or method change. It is not just a novel feature or incremental mechanical feature. Change is not always easily accepted and for understandable reasons. Contractors or owners develop livelihoods, reputations and respect based on their ability to complete work in given time frames, with an outstanding safety record and with quality results. Changes to proven practices and procedures are not taken lightly. However, real innovation usually comes with a value proposition that solves problems that can greatly improve safety, efficiency or productivity. These impacts manifest themselves in stronger and safer work environments, more profitable projects and differentiation from competitors. I believe that most contractors see we have a time that is ripe for innovation and they are looking to suppliers to help fill the need. Drill fluid and spoil disposal is a big one. We at Vermeer recently introduced the Vermeer XR2 vacuum excavator. This is a unit that separates hydro-excavated fluid from spoil real-time. This is the kind of innovation that can help drive disposal costs down, and reduce the time a vac operator is off site dumping. The XR2 addresses real issues that contractors have. However, as with most innovative products and ideas, contractors still want to see it operated in their environment, with their crews so they can make their own determination of how well it will fit their business. We respect that and feel it is the part of the relationship we have with them. We need to help our customers connect the dots for their business.

Akkerman: Innovation is always welcomed in the trenchless market. Contractors appreciate the opportunity to push the limits and often look to the equipment manufacturer to innovate. Whenever we can add value and make our equipment lines even more versatile to increase productivity, contractors feel confident in bidding on new challenging and profitable projects. Willingness to embrace new methods promotes safer and more efficient job sites.

How would you rate the evolution of the market? What obstacles still exist for the market at-large and manufacturers in particular?

RELATED: The Trenchless Industry & COVID-19

Schaffhauser: We regularly find that our project partners greatly appreciate targeted and project-specific support of their construction activities. Quality and service are generally valued very highly, especially for projects with complex challenges or multilayered parameters. In order to expand our capacities in this respect and to further strengthen our presence close to customer projects, in 2018 we established an additional service hub in Houston. This has been well received by customers and the market. Herrenknecht sees itself as a recognized, significant partner for contractors in mechanized tunnel and pipeline construction in the United States. We are involved in very complex infrastructure projects with our innovative machines and customer-oriented services. We can count on a top team in the U.S.A. that works closely and very successfully with our headquarters in Schwanau.

Dana: From one perspective I give the market evolution a dismal outlook, why is that? FUNDING. There isn't enough money for what needs to be addressed. We have known this for years, and nothing seems to change. Engineers are creative though, and I see lots of municipalities figuring out how to do more with less, and again, making the long-term investment over the quick fix, the total cost, in the end, is less, making better use of the available funds.

Wisniewski: The market continues to mature as trenchless is a widely accepted method of construction. However, there is still a big opportunity for education in this space. We attend conferences and speak at other industry events, as well as provide numerous ad-hoc training events. There are always attendees who are looking for more information on basic and high-level concepts pertaining to the HDD process. The industry can only benefit from driving a deeper understanding of the HDD process into the industry. Advancements on productivity and efficiency of drill rigs, locating systems and jobsite data continues to progress. Pre-COVID-19, the lack of labor and qualified drill operators had a dampening affect on the overall market. Post-COVID, it will be interesting to see if that will continue to be an issue.

Akkerman: Too often, U.S. trenchless manufacturers lack support from project owners on taxpayer-funded municipal, state, or federally funded infrastructure projects. While the Buy American initiative supports project supplies, specialized equipment that is purpose-built for a project can be sourced overseas, thus bypassing American workers. We appreciate the support from organizations such as NUCA, NASTT, and AEM who assist to protect U.S. manufacturers. The recent pandemic is an excellent example of effort made to keep our essential American workers employed

Mergers and acquisitions in the trenchless marketplace seem to be on the uptick recently. What effect does this have on manufacturers? What effect does this have on the market in general?
Schaffhauser: A lot has happened in this regard in recent years. We all have to keep a close eye on it. Specialized civil engineering is an engineering business for real specialists and pioneers. It profits from technological innovative strength and the enormous diversity of highly specialized companies. Ensuring the highest safety and quality standards must always come first. Machine technology and customer-specific services optimized for projects and market requirements are not a series or platform business. Technological progress at Herrenknecht is therefore always carried out in well-balanced steps, backed up by expertise, and in partnership. As a family business, we want to continue to provide lasting impetus to the market well into the future.

Dana: Unless these mergers or acquisitions take place among manufacturers in our market place they really have a limited impact on Hobas. The impact depends on which arena these mergers and acquisitions take place. In general, we believe it can be good for the market.

Wisniewski: Mergers and acquisitions shouldn't have a major effect on manufacturers or a major impact in terms of units produced based on the foreseeable demand that exists in the marketplace. I believe Vermeer Corporation and its dealer network are well positioned to meet the needs of large accounts or smaller contractors.

Akkerman: Mergers and acquisitions can help with pooling resources and intellectual property, and also broadens the scope of equipment offerings for the parent company. All equipment manufacturers must invest in product innovation to remain viable. One of the positives that results from mergers and acquisitions is that it offers the means for funding product innovation, which in turn increases the variety of products in the market. The downside to some mergers is the loss of longtime reputable companies to foreign ownership.

RELATED: Download the Mergers & Acquisitions Special Report

What types of opportunities exist for U.S. manufacturers in the global market?
Schaffhauser: Herrenknecht works with customers in almost every country in the world. Our locations in North America, in Canada, Mexico and especially in the United States, play a prominent role in this. For example, our cutter experts in the U.S. support projects worldwide. Technology trends such as digitalization and remanufacturing, as well as the further development of established technologies and methods, open up interesting opportunities for us as a machine manufacturer. Innovative infrastructure solutions can become additional drivers – on both a large and a smaller scale: the proven mechanized shaft sinking technology (VSM), for example, can help relieve the tense inner-city parking situation in many places as property prices continue to rise. On a small footprint, with the U-Park system there is room for many parking spaces in underground shafts with automatically operated parking towers.

Dana: Hobas has recently moved manufacturing of non-circular pipes from Europe to Houston. This new capital investment was ongoing when COVID-19 hit, so the ability for our European counterparts to assist in the equipment building and installation was just a bit delayed, but, for sure this is still an opportunity for the future.

Wisniewski: There continues to be regional opportunities for U.S. manufacturers in the global market where labor costs are high, and uptime and productivity are highly valued. That's why we have a network of regional offices and worldwide dealers who are working in both developed and emerging markets to continue to advance or introduce the benefits of trenchless applications and technology.

Akkerman: Akkerman is a global supplier of trenchless products; however, our primary market is North America. We provide unparalleled support to our customers. As a U.S. manufacturer facing travel restrictions, unbalanced trade laws, and unfavorable exchange rates, maintaining our focus within North America is vital.