A world record was established for the cured-in-place lining (CIPL) of a 573 lf, 42-in., high-pressure cast-iron (CI) gas main leaking under Garden State Parkway at Central Avenue Bridge in East Orange New Jersey.

This project involved deep inaccessible pipe 30 ft below grade under freeway in U-tube layout, as well as a complex pipe geometry that had seven bends and two steep slopes up highway embankments. A drip pot fitting at low point under parkway created 4-ft gap.
There were several obstacles overcome to complete this project: Excavations and/or potholing across eight freeway traffic lanes to repair leaks impossible; East Orange hospital nearby – essential Central Avenue was open during construction; proximity to bridge reconstruction and hazards of leaking pipe required intensive coordination with bridge contractor and DOT; limited gas outage window; and mandated Sept. 1 gas-in.

RELATED: 2018 Project of the Year Rehabilitation Winner: 36-in. CIPL Gas Main Rehabilitation Project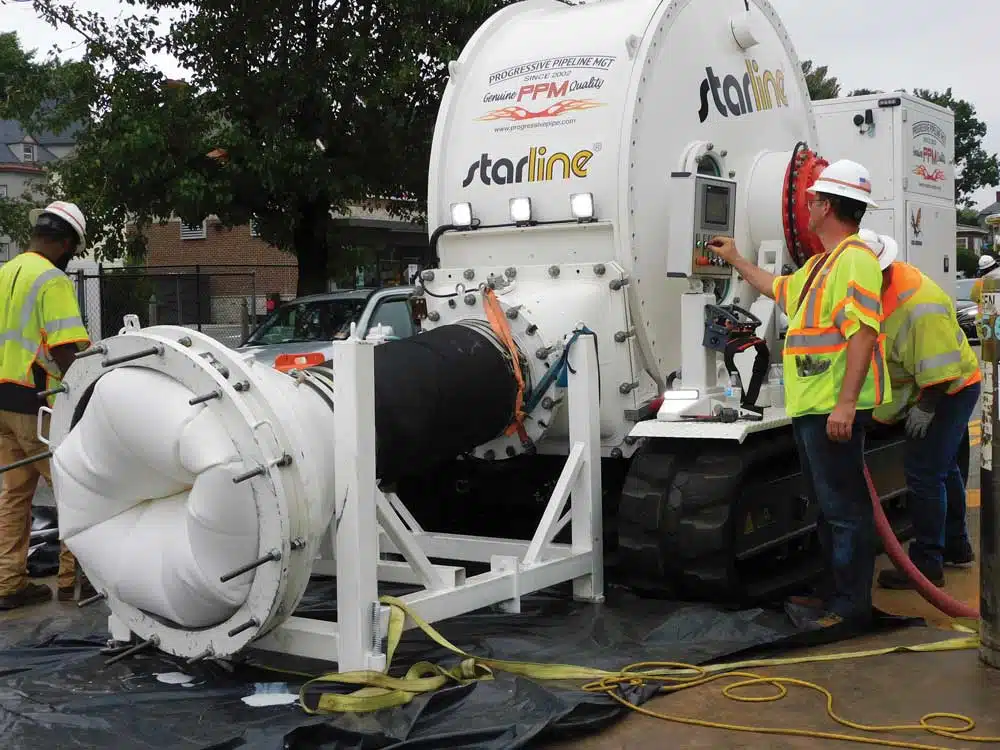 According to project officials, CIPL was the only option; yet lining very large 42-in. CI pipe is a new frontier, never been done. Inaccessible complex pipe configuration increased the challenge. This project resulted in first-ever technical innovations key pillars of success:


New custom-built inversion drum, redesigned inversion cone with transport hose for large diameter lining. Increased capacity, reduced top side footprint, faster setup/take down, enhanced liner protect


ion eliminating liner belt chafing and lift-off, more efficient process due to inversion cone redesign, moving inversion point from above ground to pipe entry.


Infiltration due to extreme pipe depth, leaking pipe and high-water table nearly stopped entire project. First-ever gas industry use of injected curtain grouting through pipe wall into soil to block I&I was project linchpin, creating dry pipe interior allowing project to continue. Man-entry and strict confined space protocols.


New self-propelled robotic sandblasting unit with CCTV for cleaning.


Two dust collectors (64,000 cfm) for high-velocity post-clean removing stranded grit. Replaced 10 vac trucks. New upsized 16-in. vacuum recovery hose setup pretested before job. Real time airflow monitoring. 45 mph min. in cleaning and grit recovery. Gravity big challenge with pipe layout


Largest 6-ft steel SRS ever made to bridge 48-in. drip pot gap


Successfully inverted large 42-in. resin-soaked liner in 7 complex bends & multiple grade changes


Reinforced liner tail and catch end to withstand air pressure for 42-in. inversion in complex pipe layout.


The main was abandoned June 26, with prep work beginning on July 3. Liner inversion took place on July 19 took only one hour, starting at 4 a.m. due to summer heat. Completion on July 22. Pressure test (22.5 psig) confirmed liner integrity. The ends were trimmed and cut flush to pipe. Gas-in on schedule Aug 22.

RELATED: Complicated Gas Main Projects Untangled by PSE&G & PPM Team
Why Project is Outstanding:
This world-record 42-in. CIPL consolidates past successes, experience and knowledge gained from lining successively larger diameter projects over 28 years. Apex achievement from years of industry effort and final benchmark attaining summit of technical proficiency for gas industry CIPL. New inversion drum/cone redesign based entirely on learnings from previous 36-in. world record. Inversion cone redesign and transport hose fundamentally transforms lining process, placing inversion at pipe entry rather than traditional above ground inversion. This unique new streamlined CIPL methodology now described in Europe as the "U.S. Method."

Significant first ever technical innovations used to overcome challenges on this project are now permanent additions to the CIPL toolbox: new inversion drum/cone/transport hose; curtain grouting to stop inflow; self-propelled robotic sandblasting unit; dust collectors to recover grit; tail and catch-end reinforcements; expertise in custom fabricating SRS bridges over legacy gas fittings. These advancements open the way for any size of gas pipe to be relined, any layout any location.

This outstanding project demonstrates the benefits of collaborative networks with industry peers and wealth of technical information from seminar presentations, industry journals, and membership in professional organizations like NASTT or AGA. Close teamwork with industry leaders like Avanti Grout, Miller Pipeline and Karl Weiss, advisors and subcontractors. The ability to utilize pool of ingenuity and resourcefulness within these companies were the cornerstone of project success, such as the first ever use of curtain grouting to stop infiltration into depressurized pipe. Knowledge base essential in generating solutions to complex challenges from large diameter, inaccessible complex layout.

RELATED: Trenchless Technologies Used for Unusual Rehab Project

This project is a perfect example of upfront investment of time/effort in careful meticulous planning resulting in timely, safe, efficient construction. Design took five years, with months of discussion, meetings, permitting, paperwork and brainstorming.

This project sets a benchmark new world record and opens path for more future use of CIPL in any larger diameter gas pipe configurations, with no limits to the application of CIPL technology. New innovations will inspire further R&D efforts yielding a greater range of applications for gas industry CIPL.

---
Project Owner: Public Service Electric & Gas (PSE&G)

Engineer: George Ragula, Public Service Electric & Gas (PSE&G)

Contractor: Progressive Pipeline Management

Manufacturers: Avanti International, Karl Weiss Gmbh, Miller Pipeline, ULC Robotics.

Value of Trenchless Project (US$): $4.1 million