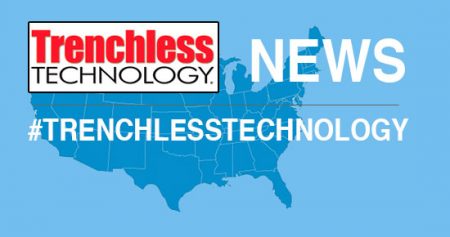 Trenchless Technology
magazine is pleased to announce the recipient of its 2017
Trenchless Technology
Person of the Year: Jim Rankin, an industry professional who has dedicated his nearly 40-year career to the horizontal directional drilling (HDD) industry.
"We are extremely pleased that Jim Rankin has been selected as our Person of the Year because of his outstanding service and innovative contributions to the trenchless industry," says
Trenchless Technology
editor Jim Rush. "Jim has been a pioneer in the HDD market, including playing an instrumental role in the development of Vermeer's first horizontal directional drill. He has gone on to hold 15 HDD-related patents. Jim's commitment to the industry is boundless."
Referred to by colleagues as an "HDD guru," Rankin has been involved within the trenchless and construction industries for nearly four decades, and has made a name for himself through both innovative thought and action.
RELATED: 2016 Trenchless Technology Person of the Year — Lynn Osborn
The first line drawn on a directional drill at Vermeer Corp. was made by Rankin, who helped lead the charge at Vermeer to develop the first horizontal directional drill. Over his 38 years at Vermeer, he has served in various capacities relating to the trenchless and HDD industries, including project manager, engineering manager, HDD product manager and applications engineer.
With Vermeer, Rankin has traveled to trenchless jobsites across the globe, offering his support and expertise. He was instrumental in instituting VTM – Vermeer Tianjin Mfg. in China. He played a large role in getting this manufacturing facility off the ground and its successful implementation with his help in manufacturing and designing HDD from the facility.
Rankin has extensive involvement in organizations and charity events. Rankin has served as a member of the Australian Pipe and Gas Association for 12 years, and on the North American Society for Trenchless Technology's (NASTT) board of directors for the past six years, including its annual Educational Auction at the No-Dig Shows. He has brought with him a business point of view from an academic and engineering background. His extreme project focus coupled with a real-life orientation and abundant past experiences have proved to be invaluable assets to the NASTT board. In particular, he has spent countless hours of his time in helping mentor young college students about the trenchless industry.
Rankin will be formally recognized for this highly prestigious honor Monday, April 10, at the NASTT No-Dig Show Kick-Off Breakfast at the Gaylord National Harbor Convention Center in Washington, D.C. He will be presented the award by
Trenchless Technology
publisher Bernard P. Krzys.
RELATED: 2015 Trenchless Technology Person of the Year: Dan Liotti
About the Award
The
Trenchless Technology
Person of the Year has been awarded annually since 1993 to individuals representing significant recent achievement and lifetime achievement, and who have exhibited outstanding leadership in the advancement of trenchless technology. It is determined by a selection committee comprised of industry professionals.