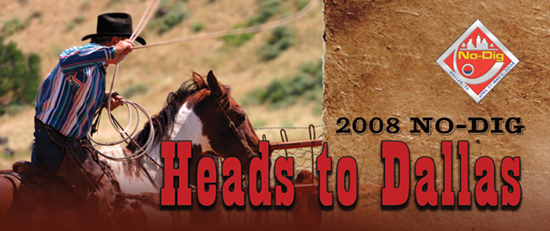 Saddle up partner — it's time to head west for the 2008 No-Dig Conference and Exhibition, April 27 to May 2 at the Gaylord Texan Resort and Convention Center in Dallas. Dust off your cowboy boots and hats and get ready to experience the only conference and trade show in North America dedicated solely to promoting trenchless technology. From exhibits from some of the biggest names in trenchless to invaluable educational seminars, No-Dig 2008 is the show trenchless professionals can't afford to miss.
More than 1,000 municipal personnel, engineers, consultants, contractors and academia are set to attend the event that highlights all things trenchless. More than 100 exhibitors will be on hand to discuss their products and new technologies and answer questions about their latest offerings. Attendees can roam about the exhibition hall to take in the newest innovations in the trenchless industry firsthand or set aside time to learn more about trenchless methods and projects.
To further the education of trenchless technologies, the No-Dig technical paper program is an important part of the event's curriculum. The program, which was developed by NASTT members, highlights more than 100 papers focusing on new installation, rehabilitation and other trenchless topics. Attendees can choose among what peer-reviewed paper presentations they want to see. The papers are evaluated based on relevance, usefulness and non-commercialism. The No-Dig papers are presented in a 4-track schedule, grouped mostly by subject matter, so visitors can choose to attend four paper presentations at any given time.
Pre- and post-conference seminars are also available for attendees at an additional cost. On Sunday, April 27, an Intro to Trenchless Technology Short Course – New Construction Techniques & Rehabilitation Methods will be offered. This course is designed to accommodate to both newcomers to the industry and those looking to brush up on trenchless technology methods.
April 30 and May 1, the Horizontal Directional Drilling (HDD) Good Practices Guidelines Course is scheduled. Attendees will receive an in-depth overview of HDD from planning to demobilization. Other courses include the NASTT New Installation Methods Good Practices Course, Damage Investigation Workshop (sponsored by Common Ground Alliance), the NASSCO Pipeline Assessment Certification Program (PACP) and the NASSCO Manhole Assessment and Certification Program (MACP).
Kick Back and Relax
Although the No-Dig Conference and Exhibition is a means of education, there's also an array of fun and engaging networking opportunities for participants. From golf to an auction, there's a family-friendly event for everyone.
The Ninth Annual No-Dig Golf Classic is scheduled for Sunday, April 27, at the Cowboys Golf Club in Grapevine, Texas. The resort-style golf course features Dallas Cowboys' collectibles and other memorabilia detailing the football team's history. Early registration for the event is $135 and $145 for registration after March 27.
The Conference and Exhibition is put into motion with the No-Dig Kick-off Breakfast on Monday, April 28. During the morning-time meal, the 2008 Trenchless Technology Person of the Year award will be presented to Maynard Akkerman, president and owner of Akkerman Inc. The 2007 Outstanding Papers in Rehabilitation and New Installation special awards will also be announced and distributed. Comedian Jim Gossett is scheduled to perform at the breakfast.
Later that day, the NASTT Seventh Annual Educational Fund Auction is scheduled. At this yearly event, participants can mingle with others and bid on items — all while supporting a good cause. Since 2001, more than $160,000 has been raised through the auctions and added to the Educational Fund to support student chapters, target research, training modules and other student activities. Past items have included trips, electronics, women's jewelry and trenchless products, such as a portable electric submersible pump.
On Wednesday evening, April 29, NASTT will host the No-Dig Gala Awards Dinner where trenchless industry personnel will have the opportunity to network, while enjoying food and live entertainment. At the Gala Awards Dinner, the winners, runner-ups and honorable mentions of the 2007 Trenchless Technology Projects of the Year in Rehabilitation and New Installation will be recognized in a special awards ceremony. The band, Emerald City, will provide music to accompany the event.
To cap off the annual No-Dig festivities, a Closing Luncheon & Entertainment is set for April 30. At this time, participants can enjoy lunch, entertainment and take one last time to socialize with industry professionals before heading home. Mayor David Wallace of Sugar Land, Texas, will speak at the closing luncheon, sharing his own experiences of providing adequate water sources to an expanding community.
There's still time to get involved in this premier trenchless experience. For more information about the event or to register online, visit www.nodigshow.com or contact Benjamin Media at (330) 467-7588.
Pam Stask is an assistant editor of Trenchless Technology.
AP/M Permaform
For more than 20 years, AP/M Permaform has been helping cities, engineers and contractors choose the best tools for their projects from cement liners, coatings, structural polymers, chimney seals, channel liners and more. For more information, visit booth #811 or www.permaform.net.
Ace Pipe Cleaning
Since 1949, Ace Pipe Cleaning and the nationwide network of Carylon Companies have provided specialized environmental services to industries, municipalities and utilities. Today, the Carylon Corp. is the largest environmental contractor in the industry. Areas of specialty include: sanitary and storm sewer cleaning; sonar inspection; digital television inspection; CIPP point repairs; bio-solids landfill application; dredging and pumping; infiltration/inflow control; manhole rehabilitation; digester tank cleaning; wet/dry vacuuming; water-dry ice blasting; hydro-vac excavation; sludge dewatering; lateral lining; root control and Top Hat lateral sealing.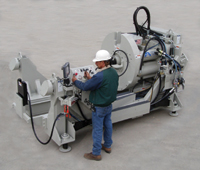 Akkerman Inc.
Akkerman Inc. introduces the 4812A Guided Boring Machine (GBM) jacking frame. The 4812A frame can jack pipe lengths up to 2 m in size with a maximum outside diameter of 48 in. Akkerman has introduced longer dual-wall pilot tubes and augers and casings to increase productivity. The jacking thrust is advanced through a single and continuous hydraulic action and the guide rails have been lowered for ease of functionality. Together, this requires fewer joints to go the same distance, thus reducing project costs.
American Ductile Iron Pipe
American Ductile Iron Pipe offers GS Push Pipe and Fastite Push-Bar Pipe designed specifically for direct jacking in pipe bursting and microtunneling applications; and Flex-Ring Joint Pipe designed for pulling in HDD and pipe bursting applications. For more information, visit the company at booth #322 or call (800) 442-2347.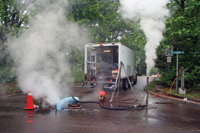 AOC Resins
AOC Resins has helped pioneer the development of isophthalic polyester resin technology that sets the standard for cured-in-place (CIPP) rehabilitation. At No-Dig 2008, guests can visit AOC's Corrosion Team Stop and review its newest case histories, technologies and support. These displays demonstrate how AOC helped Insituform preserve the ambience and history of a quaint, Southern town and how Visu-Sewer helped Graettinger, Iowa, reduce infiltration and inflow leaking by up to a half million gals. Visit AOC at booth #415 for more information on Vipel cured-in-place pipe resins from AOC.
Aries Industries
Aries New PATHFINDER mini Pan & Tilt camera/transporter could be what you are looking for. This combination camera and transporter will work in pipe sizes from 5 to 12 in. Camera, transporter and lights are all included. Simple wheel changes allow for quick adaptation to multiple pipe sizes and integrated long-life LED lights keep the profile low. For more information, call (800) 234-7205 or e-mail Sales@ariesindustries.com.
Avanti International
AV-290 Fast-Set is a two-component, fast-reacting hydrophobic polyurethane foam grout designed to stop high-volume water leaks. AV-290 is packaged in an efficient, user-friendly manner with both components in a single cartridge tube. A static mixer is included. AV-290 reacts within three seconds to form a dense, firm and impermeable foam that is tack-free within 25 seconds. Applicators use this product to stop leaks in manholes, basements and other structures with active water leaks.
Can Clay
Can Clay's Denlok jacking pipe with new high-pressure joints meet the growing demand for deeper trenchless sewer installations. Pressures exceeding 29 psi are now available. Combined with the proven highest available corrosion resistance from ceramics materials and stainless steel couplings, Denlok is the best choice for jacked pipe installations of sanitary sewers. Jacking strengths range to 3,100 tons. Diameters from 6 through 48 in. with lengths to 10 ft are now available.
CertainTeed
CertainTeed engineered the first completely non-metallic, easy-to-assemble, restrained-joint PVC piping system for directional drilling applications, and today offers a variety of contractor-proven products for water, sewer and electrical and telecommunications applications, including C900/RJ, Yelomine and Certa-Com. The latest member of this growing family, CertaFlo GreenLine is ideal for gravity sewer applications where PVC is far superior in terms of holding grade and where the convenience of Certa-Lok restrained-joint system is required to get the job done in an efficient manner.
CIPP Corp.
CIPP Corp. is a team of expert installers who fully assess all aspects of a pipeline and recommend and provide the best solutions for problems found. The team acts regionally, thinks locally and meets nationally to discuss trends, new products and techniques. The result is a team dedicated to improving not only cured-in-place pipe (CIPP) installation, but also every method of pipeline rehabilitation. CIPP prevents infiltration, restores structural integrity and eliminates joints that can weaken and allow root intrusion. CIPP increases flow capacity because it is much smoother than old clay and concrete pipe.
CTZoom Technologies
A new technology has entered the U.S. market that is designed to give users a clearer picture of what's happening underground, without having a camera deployed into the pipe or requiring that the pipe be cleaned beforehand.
PortaZoom camera inspection makes it possible to investigate a large portion of sewer network at a fraction of the cost. And, if used as part of a regular maintenance program, PortaZoom camera inspections can be an effective way of keeping tabs on the condition of pipes and manholes in the long-term.

CUES Inc.
The K2 portable Base Station can be mounted in a wide range of vehicles, trailers or used as a stand-alone system. The compact K2 Base Station is supplied with a choice of an ergonomic wireless hand-held control or game pad control that operates all CUES transporters and pan and tilt/zoom cameras. K2 Base Station features built-in diagnostics for the entire system, including the video cable.
Ditch Witch
The Ditch Witch organization is introducing a horizontal directional drill that builds on the success of its popular Ditch Witch JT2720 Mach 1 unit. The new JT3020 Mach 1 is an extended-range, self-contained machine with 30,000 lbs of pullback controlled from a state-of-the-art operator's station that is a driller's dream. Its 148-hp engine automatically increases the horsepower to power through even the toughest drilling conditions — all at less than 82 dBA at the operator's ear.
Duke's Root Control
Duke's Root Control Service is an effective, proven method for controlling every day sewer line root problems. More than 2,000 municipalities have used Duke's services in more than 100 million ft of sewer pipe. Duke's applies EPA-registered products that kill tree roots without harming aboveground vegetation. The material is injected as a foam, from manhole-to-manhole, killing all roots on contact and also inhibiting re-growth for three to five years. Duke's guarantees against stoppages for two years and for three years on repeat applications or your money back. Duke's specializes in problem easements, big pipe and off-road work. Duke's saves money by eliminating routine cutting and costly sewer stoppages.
FORMADRAIN
FORMADRAIN LMC (Lateral – Main – Connection) is a system that allows repairing T and Y sewer connections from 4 in. to 4 in. up to 24 in. to 8 in. The apparatus shown is a 6 to 2.5 in. one piece inflatable rubber T-shaped tube that, once inflated, will be used to line (seal and structurally repair) a 10 in. to 4 in. T sewer connection. Three access points are required (two manholes and one cleanout, inside or outside the building).

Forrer Supply Co.
SmartDitch is a corrugated, high-density polyethylene ditch/channel lining system that is a reliable, easy to install, high performance way to manage water conveyance. Manufactured from high-quality HDPE material, the liner segments are available in 76 in. wide trapezoidal configurations weighing 100 lbs each and 36-. and 24-in. semi-circular configurations weighing only 45 lbs each. SmartDitch can adapt to horizontal and vertical curves and can be installed as an original liner for earthen ditches or over existing concrete-lined ditches.
Godwin Pumps
Godwin Pumps, a worldwide manufacturer and supplier of the Sub-Prime electric submersible pump, is featuring its new GSP20SL Sub-Prime electric submersible pump at the No-Dig show. The pump features a compact, slimline design with convenient top discharge and is capable of maximum heads to 65 ft and maximum flows of 140 gpm. Powered by a dual voltage motor, the pump provides easy field changeover. Capable of fitting in caissons or casings 8 in. in diameter, the GSP20SL pump is ideal for applications including construction, mining and industrial dewatering. For more information, visit booth #729.
Gas Technology Institute (GTI)
The Delivery Sector addresses the strategic concerns of domestic gas transmission and distribution infrastructure. Areas of focus include safety, pipeline integrity, cost reduction and efficiency. GTI has a Technology Deployment and Implementation (TDI) Program aimed at the "last mile of research." It comprehensively addresses the needs of utilities in implementing new technologies and emphasizes field trials, prototype evaluation and the resolution of implementation barriers.
HOBAS
HOBAS centrifugally cast, fiberglass-reinforced, polymer mortar pipe is used by many municipalities as they strive to enlarge and maintain their infrastructures.
For maintenance applications, HOBAS pipe's high strength-to-weight ratio, smooth surface and flush, push-together joints are ideal for sliplining. Its superior hydraulic characteristics and thin-wall construction provide maximum flow recovery.
The pipe's characteristics also make it ideal for jacking and microtunneling. High compressive strength enables longer pushes. For more information, visit booths #819 and 918.
HTS Inc.
HTS Inc. is a materials testing and consulting firm specializing in the testing of cured-in-place vinyl ester, polyester and epoxy resins, geosynthetics and infrastructure construction materials. HTS' material testing laboratories are fully accredited by the American Association for Laboratory Accreditation (A2LA) in accordance with the International Organization for Standardization (ISO/IEC) General Requirement 17025 and the Geosynthetics Accreditation Institute-Laboratory Accreditation Program (GAI/LAP) under the auspices of the Geosynthetics Accreditation Institute.
Inserta Fittings
Inserta Fittings introduces the FATBOY Sewer Tap. Its latest design incorporates a full 360-degree stop on the body of its hub. During installation, when the hub is inserted into a rubber sleeve, this design allows full contact with the surface of the pipe. Even ribbed pipe with its uneven surface now has a positive stop. This is the strongest most advanced Inserta Tever.

Insituform Technologies Inc.
Insituform Technologies Inc. will exhibit the full line of its latest water and sewer rehabilitation products at the 2008 No-Dig Show. Insituform will present the new Insituform Blue family of water rehabilitation products: iTAP (a robotic method of reinstating service connections from inside the main); Thermopipe (a non-disruptive, close-fit pressure pipe rehabilitation system) and PolyFlex and PolyFold (polyethylene pressure pipe systems).

Interplastic Corp.
As a leader in the manufacture of thermoset polyester and vinyl ester resins, Interplastic Corp. is continually researching, developing and testing new resin technology. Interplastic Corp.'s laboratory facilities use time-tested methods for determining corrosion resistance, flexural creep, physical properties, gel/cure properties and other characteristics. Interplastic Corp. has more than 40 years of experience helping people choose the right cured-in-place (CIPP) resin to repair partially or fully deteriorated pipes and laterals.
Kerneos Aluminate Technologies
SewperCoat is a technological breakthrough in cementitious material designed specifically for the municipal wastewater industry to provide a structural, abrasion- and corrosion-resistant, protective lining against biogenic corrosion relative to hydrogen sulfide found in wastewater environments.
The unique mineralogy of SewperCoat is the key to its ultimate performance. Both the cement and aggregate in SewperCoat are 100 percent pure fused calcium aluminate. This provides a level of protection that other CA based mortars with a natural aggregate system simply cannot achieve.
Logiball Inc.
For 25 years, Logiball has designed and manufactured equipment for the trenchless rehabilitation of sewers. Over time, Logiball has developed a complete line of mainline, lateral connection and push type test and seal grouting packers, multi-size inflatable test and bypass plugs, specialized carrier packers for different point repair systems and equipment for the maintenance and rehabilitation of collections systems. For more than two decades, Logiball has forged an enviable reputation for the quality of its equipment and innovative solutions within the wastewater collection system industry.
MainSaver
MainSaver has added robotic service connection reinstatement capability to its trenchless water main rehabilitation system. The availability of reliable robotic service reinstatement ensures even less digging and disruption around the job site.

MainSaver is a low cost, NSF 61 Certified, trenchless method for rehabilitating drinking water mains from 4 to 12 in. in diameter.
MaxLiner
MaxLiner, an industry leader in providing quick, easy and comprehensive lateral relining solutions using CIPP technology, proudly introduces MaxLinerCLS. This new innovative product provides installers with an "inside-out" mainline installation method that is very popular in the municipal market. MaxLinerCLS will complement the already popular MaxLinerGun which employs an "outside-in" alternative for not only rehabilitating laterals, but also for relining vertical pipes.
Mears Group Inc.
Specializing in horizontal directional drilling (HDD) services, the Mears Group provides a turn-key engineering and construction service. As one of the top five HDD contractors in the world, Mears offers 34 small, mid-size and large drilling rigs with up to 900,000 lbs of pullback and installs pipe sizes with diameters up to 60 in. and up to 7,100 ft in length. Mears specializes in pipeline integrity services such as: ILI rpairs, pipeline retrofits including valve replacements, launchers and receivers and Pig Run assists.

Michels Pipe Services
Stop by Michels' booth and congratulate Kelly Odell and Group on their award-winning accomplishment. Michels Pipe Services was chosen for Trenchless Technology's 2007 Project of the Year – Rehabilitation. They were selected for installing 4,000-ft of 60-in. in Milwaukee. Michels was challenged with grueling weather conditions, tricky curves and bends and strict deadlines, all amongst Milwaukee's Historic Third Ward. The project was completed for the Milwaukee Metropolitan Sewer District (MMSD).
Miller Pipeline Corp.
Miller Pipeline Corp. offers, WEKO-SEAL, the internal joint seal — the industry's leading trenchless system for internally and economically resolving joint leakage or infiltration. Seals are available for any pipe size from 16 in. in diameter or larger with penetration distances in excess of 1,000 ft. The WEKO-SEAL comes in a variety of widths, but can also be used for continuous coverage of any distance through Miller's Sleeve/Seal capabilities.
National Liner
CLS, National Liner's Complete Lateral Lining System, is a flexible, no-dig pipe rehabilitation technology that may be applied to a wide variety of lateral systems. While designed to be installed prior to the CIPP lining of the mainline, the lateral system can also be installed after mainline rehabilitation. Since installation is from the mainline, the Lateral Lining System does not require a clean-out.
Also on display will be National Liner's CIPP mainline rehabilitation System. National Liner, a CIPP technology, breathes new life into worn-out, damaged mains and laterals by creating an all-in-one process to rehabilitate and extend the life of sewer systems. Visit booth #307 for more information.
Perma-Liner Industries Inc.
Perma-Liner Industries, Inc. introduces the new InnerSeal Connection System. This system was designed specifically for the connection of service laterals to the main. This product utilizes the same CIPP technology as lateral lining and point repairs. Designed for multiple connection repairs per workday, this system works effectively with all T and W connections from 6 x 4 in. to 36 x 12 in. connections. Lateral lengths available from 18 in. to 50-plus ft.
The Pressure Pipe Inspection Co.
Sahara Video is a CCTV inspection device for pressured pipelines. Based on the same proven technology as the Sahara Leak Location system, the tethered camera is inserted into a live main through a 2-in. valve, with no disruption to service. Survey distances from 500 to 4,000 ft are possible, depending on the desired resolution. Find lost valves; check liner conditions; visually inspect critical pipelines; search for illegal taps; and assess tuberculation. For more information on Sahara Video, visit booth #605A.
QuakeWrap Inc.
PipeWrap is an economical CFRP system for strengthening corrosion-damaged pipes. Specially-designed bands of carbon fiber reinforced polymer (CFRP) fabric are applied to the surface of the pipe, significantly increasing the strength of the pipe. Application of CFRP virtually leaves the internal diameter of the pipe unchanged. Installation is fast and economical. Corrosion of steel reinforcement is a major cause of failure and potential collapse of these pipes. A number of solutions and lining systems have been offered in recent years. However, these techniques add little (if any) additional strength to the pipe.
Rain for Rent
The DV 150i 6-in. pump from Rain for Rent is specifically designed to reduce operator maintenance costs for bypass and dewatering projects. With superior fuel efficiency, this pump is able to move more gallons of water at a lower cost. The high efficiency impeller offers improved solids handling and greater suction lift capabilities. The DV 150i can handle solids up to 3 in., flows up to 2,600 gpm and head up to 195 ft. Mounted on galvanized trailers to protect against rust and corrosion, this equipment has a maintenance free surface.
Reichhold
Reichhold has a multiple range of CIPP resins including its new Dion Impact 9102-61 epoxy vinyl ester resin for corrosive or pressure sensitive pipe. These resins have very high temperature stability and are perfect in applications where extended working times are the norm at ambient temperatures. The resin is suitable in both felt and fiberglass reinforcement applications.
Reline America
Reline America manufactures the Blue-Tek cured-in-place pipe (CIPP) system — a spirally-wound, fiberglass reinforced, ultraviolet-cured liner. Blue-Tek is the most popular CIPP liner in Europe with more than seven million ft installed over 15 years. The Blue-Tek liner conforms to ASTM F2019 and has a proven 50-year service life.
The Robbins Co.
The Robbins Co. now offers mixed ground cutterheads for use with Robbins Small Boring Units. The new design, available on all current models, allows for excavation in soft ground with cobbles and boulders. Mixed ground cutterheads utilize a combination of either single disc cutters or two-row tungsten carbide insert cutters with ripper teeth depending on the specific ground conditions. Larger muck openings on the front of the machine facilitate swift removal of soft ground and boulders. Mixed ground cutterheads have been proven on projects worldwide, including a recent project in South Wales, U.K. The contractor utilized both mixed ground and hard rock cutterheads to successfully excavate more than 50 bores totaling 5,300 ft, on line and grade.
Sanexen Environmental
Aqua-Pipe is designed for the structural rehabilitation of 6 to 12 in. water mains and is an economical and viable alternative to traditional open-cut methods. The service connections are reinstated from within using robotic equipment, eliminating the need to excavate in front of every house. Developed by Sanexen, Aqua-Pipe is certified by NSF to standard NSF/ANSI 61. More than 100 miles have been successfully installed in North America.
Sauereisen
Sauereisen SewerGard No. 210 Glaze offers significant chemical resistance to protect wastewater infrastructure. The epoxy Glaze can be used as a finish coat for Sauereisen Trowelable, Rotary Spray and Sprayable versions of the SewerGard family, or as a stand-alone coating for light duty service over concrete or steel.
Schauenburg MAB
Schauenburg MAB, a worldwide leading manufacturer of soil separation plants with more than 50 years experience field, announces new developments in its product line. Bentonite separation plants with capacities ranging from 100 m3/h to 500 m3/h suitable for microtunnelling and trenchwall applications are redesigned with focus of easy transportation and set up on site. All components including de-sanding and de-silting stage are installed inside standard container sizes 20 or 40 ft.
SpectraShield
Patented SpectraShield liner is a spray-applied, silicone-modified polyurea system that is used to rehabilitate and protect wastewater structures such as manholes, wet wells, or wastewater treatment plant facilities. Following preparation, the lining process begins with a first barrier coat of the silicone modified polyurea. Next a surfacing coat of closed cell foam is applied. The foam fills all the voids, eroded areas, bugholes and missing mortar joints, and restores the surface to its original emplacement. Finally, a second barrier coat of the silicone modified polyurea provides the third layer of the multi-layer stress skin panel.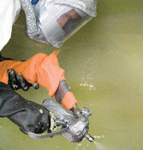 Sprayroq
Sprayroq, an industry leader in the development of spray-applied polyurethane solutions for infrastructure rehabilitation, corrosion management and infiltration control, has taken a bold step to join the growing community of companies promoting a Green Product line to be used for corrosion coatings in our cities' wastewater collection and treatment systems.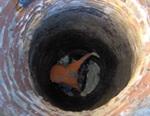 Terre Hill Composites
Terre Hill Composites is the leading manufacturer of PVCP/PVCP-F cured-in-place manhole (CIPM) liners. Terre Hill Composites puts its 90-year history to work to offer the very best long-term solution for manhole rehab and new structure protection.
TT Technologies Inc.
Burst and replace water, sewer and other pipes with the Grundoburst static pipe bursting system from TT Technologies. Pulled by a hydraulic bursting unit, the cutter head's special cutting wheels split the host pipe.
Patented Quicklock bursting rods are linked together not threaded. This saves time, prevents twisting and extends the life of the cutter head over threaded bursting rods. Six models are available for bursting 2- to 54-in. pipes and larger. For more information, visit TT Technologies at booth #311.

Underground Solutions
Underground Solutions Inc. (UGSI) provides infrastructure technologies for water and wastewater applications and conduit for applications ranging from electrical to fiber optics. UGSI's Fusible PVC products, including Fusible C-900, Fusible C-905 and FPVC, contain a proprietary PVC formulation that, when combined with UGSI's patented fusion process, results in a monolithic, fully restrained, gasket-free, leak-free piping system ideal for trenchless and direct bury applications. UGSI's Duraliner is a patented, close-fit pipeline renewal system creating a stand-alone structural liner.

Vermeer Corp.
The Vermeer D36x50 Series II Navigator horizontal directional drill features a cab option designed to enhance operator efficiency and comfort on the jobsite.
The insulated and climate-controlled cab provides 360-degree visibility, allowing the operator to easily monitor all machine operations. Independent heating and air-conditioning controls allow the operator to control the cab climate and enhance comfort in all weather conditions, including snow, rain and summer heat. A full-size hinged door provides easy access to the operator's station while tinted glass windows help reduce glare and heating from the sun.