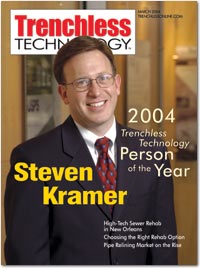 Steven R. Kramer has spent most of his professional life exploring, researching, developing, implementing and promoting the industry of trenchless technology — even before there was a name for the fledgling industry in the early 1980s.
Those who know him describe him as a "pioneer" and "torchbearer" for the industry — a key figure integral in the development of tools and technology that were created 20 years ago that are still being used today. Kramer has been a leader in trenchless research and development.
He has worked for significant engineering and energy organizations and has played crucial roles in developing key tools, techniques and technology. Kramer has worked for two well-respected, leading engineering firms in Jason Consultants and, his present employer, Jacobs Civil Inc., where he led the company's efforts in applying non-disruptive methods to the inspection, evaluation, design, installation and rehabilitation of utility pipeline systems in the United States and abroad. He was recently promoted to running the firm's business development operations for its eastern division.
Kramer's expertise has led to his management of more than 50 trenchless projects all over the globe, including China, Singapore, France and across the United States. The projects have involved the gamut of trenchless techniques from directional drilling to pipeline replacement and relining. He even served as project principal for the 2003 Trenchless Technology Project of the Year, the Potomac Yard Sanitary Sewer Outfall project.
In addition to co-authoring the only authoritative book on trenchless technologies, Kramer has also written more than 80 technical papers on tunneling and trenchless technology. Beyond his written works, Kramer has been a leader on numerous industry boards, committees and associations, including NASTT, American Water Works Association's Cleaning, Lining and Rehabilitation Committee, American Gas Association, American Society of Civil Engineers and the Water Environment Federation. He has served on the Trenchless Technology Editorial Board since the magazine's inception in 1992.
"[Trenchless technology] has been a passion for me and it has been a part of almost my entire professional career," Kramer says.
For all of his contributions to the trenchless industry over the last 23 years, Kramer has been selected the 2004 Trenchless Technology Person of the Year.
"I really cannot think of another engineer who has been as actively involved in virtually every aspect of the various trenchless technologies and in capacities of both a designer and in-field project manager and in nearly every major component of our industry from gas and electric to water and wastewater," says Mark Wallbom, NASTT chairman. "I think you could say that Steve is the quintessential trenchless technologies professional — having published more than 80 technical papers on related subjects and co-authored the only definitive text on trenchless technologies to date."
"As one of the real pioneers of trenchless technology and its development, his contribution to the industry over the last 20 years more than deserves recognition as the [Trenchless Technology] Person of the Year and is long overdue," says James Thomson, retired president of Jason Consultants, who partnered with Kramer at his company and collaborated with him on their book, An Introduction to Trenchless Technology.
Getting Started
In 1987, Kramer earned his master's degree in management from Northwestern University, Chicago, while he was working full-time, but he began his studies at Washington University in St. Louis, studying civil engineering. He graduated in 1981 with two bachelor of science degrees: one in civil engineering and one in engineering and public policy, which examined the broader implications of energy and environmental issues of the late 1970s and early 1980s.
"This allowed me to look at other issues besides just traditional structures and engineering problems," Kramer says. "It was an interesting period to be taking both degrees at the same time."
His professional engineering career started in earnest in 1982 as a project engineer for the Gas Research Institute (GRI), later known as the Gas Technology Institute (GTI). GRI was and is the research arm of the natural gas industry. It is a broad-based program that serves all of the oil and natural gas companies — specifically the natural gas — transmission and distribution companies throughout the United States. Today, it is a private institute but is overseen by the Federal Energy Regulatory Commission.
Working at GRI was a significant period in Kramer's career as it is where he entered the ground floor of an industry that would become known as the trenchless technology industry, sinking his interests and talents into developing its key technologies, such as guided piercing tools and directional drills.
"I started at GRI as a project engineer, then became a project manager and then later became assistant director of the distribution and transmission program, which involved running a large-scale research program that averaged about $10 to $20 million per year to develop new tools and techniques for the natural gas industry," Kramer says. "We were heavily involved with construction research. This is where I got my first bite of understanding trenchless technology."
Ground Floor of Trenchless
Kramer and GRI were developing a whole array of tools, techniques and technologies that would reduce the cost of distributing and transporting natural gas across the United States. These programs involved the use of piping materials and construction methods, which led to the development of directional drilling and guided piercing tools, which was a multi-year program that ran from 1982 to 1989.
"We first developed the guided piercing tool and this essentially resulted in seven different patents that were licensed to The Charles Machine Works Inc., which were the predecessors of the equipment they use for directional drilling," Kramer says. Among the products and technologies that Kramer and GRI were involved in included: piercing tools, directional drilling rigs and a pipeline reinforcement technique to repair natural gas transmission lines called Clock Spring. Kramer also led in the development of new ways to magnetize polyethylene pipe so it can be easily located, new pipe joining techniques, as well as new sensors to prohibit third-party damage when using backhoes.
"I was developing new technology at GRI vs. being a consulting engineer as I am today," Kramer says. "It was a very different point in my life where I was working with some of the most respected researchers across the country — not just at universities but also think-tanks and companies that were emphasizing how to develop new tools and processes, fundamental research, as well as practical research.
"These were the very early days of directional drilling and it did not exist at that time as we know it today," Kramer continues. "We were developing rigs that could fit in an urban environment; the mini/midi size rigs we know today. Martin Cherrington and others were emphasizing the under river crossings, which was very different to what we were trying to do."
Kramer describes his tenure at GRI as an "exciting time." Motivation was piqued even more after Kramer and his GRI colleagues attended the first international conference on trenchless technology in London in 1985, interacting and networking with others who were working on similar technologies, such as researchers in Japan and Germany who were exploring microtunneling concepts.
"It was an amazing conference and it was a time of dramatic change," Kramer says. "The period we are in now is very different — an evolutionary period. Then, it was much more of an revolutionary period — a time of significant breakthroughs."
Moving On
Kramer left GRI in 1990 to accept the position as the first director of research for the newly created Civil Engineering Research Foundation (CERF), moving from Chicago to the epicenter of the political world in Washington, D.C.
"This was a chance to broaden my horizons," Kramer says. "And instead of doing research for just the gas industry, I was now doing research to help the entire design and construction industry. Being a civil engineer, it was an attraction for me to come to an organization like this and try to make a positive impact on advancing the state of civil engineering."
Being that this was during CERF's infancy, Kramer and his colleagues were focused on laying the groundwork for what CERF provides to the engineering community today. Also during this time, Kramer was focused on collaborating on a book that would attempt to document all the different trenchless technology methods available. He and co-authors James Thomson and Bill McDonald began writing An Introduction to Trenchless Technology in the late 1980s, publishing it in 1992.
"We felt there was a huge void in this area and actually there still is," Kramer says. "At the time, [the book] was groundbreaking because there was nothing out there in a publication that covered in one document all the technologies that were now coming to fruition. There was no textbook to introduce people with the range of techniques and tools available and understand what was applicable to what situation."
Kramer wrote the book with Thomson, whom he met at the International No-Dig conference in 1985, and McDonald, with whom he worked on directional drilling technology research. The book's 11 chapters cover the spectrum of trenchless techniques and the text is considered the first of its kind. The authors assembled information on the latest techniques and equipment used in guided boring, pipe jacking, microtunneling, auger boring, HDD, on-line pipe replacement and renovation.
"I look back on that and trying to get the book to the publisher was quite an exercise because we would often debate what material should be included in the book," Kramer says, chuckling. "You have to realize that in the 1990s that trenchless technology was still in its infancy."
He adds that the book's publisher has asked that the authors update the book many times but the thought of such an undertaking is daunting as so much has changed and will continue to change in the industry. Kramer says they have considered inviting experts in the various fields to contribute chapters instead of having the three of them update the entire book.
Practical Applications
Kramer's friendship with Thomson led to him making another professional move in 1991 — opening the U.S. office of Jason Consultants, which is an international engineering firm that solely works on trenchless-related construction projects. With offices already in Geneva and London, Thomson was looking to establish a presence in the United States.
Here, Kramer was free to pursue what had become his passion of trenchless technology and participate in the practical side of the industry. "The idea of moving from theory to the practical application of his ideas for the pipeline industry appealed to Steve and we agreed to set up in Washington, D.C., a U.S. office for Jason Consultants under his management," Thomson says. "Steve worked with Jason Consultants until the end of 1998 and during that time, [the company] greatly expanded both in size and capability."
And Kramer enjoyed this side of the trenchless industry and through his travels, he was able to see the industry grow with each year. "One of the advantages of being in a company working all over the world was that you were starting to see trenchless technology burst through the seams," he says. But as much as he enjoyed working at Jason Consultants, Kramer became increasingly interested in working on bigger and bigger projects.
With Thomson wanting to keep his company smaller, Kramer decided it was time to move on. He found what he was looking for in Jacobs Civil Inc.
He joined Jacobs Civil, based in Arlington, Va., in 1999 and there he has been able to be involved in larger-scale projects all over the world. Jacobs Engineering is the parent company of Jacobs Civil and it is a publicly traded company with more than 35,000 employees and revenues topping $5 billion.
"Jacobs Civil has every resource you can imagine," Kramer says. "Jacobs is unique in that not only are we an engineering firm but we are also a constructor. Working here has given me a much larger platform to operate from with almost endless resources available to me to take on projects of any scale."
He joined Jacobs Civil as principal of its trenchless and water resources group but has since been promoted to run the business development operations for Jacob Civil's eastern division. This position entails him to review all opportunities, strategies and markets, while also still overseeing a lot of the underground practices.
Person of the Year
Kramer was humbled at his selection of Person of the Year. "It's a great honor and I'm thrilled to be chosen," Kramer says. "It's a great class of people [past honorees] and everyone of them has made a contribution to a very exciting industry that didn't exist and there are so many more people who haven't been named Person of the Year. It's not just one person who makes something like this happen. It's really a collection of people and ideas that advance it for the greater good."
He acknowledged his colleagues for their work in the trenchless field and he also cited his family's support — that of his wife, Jill and sons, David and Michael –for a profession that can keep him away from home weeks at a time.
"I think of myself as one of the many pioneers across this industry. And many people played different roles. It's not about one individual — there's hundreds of individuals," Kramer says.

Sharon M. Bueno is managing editor of Trenchless Technology.