Historically a male-dominated profession, women continue to make inroads, especially in the trenchless industry.
Glass ceilings are being broken all over the place these days, whether at one of the highest offices in world, such Vice President of United States, or just in everyday life.
Our corner of the world involves engineering and construction. Both industries have historically been dominated and led by men. According to the Society of Women's Engineer's website, 13 percent of engineers are women. The times in these industries are changing as more and more women choose to pursue engineering careers, seeking their professional fortunes; many of these career paths are being forged and established in the trenchless industry with increased numbers ascending to key leadership roles.
Seeing women donning hard hats and on the jobsite is not such an unusual sight in 2021. That wasn't always the case. We've all heard stories of "mansplaining" and stereotyped attitudes toward women in the construction world.
Thankfully, those attitudes have evolved and the professionalism of accepting women in roles historically filled by males continues evolve and grow.
June 23 marks International Women in Engineering Day. The day was created in 2017 by the Women's Engineering Society in the United Kingdom after the launch of a national U.K. women in engineering day three years earlier drew enormous interest and celebration. International Women in Engineering Day (INWED) was born to enable the celebration of women in engineering to become global.
We spoke to five female engineers in the trenchless industry, learning how they came to call engineering home and gaining perspective on the attitudes noted above. They are not new to engineering, with their careers firmly established. They also spoke of the need for more female mentors in the engineering field, to inspire, push and encourage more females to pursue engineering as a career. They are all proud to assist and mentor the next generation of female engineers.
RELATED: Women in Engineering – Denise McClanahan, P.E.
RELATED: Women in Engineering – Maureen Carlin, P.E., Ph.D.
Here is one of their stories.
Longtime trenchless professional Kim Paggioli, P.E., gravitated toward a civil engineering career in no small part due to the influence of her father.
Though he wasn't an engineer by trade, Paggioli says it was his engineering-like mind that played a strong role in her decision to study engineering. "I was influenced by my father, although not an engineer, he definitely had an engineering mind. My father worked in nuclear power and I visited his workplace with him many times," she says.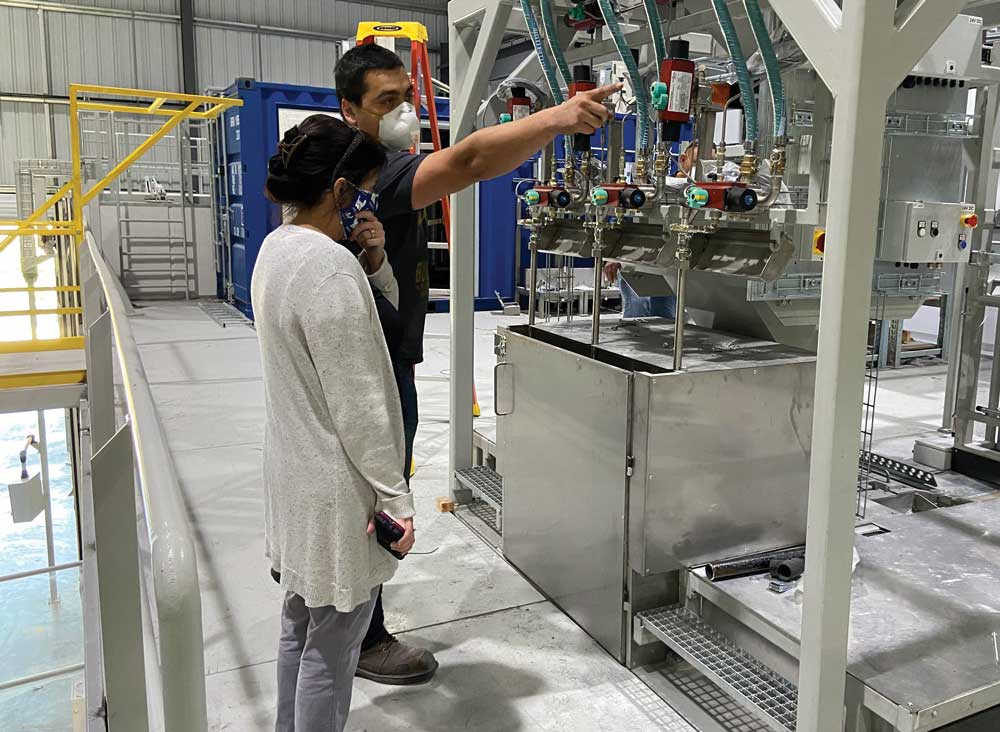 Paggioli also points to her academic strengths in math and science that also pulled her toward a career in engineering; the type of engineering she ultimately decided to pursue changed over her time in school. "Having always been good in math and science, I just gravitated in that direction," she remembers. "I started out thinking that I wanted to be a mechanical engineer, but once I learned more about what each discipline did, I felt civil engineer was a better fit."
Paggioli graduated in 1993 with a bachelor of science in civil engineering from the University of Connecticut and was hired by Hobas Pipe USA in Houston. She started as an applications engineer but is now one of Hobas' vice presidents, in charge of marketing and quality control. "My engineering background is still very relevant for product testing, raw materials development and product design."
Her introduction to trenchless technology came shortly after she joined Hobas. She had never heard about this technology but once she experienced her first trenchless project, she was hooked. The project involved a 110-in. diameter, two-pass tunnel install at a local refinery for storm water collection. She knew this was what she would be doing with her career. "First week on the job, I climbed 100 ft down a shaft to see the new pipe being installed and I felt like I entered a whole new world," Paggioli shares. "I remember thinking, 'Wow — I have a cool job!' I still feel that way when I am dwarfed by the enormity of the things we are building around us."
Diving into what was perceived to be a male-dominated profession such as engineering (and construction), could have been intimidating or daunting but Paggioli loved and loves what she does. She sees more and more women choosing this professional path and it makes her proud. "More women are choosing careers in engineering as the years go by," Paggioli says. "I [recently] had a plant tour at Hobas that a local agency brought their three new engineers to see our facility. They were all women!"
She says key to attracting more women into these historically male professions include education and awareness and reaching this group at a younger age, before they reach college. She advises introducing these careers in high school when career paths are still being formed.
Paggioli says attitudes toward women in engineering positions have definitely evolved during her tenure in the industry and now, for her, it is no longer an issue. "From my perspective, it has changed," she relates. "When I first started in the industry, I did feel some bias. Was it because I was young, or a woman, I really don't know. But all I do know is that it doesn't exist from my perspective anymore."
Paggioli sees a bright future for women in engineering as more enter the profession, bringing with them their diverse backgrounds, experiences and ideas, which, in turns brings new and different approaches and solutions to the engineering table. This group of engineers is turning the tables on influencing the next generation.
"I feel we will continue to see more women in the industry," she says. "I was interested in engineering because of my dad and now my son is starting college next year in engineering…partially because of his mom!"



Sharon M. Bueno is managing editor of Trenchless Technology.