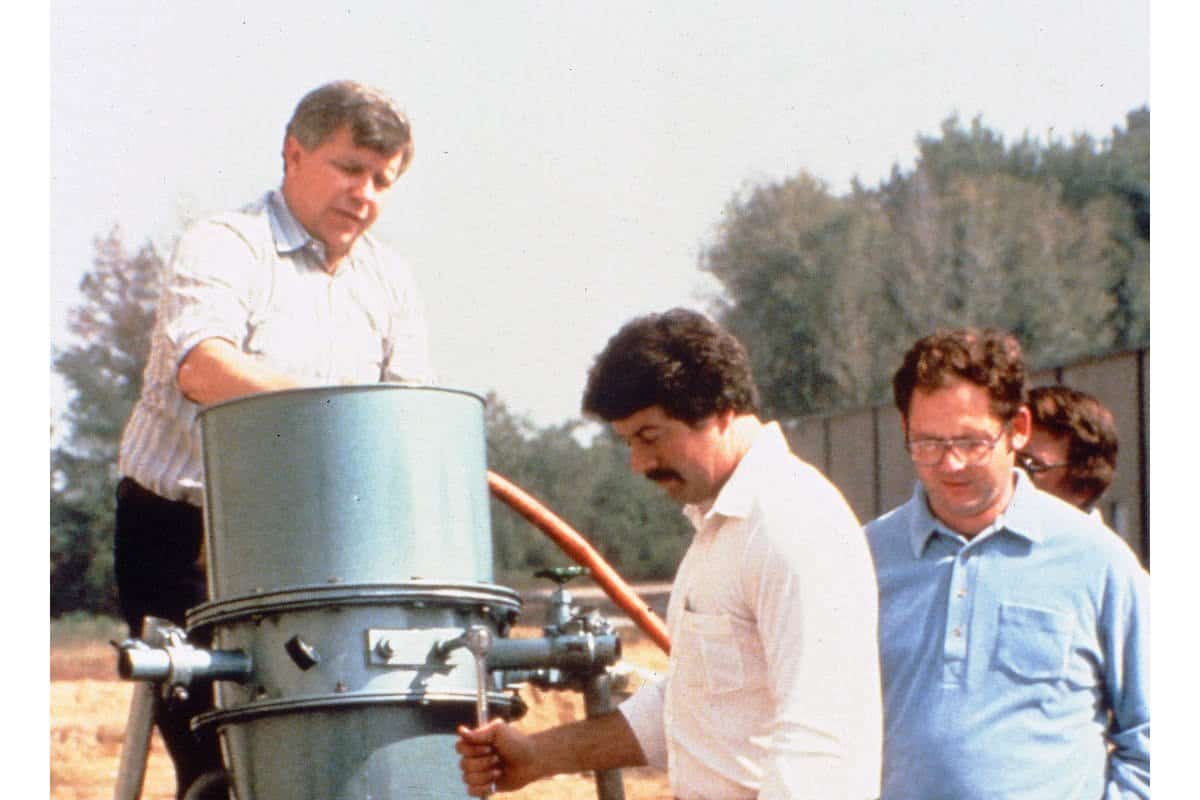 Trenchless Pioneers is a special monthly series, sharing with readers the trailblazers who made their mark on the trenchless industry. This month, we profile Eric Wood, the inventor of cured-in-place pipe (CIPP).
The rehabilitation of an egg-shaped sewer was successfully completed in the London Borough of Hackney in the United Kingdom. Those who were involved with this seemingly inconsequential project in 1971 had no idea this would be the catalyst that changed the way pipes are rehabilitated or that it would spawn countless other trenchless applications, creating a multi-billion-dollar global industry.
At the time, future Insituform founder Eric Wood was an agricultural engineer, working for a company that supplied equipment to the mushroom-growing industry. One of his customers was having an issue with an air duct leaking condensate onto the mushroom beds, attributed to a leaky pipe. It was through this experience that Eric later developed the cured-in-place pipe (CIPP) solution as a method of repair for pipes in need of rehabilitation.
Wood came up with the CIPP solution to address the problem and the rest, as they say, is history. Insituform Technologies (now Aegion Corp.), was founded by Wood in the United Kingdom. Now headquartered in St. Louis, Missouri, it has churned into a global powerhouse in the trenchless market and the CIPP process has evolved into the most popular and cost-effective method to rehabilitate underground pipes — a process now used all over the globe.
Tragically, Wood was killed in a plane crash in January 1994 at the age of 59 — just as the age of the CIPP process was opening and expanding to competitors — but he was still able to see and enjoy the success of what he created.
The first CIPP installation was a far cry from the technology, setup and speed that are used today. Wood impregnated a felt tube with polyester resin, wrapped it in a plastic sheet, dragged it 230 ft into the 46-in. by 24-in. diameter egg-shape, brick sewer and inflated it with air. Then left it to cure ambiently — the pipe was fixed.
Always the innovator, Wood recognized a great business opportunity and seized it. At the time, the only other means being used to rehab underground pipes — besides replacement — was sliplining and grouting. Wood applied for the CIPP process patent in 1970 and it was granted 1971. He came up with the name Insituform using the Latin insitu — meaning in place — and form. Straight to the point: Insituform.
"Eric was always thinking, probably at a genius level," remembers longtime Insituform colleague and good friend Lynn Osborn. "He irritated some people because of his constant meddling but that was just his nature and how he developed some of his best ideas." Osborn first met Eric in 1984 and they worked closely together for more than 10 years, traveling to tradeshows and jobsites, as well as working at the R&D facility in Memphis.
With that first project in 1971 spurred other rehabilitation processes and appurtenances necessary for pipeline rehabilitation, such as robotic cutters to open service connections in small diameter sewers and enhanced CCTV technology. Other rehab processes and solutions that grew from the industry started by CIPP include pipe bursting, plastic sheet products, spiral wound, spray-on products, pressure pipe solutions, lateral and manhole rehab, GRP panels and more.
"All of this may have eventually happened, but Eric accelerated it by years and possibly decades in some cases," Osborn says.
Eric was always innovating, always developing new ideas, Osborn says, noting that at the time of his death, he probably had more than 100 patents to his name. "One of his patents was on ocean wave generators for producing electricity. That concept is now coming to fruition," says Osborn, noting a large project of this nature off the coast of Oregon.
Osborn says that, to him, Eric Wood is the father of pipeline rehabilitation, but that is not how he saw himself. "Eric would probably see his legacy as simply an agricultural engineer with an inquisitive mind. As he once said, 'I have always been interested in making improvements in technology. My interest is that if I become aware of a particular technical problem, I enjoy addressing that problem and endeavoring to find a solution.'"
What would Eric think about all that has happened over the last three decades since his death? Some say he would be shocked at the growth but Osborn believes he would be thrilled with the innovations that have occurred. "Sometimes he would sit back and smile. He would say things like, 'We had no idea a market like this would develop, but there is so much more potential,' Osborn says. "Then, he would start talking about his next idea."