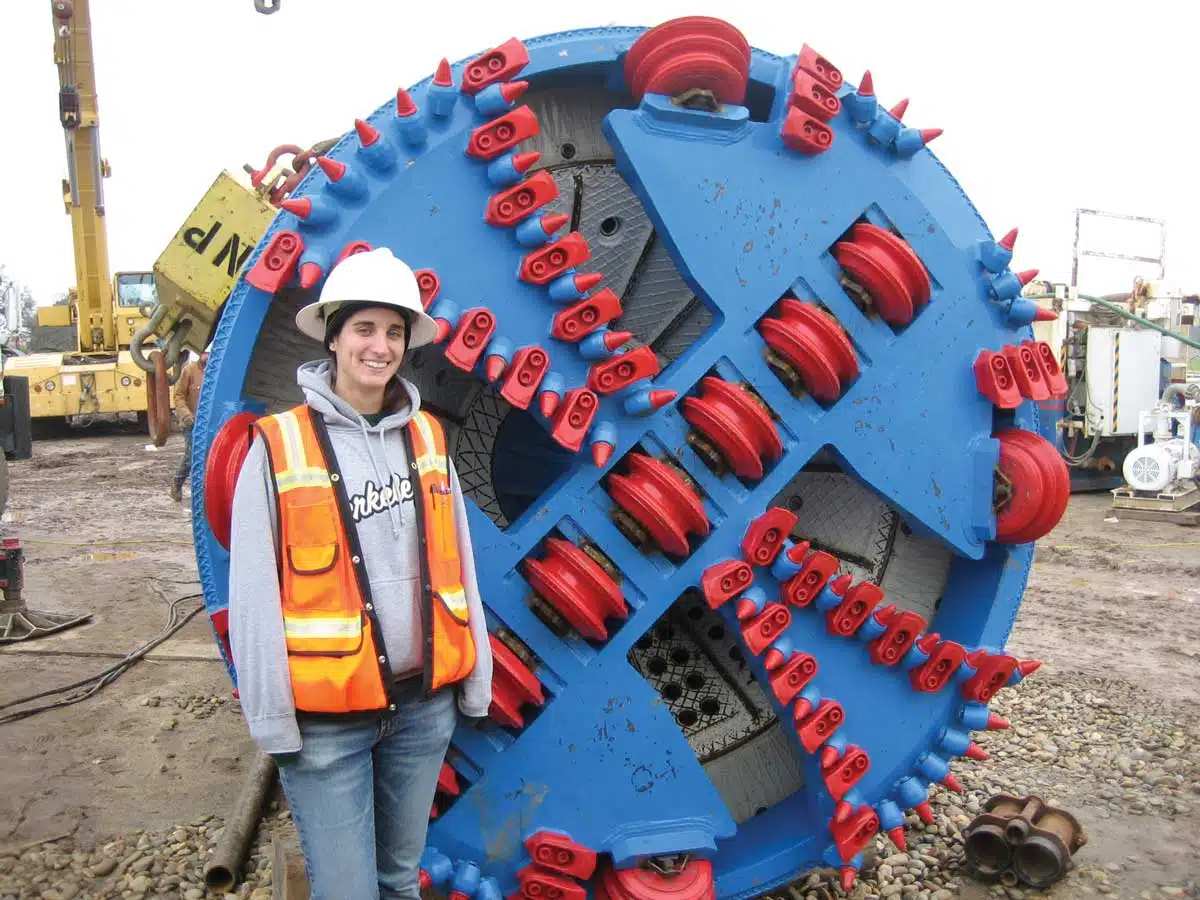 Mary Neher, P.E., Senior Project Engineer/Project Manager, Bennett Trenchless Engineers
Mary Neher found out that being at the right place at the right time can lead to a career in trenchless technology — or, in her case, her parents were in the right place at the right time.
Mary earned her bachelor's degree in in mechanical engineering from the University of California, Berkeley, in 2007, and her master's degree in civil/geotechnical engineering from the University of California, Davis, in 2011. She joined Bennett Trenchless Engineers in 2007 and is a senior project engineer and project manager. Her focus is new installations and she works on every phase of a project from the alignment study/feasibility study all the way through construction.
"I ended up working in the trenchless industry due entirely to a serendipitous encounter," she relates. "As an undergraduate student in mechanical engineering, I had no idea that trenchless technologies even existed. But, during the last year of my undergraduate program as I was trying to figure out what I was going to do with my shiny, new degree, my parents happened to sit at the same table as David Bennett at an event. While making small talk, my parents mentioned my upcoming graduation and since he was looking for a new hire, [he] suggested that I contact him."
Mary did and met with the Bennett Trenchless team at the No-Dig Show in San Diego — she was immediately fascinated by the people and the industry. Simply put, she was hooked. "I love that every trenchless job brings with it a fresh set of challenges to think about and address. There is always something new and interesting on every project, whether it's the geotechnical conditions, the site constraints or the logistical challenges," she says. "Also, the industry moves at such a rapid pace that there is always a new technology or evolving technique to learn about and to incorporate into our practice."
She also is proud to be a part of this "next wave of trenchless technologists," making a difference, even though she finds this position to be a bit daunting at the same time. "We are following in the footsteps of the trailblazers and luminaries who established the trenchless industry in the United States," Mary explains. "Given the reach of the industry today, it's amazing to think that it was only in the 1980s that microtunneling and CIPP first came to the U.S. and HDD really started taking off. I'm thrilled to be a part of the generation that is taking up the torch to keep things moving forward."
Among the lessons she has learned from working with trenchless veterans, such as David Bennett, is to keep an open mind to any situation. "No matter how much experience the most experienced people have, they've shown me again and again that there is always something new to learn," Mary says. "That's another one of the fun things about working in this industry, there's generally no single, right answer to solving a problem and everyone brings different and helpful knowledge to the table."
During the course of her trenchless career, Mary has become an active member of NASTT as an instructor for its HDD Good Practices Course and a session leader/moderator at its No-Dig Show, as well as aiding in the development of one of ASCE's trenchless manuals of practice. "I view [this participation] as a great way to give back and helping to sustain and grow the industry," she says.
An industry, she says, that is in a fantastic position for growth, especially on the design side. "There's so much work to be done for many reasons[, including] the age of a great deal of the country's most current underground infrastructure and the interest in increasing the use of recycled water in big portions of the West, to name just a few," Mary notes. "Given utility corridor congestion, concerns about impacts to communities, environmental sensitivity and all the other myriad reasons that trenchless techniques are used, I'm very optimistic about where we are headed."
She adds," The best part of being a member of the trenchless technology industry is being part of building infrastructure that helps people while getting to solve interesting problems."
Sharon M. Bueno is the editor of Trenchless Technology.