The Providence Water Supplemental Tunnel and Aqueduct Inspection and Repair Program was born of necessity. A rupture of a 102-in. diameter pipe in 1996 raised concerns about the structural integrity of the 9.5-mile long aqueduct that supplies water to about 600,000 customers in the State of Rhode Island.

"The original pipe material – a particular vintage of 78- and 102-in. prestressed concrete cylinder pipe (PCCP) dating back to the mid- to late 1960s – had certain issues that we now know are considered particularly susceptible to ruptures, and these ruptures can occur without warning and be catastrophic" said Providence Water Engineering Division manager Matthew Gallant, P.E. "This whole program stems from a pipe that ruptured in 1996. That initial failure and repair really highlighted the concerns and problems associated with these pipelines."
RELATED: 2020 Trenchless Technology Pipe Selection Guide

Since that 1996 failure, Providence Water has taken vigilant measures before an issue becomes a disaster and embarked on a systematic and comprehensive inspection, repair, and risk assessment program.
"To prevent another failure, we shut down each pipeline every three to five years at minimum and perform a very detailed, manned internal inspection," Gallant said. "The PCCP consists of a steel cylinder embedded in a concrete core, which is wrapped helically with high-strength reinforcing wires, and the exterior is coated with a cement-mortar coating to protect these wires from corrosion. These reinforcing wires are the primary component that gives each pipe section its strength. A pipe section starts to be compromised when wires break."

"Using historical data, real-time monitoring, and the inspections that we perform every three to five years that consist of internal visual, structural and specialty electromagnetic inspections, we are able to make informed decisions about the long-term operation and maintenance of this critical pipeline system," Gallant explained. "We track the results of each inspection in a forensic database and utilize a comprehensive risk assessment to continuously evaluate and monitor each individual pipe section."

Through the decades, Providence Water has made numerous repairs and is on the forefront of using different technologies and methods.
"Once we looked into sliplining, it accomplished two goals," Gallant said. "Sliplining with Hobas pipe offered a solution that allowed us to make needed repairs but also start incrementally replacing the existing pipeline, which is now over 50 years old, with a fully structural pipe that didn't compromise hydraulics. It was also more cost-effective and expedient to slipline with Hobas pipe than some of the methods we previously used. Using the Hobas pipe allowed us to complete larger repair areas in a much shorter amount of time."

RELATED: Joint Outfall "B" Unit 1A Phase 1 Sliplining

Manufactured in Houston, Hobas potable water pipes are produced using centrifugally cast fiberglass reinforced polymer wall construction. In addition to the typical polyester liner layer, the final interior surface is coated with epoxy resin. Providence Water and Boston-based engineering firm CDM Smith selected this Hobas product to slipline sections of the aqueducts. The high strength structural pipe proved to be a good choice because it does not depend on the host pipe.

"One of the major considerations in designing the Hobas slipliner was coming up with the right size pipe that was an acceptable reduction in diameter that could maintain the same hydraulic capacity of the existing pipelines," Gallant said. "The smoother interior surface of the Hobas pipe as opposed to the rougher concrete of the existing PCCP host pipe allowed the same hydraulic capacity to be maintained."

Because work was done in different segments and areas, there were additional challenges.

"We had to figure out how to incrementally slipline certain sections, including how to navigate the existing pipeline's geometry, terminate the slipline pipe and transition back to the existing PCCP, and how to reconnect existing structures such as manholes, air releases and blow-offs," Gallant said.

The first area, located in the town of Scituate, took place in 2016. The existing 78-in. PCCP was sliplined with 10-ft and 20-ft pipe lengths of 69-in. Hobas pipe for a total of about 330 ft.

The following year in 2017 in the Town of West Warwick, the existing 78-in. PCCP was sliplined with 2.5-ft, 5-ft, 10-ft and 20-ft pipe lengths of 69-in. Hobas pipe, totaling 1,140 ft.

In 2019, the third area, in Rhode Island's second largest city of Cranston, totaled almost 1,800 ft and was the first in the program to feature work installed in longer sections. The existing 102-in. PCCP was sliplined with 5-ft, 10-ft, and 20-ft pipe lengths of 90-in. Hobas pipe. "This location, beneath the north and southbound lanes of a major interstate highway, was chosen based on the criticality of what the pipeline crossed under," Gallant said.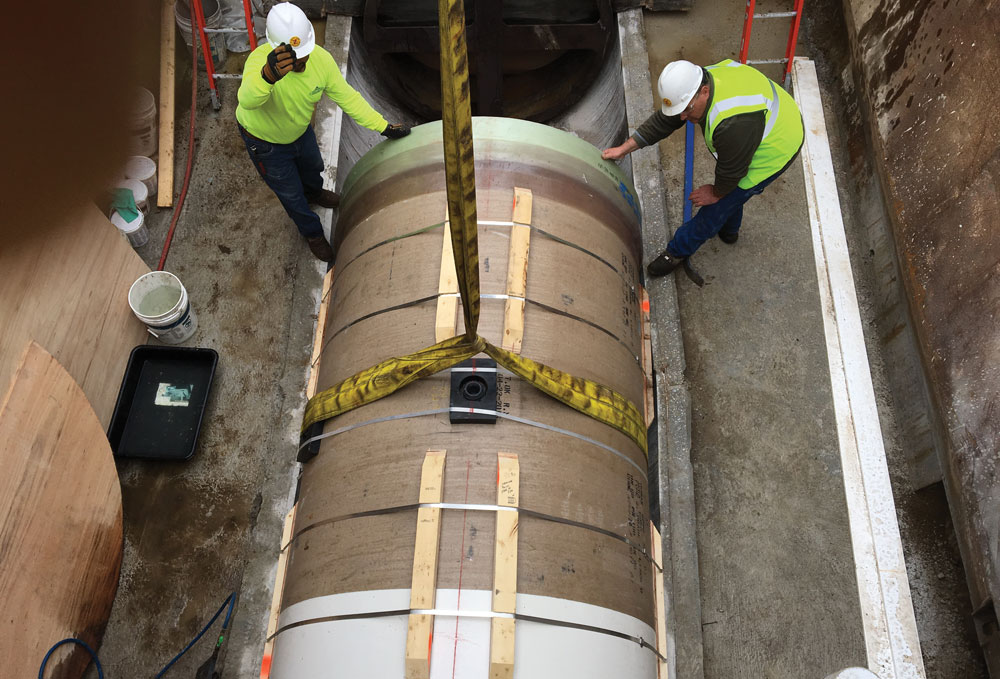 R. Zoppo Corp., headquartered in Stoughton, Massachussetts, was the contractor for all three sliplining projects in the program.

"Providence Water had very high standards they were expecting and the only way to exceed them was a structural pipe rehabilitation," said R. Zoppo Corp. project executive Andy Greenlaw, whose company has also used Hobas pipe for several other New England projects.

RELATED: Preserving the Bay Area Through Sliplining

"Hobas pipe is a good fit because of its strength, integrity, and ease of use," Greenlaw added. "It has given us the ability to actually navigate curved pipe sections, which has been critical to accomplishing the work. The existing pipeline had vertical and horizontal curves and Hobas can match pipe lengths to what's necessary to navigate those curves and give us a continuous slipline."

Greenlaw said he is not aware of another product of its type that can be installed using the same methodology. "We found that Hobas pipe is probably the fastest and certainly the most economical way to do it. Of all the other products we looked at, Hobas not only saves time but money."

Gallant also appreciates the manufacturer's customer service.

"Sliplining is relatively new to us, and Hobas has been a valuable team partner," he said. "It's not an off-the-shelf solution, and Hobas has helped us to work through challenges and lessons learned and come up with solutions. They definitely stand by their product and have been there when things get tricky."

Kimberly Paggioli, P.E. is vice president of marketing and quality control at Hobas Pipe USA.