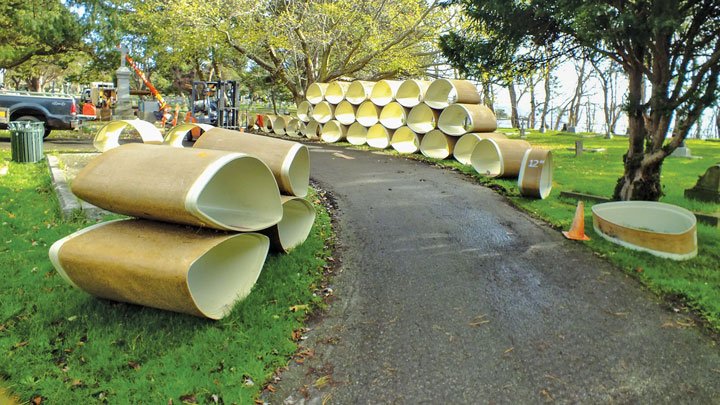 Though PW Trenchless Construction is in its teens, many of the people who work for the company have been involved in the trenchless field since its early years and that starts at the top with owner David O'Sullivan.
Born and educated in Ireland, O'Sullivan is a civil engineer by trade and always looking for a better way to complete a project. Work brought him to British Columbia, and in 1986, he began working as a project manager for a Surrey, British Columbia-based utility contractor. Seeing a better way, he steered that company into trenchless work doing pipe bursting, horizontal directional drilling and microtunnelling.
"I was managing a utility construction company, moved them to more municipal work and then to trenchless work in the early 1990s," O'Sullivan says. "I was trying to stay away from the pack."
Birth of a Company
As the 1990s were coming to a close, O'Sullivan had a decision to make — head back to Ireland or stay in Canada. The decision was made to stay in Canada and O'Sullivan went to speak to the owner about focusing solely on trenchless work. From that conversation,
PW Trenchless
was born as a sister company to the construction firm, with O'Sullivan at the helm. In 2004, O'Sullivan and his wife gained full control of PW Trenchless as an independent, privately held company.
"We've grown from $600,000 a year in trenchless work in 2000 to about $10 million a year," O'Sullivan says. Of that, about a quarter of the work is pipe bursting, a quarter is sliplining and the rest is other trenchless projects.
That growth can be attributed to the many years of experience of the PW Trenchless team and the company's, as well as O'Sullivan's, educational outreach efforts most notably through the North American Society for Trenchless Technology's British Columbia chapter (NASTT-BC).
"Since the beginning, I have felt that marketing trenchless through education is the best and most honourable marketing that we could do in our industry," O'Sullivan says. "It is also important to set standards to keep the level of workmanship up."
RELATED: Trenchless Technology Canada Roundtable: The State of the Canadian Trenchless Market
Initiatives that PW Trenchless has been involved with include the NASTT-BC Carbon Calculator and the approval of a carbon credit protocol for trenchless projects, meeting with universities to add trenchless to the engineering curriculum and meeting with municipalities for workshops and events.
"As an industry, we need to convince the universities that trenchless methods are viable construction options and that the students need to be taught about them," O'Sullivan says. "Then when they are the consultants or the owners, they will know how things should be done and the contractors will know how to do the work."
O'Sullivan estimates that there is about $30 million worth of trenchless work taking place in British Columbia. He bases this on the fact that in Greater Vancouver there is about $30 billion worth of infrastructure and the region should be replacing or rehabbing about $300 million a year. "Of that $300 million, I would guess that about 10 per cent is trenchless, but that number is growing thanks to education."
Since its start, PW Trenchless has remained mostly focused on pipe bursting and sliplining. Today the company employs 30 people and has grown each year as more municipalities look to trenchless.
"Our business is still the only pipe bursting company in B.C. No one has really taken a run at it yet, but someone will," O'Sullivan says. "I welcome the competition, but to be honest, there really isn't enough work in the area for two companies unless the market grows."
This lack of projects he attributes to a chicken before the egg type scenario. A municipality is generally reluctant to place a pipe bursting project to bid because there is only one contractor to bid on the work. But there is only one contractor because there are not enough projects to make it viable for others to jump into the fray. The key to changing this, he says, is education.
Notable Projects
On the pipe bursting side, PW Trenchless has made a name for itself tackling bursting projects that other contractors might not try. "We do push the envelope in what we do on top of the more routine projects," O'Sullivan says.
RELATED: Measuring the Benefits of Trenchless
O'Sullivan recalls two major bursting projects in recent years that were a bit out of the norm. One was bursting a 914-mm corrugated steel pipe to upsize to a 1,067-mm high-density polyethylene (HDPE) pipe in North Vancouver. The other in Maple Ridge, that the crews recently completed, involved four runs of 375-mm PVC to 711-mm HDPE and three runs of 375-mm PVC to 863-mm HDPE.
Since 2000, PW Trenchless has relied on TT Technologies bursting equipment and that is all they have used, O'Sullivan notes. The biggest advancement in that time? The switch to static pipe bursting. O'Sullivan says that they still have a perfectly good TT Technologies pneumatic system, but they have not had to use it in seven years.
On the sliplining side, in 2016, PW Trenchless tackled something much more interesting: The rehabilitation of a 100-year-old sewer under the Ross Bay Cemetery in Victoria, British Columbia.
Using Channeline's segmented glass reinforced plastic (GRP) liners, crews worked in fall 2016 to complete the rehab of the hand-built brick sewer. The sewer is 1,550 mm by 995 mm and measures 222 m in length. Adding to the complexity were 12 curves and four vertical drops. With limited access due to the location, a single entrance pit had to be dug in the middle of the run, and workers worked in both directions to complete the project.
The entrance pit was 10 m deep and because there was only the one access point the crew – trained in confined space rescue — had to devise a transport system for the pipe sections and workers from both sides of the pit. This was also used to tug sections of the pipe into place.
Each pipe is inserted into the host pipe from the access point and then moved into place at either end of the existing host pipe. The pipe sections have the gaskets installed and prepped with pipe lubricant and are pulled into place by winches hooked to anchor points mounted on the previously laid pipes.
The pipes are set into place on grade and held in place with blocks of wood that allow for grout to be pumped into the void between the host pipe and the new Channeline GRP without the new pipe moving or "floating."
The project was completed successfully with many onlookers as the cemetery is mostly an area for walkers and history buffs.
RELATED: NASTT-BC Is an Integral Part of Canada's Trenchless Growth
"In addition to the site constraints, it is a historic cemetery with some of British Columbia's crème de la crème dignitaries," O'Sullivan says.
These dignitaries include:


Sir James Douglas who established Fort Victoria in 1843, was the second governor of Vancouver Island and the first governor of British Columbia. He is also considered the "Father of British Columbia."


British Columbia premiers Andrew Elliott, Alexander Davie, Theodore Davie, Amor De Cosmos, George A. Walkem, Harlan Brewster, James Dunsmuir, Robert Beaven and Edward Prior.


Emily Carr, a painter who gained fame for capturing the beauty of the West Coast First Nations people's villages and totem poles.


These projects, as well as the many others PW Trenchless tackles each year, O'Sullivan points to the relationship that his company has with the municipalities — one where they approach the project from a "team" perspective.
"I believe that the key to a successful project is built on a good relationship between the contractor, consultant and the owner and the common enemy is the project," O'Sullivan says. "It is a team approach where we abandon the typical confrontational contractual relationship that is present in many construction projects and build a collaborative relationship."
Mike Kezdi is associate editor of Trenchless Technology Canada.