Super Products is launching its new Mud Dog 700, a compact, versatile vacuum excavator that is ideal for urban environments with a 7-yd. debris body and 600-gallon water tank, allowing operators to maximize the legal payload.
In the United States, a utility line is hit every six minutes. Each hit can cause power and utility disruption as well as severe injuries. More than ever, digging safer and smarter means utilizing vacuum excavation. Mud Dog Vacuum Excavators are designed for operator safety and consistent performance to meet the challenges of a variety of applications from compact, urban projects to large-scale excavation, potholing and trenching projects. In order to meet operator needs in an urban setting, the 700 model was built to maximize payload, allowing operators to carry and accomplish more while still excavating safely in small work areas.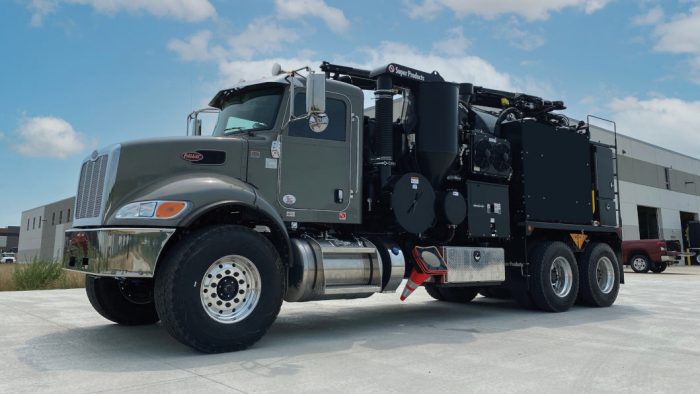 There are various differences when comparing Mud Dog model configurations. While the 1200 and 1600 come standard with ejection unloading, the 700 comes standard as a dump body with an electric vibrator. The Mud Dog 700 has a 50-degree dump angle with the capability of dumping into a 48-in. container while maintaining a low overhead height and center of gravity for increased stability.
Additionally, the 700 is equipped with a rear-mounted, extendable, 8-in. diameter boom that reaches 18 ft, has 270-degree rotation, and pivots 10-degrees downward, which minimizes job site restoration and eliminates traffic congestion near roads.

SOURCE – Super Products