As a plumbing professional, one of the most common reasons you're called out to a home or a business is the drain is backed up. While it could be fats, oils or grease in the pipe, or perhaps the customer is fond of "flushable" wipes, there is a chance the blockage is caused by broken underground infrastructure. There is a plethora of options you can give a customer to repair the lateral from their home or business to the main sewer. With that in mind, Pipe Cleaning PRO reached out to some of the major manufacturers of lateral repair and rehabilitation equipment to see what is new on the market. We asked them to also include a PRO Tip on what to look for when purchasing equipment or how to keep it operating at its peak. This is only a glimpse at this equipment. For more information, visit the manufacturer's website.

Formadrain
Don't just have a lined pipe. Have a new structural pipe installed without the expense and disruption of digging, and without damage to property. Formadrain's ground-breaking trenchless technology requires absolutely no digging and is a time-proven solution for residential, commercial, industrial and municipal wastewater and process pipe rehabilitation projects. Get a superior pipe lining system specifically made for lateral repairs. Formadrain's system is different from other cured-in-place pipe (CIPP) methods in that liners don't use felt tubes; epoxy and fiberglass liners are pulled or pushed into place. They are steam cured, providing you with plenty of working time and ensuring a complete cure every time at a cost you can afford. That true No-Dig solution is five times stronger than ASTM standards. For ease of use, flexibility and durability while posing no threat to health or safety, Formadrain's trenchless technology is a solution to be considered for lateral repairs.
For more information, visit formadrain.com

Hammerhead Trenchless
The HammerHead Bluelight LED system is a cured-in-place pipe (CIPP) lining system that uses LED light to cure up to five times faster than conventional curing methods. Made for laterals and small sewer pipes in the 4 to 10 in. diameter range, this exclusive technology greatly reduces the time installers must wait for a liner to cure, allowing them to complete jobs more quickly. "Without the Bluelight LED system, installers can waste hours waiting for a liner to cure," said Ace McCarty, product manager of HammerHead Trenchless CIPP lines. "But our specially formulated resin cures with LED light, which is much quicker than traditional epoxy resins that are cured with steam, hot water or ambient air." The Bluelight system is compact and lightweight, making it easily portable on the jobsite.

For more information, visit hammerheadtrenchless.com.
Picote Solutions
There are several options for opening a lateral connection from the lateral end when attaching a tool to the cable of a high-speed milling machine. With a large selection of tools available, your choice is often down to the host pipe material and diameter. Twisters are a good choice even inside PVC pipes; the brush set behind the front plate and drill head provides stability so that the tool can be safely held in place while you work. An added benefit is that it creates a good initial opening, meaning that you have less excess liner to smooth out afterward. There are many types of Twisters on the market, and it comes down then to personal choice, use, speed and efficiency. Most will have either a large drill head or a front plate with carbides and a smaller drill head. Depending on the model, reinstatements utilizing this method can take anywhere from 20 seconds to several minutes. Lining material and pipe diameter are also considerations that should be factored in.
PRO TIP
Tiger Bores are versatile multi-use tools for your high-speed milling machine. These little heads, which attach directly to the end of the cable should always be in your toolbox. Not only can it be used to open blockages, cut out tree roots, heavy scale, tuberculation and grease, it is also handy to reinstate connections where bigger tools can't access by creating an initial opening. Two models are available, for 1/3-in. or ½-in. shaft machines. The Tiger Bore can also be used to penetrate a collapsed liner to enable larger removal tools to gain access and finish the job. It is also possible to use this tool to remove grout and concrete inside small 2- to 3-in. pipes. Unlike other special drill heads, the Tiger Bore is made from carbide. It is also a great tool for tackling solid materials in the pipe.

For more information, visit picotesolutions.com.

I.S.T.
The Starlight lateral lining UV systems are the all-rounders for house connection renovation. Nominal sizes starting at DN70 and main sewers up to DN375 and four different light sources with exchangeable cable drums from 60 m cable length with 1 x 175-watt power (nUVision ignition technology) up to 100 m cable length with 4 x 400-watt power (with booster). System highlights include, electronically monitored curing, automatic system recognition, compact design, remote access for maintenance and diagnostics, tamper-proof documentation and logging of the curing process, Integrated Siemens PLC along with the compact design and the ability to operate the Starlight system off a standard household socket. Liners can be inverted or pulled in place. A clear calibration tube is optional depending on installation. Three liner variants are offered with good bendability and suitable for changing dimensions.

PRO TIP
For a simple and efficient process, various one-component resins are available as part of the Starlight UV System. The standard product that covers most areas of application is RayCure UA resin, which is based on a urethane acrylate / methacrylate mixture. It has good chemical resistance and excellent static values. When using the UA resin, which is recommended as standard, the liner is installed without gaps (close-fit). In addition, the material used sticks to most pipe materials without any pretreatment. A preliner only needs to be used in special cases or when using VE resin. The products RayCure VE (installation with preliner), RayCure EP and RayCure PU are available for other special applications. These products are used when there are special requirements regarding chemical resistance or heat resistance. Update your lateral lining installation methods and cure liners in minutes instead of hours.

For more information, visit ist-web.com.

Pipeline Renewal Technologies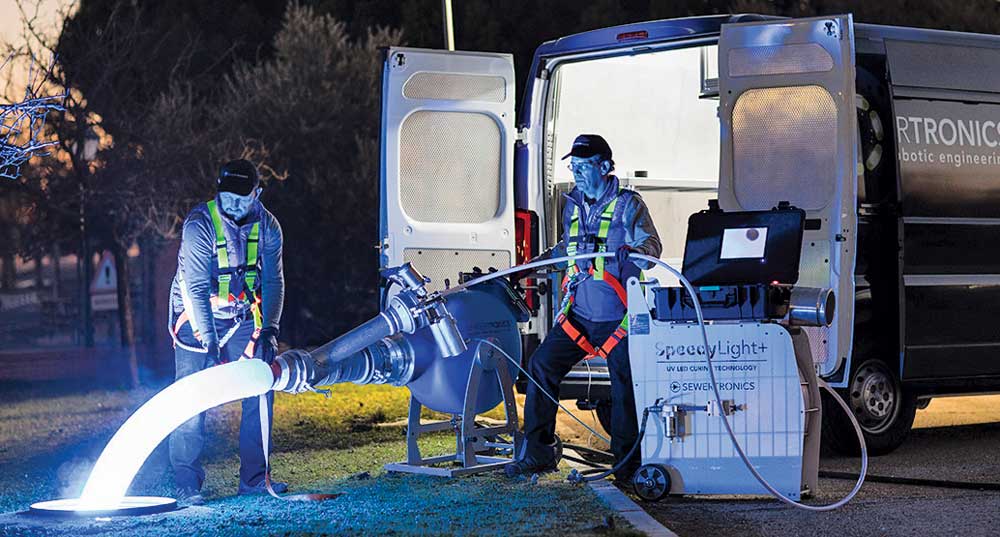 SpeedyLight+ is the LED-based solution for cured-in-place pipe (CIPP) that cures liners at speeds ranging from 0.66 to 3.3 fpm — up to five times faster than traditional technologies. Because it's compatible with felt, as well as invertible glass fiber, SpeedyLight+ can cure 90-degree bends in lines as small as 4 in., as well as other challenging geometries. Free of styrene and amines, light-based cure technologies like SpeedyLight+ raise fewer objections from the public and your crew. The single-part vinyl ester resin requires no mixing and eliminates shelf life and working time challenges. SpeedyLight+ uses LED lamps to cure, drawing half the power of traditional lamps while providing a more powerful cure. The integrated camera lets operators monitor the curing process in real-time for optimal quality control. The highly portable design allows for access from even the most remote sites, curing up to 328 ft of liner in pipes 4 to 12 in.

For more information, visit pipelinert.com.

Maxliner
Max VertiPox CIPP resin (100 percent solids, styrene-free, two-part epoxy) system is uniquely formulated for vertical pipes and other in-building applications. The 3-to-1 ratio has a thicker viscosity to prevent the epoxy from gravity-related resin run during installation and curing. It is chemical resistance, odor-free and adheres to existing pipe materials – even under very humid and wet conditions. It meets all specifications for a full structural CIPP liner conforming to ASTM F1216. MaxLiner's LED-based UV curing system, MaxLight and non-styrenated, single-component resin system optimizes CIPP operations by dramatically increasing work efficiency. Our unique photo initiators allow for fast curing speeds. Curing does not begin until the resin is exposed to our finely-calibrated UV light. This allows for pre-impregnated liner assembly at the shop or on-site — eliminating pot life concerns and increased productivity. Several installations can be executed per day due to minimal footprint, equipment setup and efficiency.

PRO TIP
It takes a few jobs to get into a rhythm. Each jobsite is unique, and each comes with subtle challenges. Having the foresight to see through the process from arrival to departure will not only increase productivity but will also help tackle any obstacles before it's too late. At times, lateral lining crews don't know what they are up against until arrival onsite. The job may have been sold by someone else and the only information they have is what's on the job ticket. I've spent many long days (and nights) working alongside installers. One thing that is guaranteed – proper pipe prep always takes longer than expected. If all the pipe prep (descaling, removing roots, creating access, client communication) is done thoroughly before the lining crew arrives, it usually ensures an efficient installation and helps the crew understand what materials and tools are needed for successfully completing the job. "By failing to prepare, you are preparing to fail," Benjamin Franklin.

For more information, visit maxlinerusa.com.

The Shooter
The Shooter is the original continuous air-inversion machine for cured-in-place pipe (CIPP) and for more than two decades the innovative LIPs based sealing system has been a standard in the trenchless industry. Fast and reliable, two models are available, an updated ruggedly mobile The Shooter 12 with built-in lubrication system and knife gate for after the tail passes for 6- to 12-in. pipe, and a trailer-mounted The Shooter 24 for 15 to 24 in. An optional conversion kit for the 12 inverts 15-in. liner, and one for the 24 inverts 6- to 12-in. liners. A water cure flange is also available. The new lubrication system includes an oil overspray guard that keeps the operators dry. The fully adjustable, structurally reinforced LIPs are more robust than most other sealing systems and are available in 4 in. through 24 in. The Shooter is built to last. And proudly made in Redmond, Oregon.

For more information, visit theshootercipp.com.