Prime Resins Inc. unveiled a trio of Prime Coat inorganic water- and mineral-based coatings at
NASTT's 2015 No-Dig Show
in Denver. The new coatings provide corrosion and fire resistance protection on multiple surfaces.
Prime Coat 6000 Lining, Prime Coat 6100 Fire and Prime Coat 6200 Corrosion are spray-applied sustainable inorganic coatings with broad applications. Zero VOCs make these a good option for projects seeking LEED or similar certification. All three have a rapid set time and cure tack-free within five minutes, allowing for quick return to service turnaround.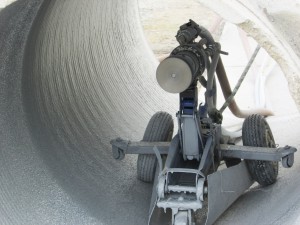 Prime Resin's
Prime Coat 6000 Lining meets NSF/ANSI 61 standards for contact with potable water and is highly abrasion, and chemical, resistant, making it an excellent option for municipal water and sewer applications, water tank linings and the like. Advantages include: Rapid set and cure time—becoming tack free in five minute, which equates to a quicker return to service; Prime Coat 6000 requires minimal site and product preparation; and the coating can be are needed, and it can be spincast in pipes as small as 18 in.
Prime Coat 6100 Fire provides fire resistance protection when applied to a variety of surfaces. ASTM E84 testing proved zero flame spread and zero smoke generation. Zero VOCs make this product a good choice for interior applications and projects seeking clean building certification.
In unofficial testing, during firefighter training at a live-burn, the flame spread protection offered by Prime Coat 6100 Fire was put to the test. Two walls of the live-burn home were sprayed with Prime Coat 6100 Fire. Remote cameras installed captured the fact that these two walls were literally the last parts of the structure left standing even though firefighters repeatedly tried to engulf them by heaping burning pallets and straw bales against them.
(a copy of the video is at the bottom of this post)
Prime Coat 6200 Corrosion provides durable protection against corrosion and oxidation of concrete and steel surfaces. Only a thin layer, less than 20 mils, provides corrosion protection. The product develops a strong bond with properly prepared surfaces, producing an alloyed layer that remains bonded to the surface even if the visible layer is penetrated.
This product is ideal for marine applications such as seawalls, bridges, rebar, railcars, pipelines, tanks and other surfaces exposed to moisture and/or abrasive substances. It is highly chemical- and abrasion-resistant. The life of concrete that is starting to erode and shed aggregate can be extended by many years with a thin coat of Prime Coat.
Prime Resins also featured
a new pump
, designed specifically for these coating. The Prime PC features twin progressive cavity pumps to mix and disperse the material with no shearing. Fewer passes are needed to build thickness since the material does not require over-diluting to prevent shearing, which is typically the case with piston-style pumps.
More information about the new line of Prime Coat products can be found at
primeresins.com
.