Cobra Technologies
Cobra Technologies introduces its Universal Portable Control Console with a rack-mounted, solid state computer and 10.4-in. sunlight-readable touch screen. This lightweight, rugged controller can be used with a Cobra Inspection System or it can replace any of the dated, bulky controllers provided to the industry in the past for U.S.-made mainline inspection systems, multi- or single-conductor. It's available with the PACP/WRc certified CobraTouch Data Logger, for easy, productive inspections guiding the operator through the entire inspection process; or the computer may be specified to run any inspection software available making the controller truly universal. For more information, call (800) 443-3761 or visit www.cobratec.com.
NLB Corp.
50 in. in diameter) can typically be cleared in a single pass with a new Typhoon 60 rotating water jet nozzle from NLB Corp. The self-propelling nozzle easily clears blockages horizontally, vertically, or in tight elbows. It rotates at up to 500 rpm to maximize the powerful force of 24,000 psi water jets.
The Typhoon 60 is a high-flow rotating nozzle (60 gpm) with six high-cohesive nozzles.  It weighs 8 lbs and is one of three NLB self-rotating nozzles for pipes of different sizes.  All feature variable rotation with full speed control, and are field-repairable with a simple kit.
The Typhoon 20 is designed for diameters from 6 to 10 in. It operates at flows up to 20 gpm and has five sapphire nozzles positioned for peak efficiency: one in front and four on the sides.  The body is precision-machined of stainless steel for long life and weighs just 3 lbs.
The Typhoon 10 nozzle cleans small pipes, with diameters as small as 5/8-in. It rotates at up to 7,000 rpm with a maximum flow of 10 gpm.
PipeLogix
PipeLogix Inc., creators of flexidata pipe survey software, is pleased to announce the release of its latest module for flexidata — the 360 Module. The module is specially designed to work with the new scanning camera technology such as Panoramo and Panoramo SI in both pipe and manhole surveys. The 360 Module is available for flexidata Full, Lite and Manhole licenses.  However, the module operates differently and offers particular features, dependent upon the version of flexidata the user is operating.
RS Technical Services
The TranStar Steerable Tractor for video pipeline inspection is a robust transporter equipped with two 90- watt rare earth permanent magnet motors making it the industry's highest power tractor of its size available. Designed to work with RS Technical Omni III, NovaSTAR and TrakSTAR cameras, it provides inspection capability in sanitary or storm lines 6 to 30 in. in diameter and up to 3,000 ft in length.
The TranStar can turn on its own axis and travel up to 60 ft per minute with three forward speeds, reverse and freewheel. Options include: rear view camera, manual elevator system and multiple tire options. For more information, call (800) 767-1974 or visit www.rstechserv.com.
Vactor Mfg.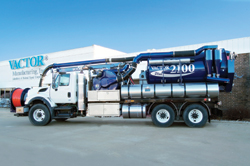 Ideally suited for public utilities and professional contractors cleaning entire wastewater systems, the redesigned Vactor 2100 sewer cleaner from Vactor Mfg. features increased vacuum performance and improvements to operator comfort and control, air routing and filtration efficiency and fuel efficiency. Smart Truck concept features have also been integrated on the new sewer cleaner, including internal monitoring systems that enable the operator to monitor and troubleshoot flow and pressure, blower temperature and oil level, drive system idle and open vacuum relief.
The new truck also features more wireless functions as standard, such as e-stop, hose reel pay-in and -out and reel speed control. The noise level at the operator station on the 2100 Plus has been reduced by at least 10 percent.  The new 2100 Plus also features improvements that simplify maintenance, extend equipment life and increase machine utilization. The water fill location has been lowered on the new design for easier access and simplified daily maintenance.
Categories:
Showcase   |   Pipe