Perfect for hard rock and fractured ground formations
Numa is a leading drilling technology provider, dedicated to ongoing product innovation and results-oriented consistency. For over 37 years, Numa has built a strong legacy of high quality, U.S. made hammers and bits for drilling vertical, horizontal, and reverse circulation holes 3.5 to 50.5 in. (89 -1283 mm) in diameter. The company has recently expanded its horizontal directional drilling (HDD) product line to provide more capabilities for drilling in hard rock and fractured ground formations.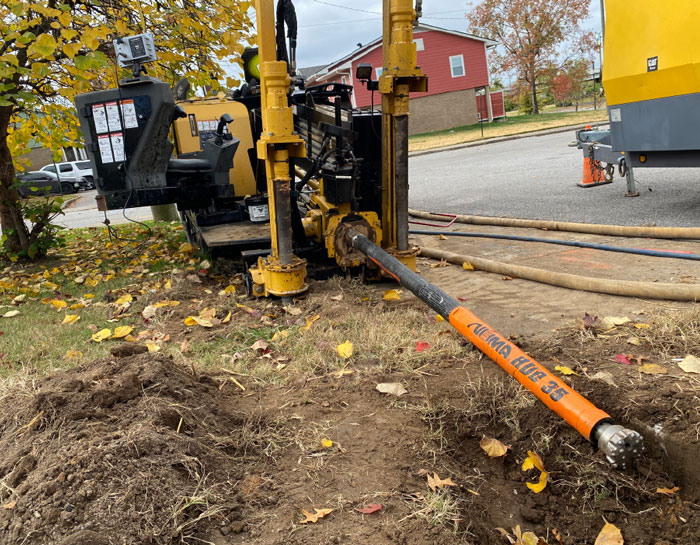 Numa offers a wide variety of HDD Drilling Systems consisting of HDD hammers, bits, side load sonde housings, bent subs, and adaptors capable of drilling holes 3-7/8 to 10 in. (98 mm to 254 mm) in diameter. Some of the many benefits Numa touts for the HDD product line include: improved steerability, fast penetration rate, simplified field maintenance, reduced air requirements, and lower overall cost per foot.

Along with its products, the company also has HDD rock drilling veterans on staff with in-depth expertise in drilling tooling, fluids, bits, reamers, rock tools, swivels, and more. Numa's drilling experts travel to job sites to teach customers the most effective ways to drill using pneumatic hammers and bits in horizontal drilling applications. The training and support provided by Numa has allowed drillers to maximize their investments in HDD tooling and complete jobs in the most efficient manner possible.
"Numa continues to design new HDD products to tackle the challenges drillers face in hard rock and fractured formations," said Numa President, Ralph Leonard. "Our high quality, Made in the USA HDD products provide the right balance of performance and dependability without sacrificing tool life."

With deep experience in rock drilling, Numa purposely designed their HDD hammers to drill longer in difficult rock conditions. A single bore design allows for a maximum bore diameter in conjunction with providing optimum life against abrasion. The full line of Numa's HDD Drilling Systems is made up of the models indicated below with further details available on their product page.


HDD 35 for drilling holes 3-7/8 to 4 in. (98 mm to 102 mm) in diameter


HDD 40 for drilling holes 4-3/4 to 5 in. (121 mm to 127 mm) in diameter


HDD 50 for drilling holes 5-3/4 to 6-1/8 in. (146 mm to 156 mm) in diameter


HDD 60 for drilling holes 7 to 7-1/2 in. (178 mm to 191 mm) in diameter


HDD 80 for drilling holes 9-3/4 to 10 in. (248 mm to 254 mm) in diameter


All of Numa's products are designed by an in-house engineering team and made in its United States plant. With a long history of innovation, Numa has over 110 products that are perfectly suited for drilling in hard rock, overburden, and fractured formations found in the HDD, construction, utility, oil & gas, horizontal boring, and other rock drilling industries.

The breadth of its product offering is wide but Numa touts a customer-centric mindset. The company not only focuses on the quality of its drilling products but the value delivered in product performance, training, and personal service.
SOURCE – Numa