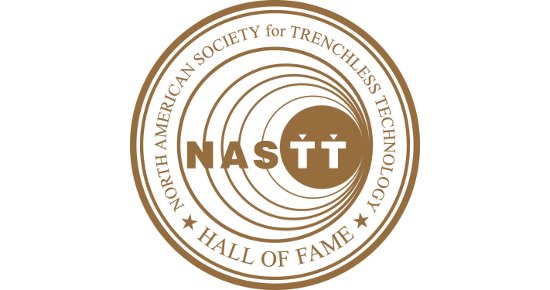 The North American Society for Trenchless Technology (NASTT) is now accepting nominations for its 2018 Hall of Fame Class.

The intent of the NASTT Hall of Fame is to preserve the outstanding accomplishments of exceptional individuals and to honor their contributions to the advancement of both the trenchless industry and the Society. Members may be elected from all five NASTT membership categories: Manufacturers and Suppliers; Engineers and Consultants; Municipal and Utility Employees; Contractors; and Academia.

RELATED: 2017 NASTT No-Dig Show Breaks Exhibitor Record
NASTT's 2018 Hall of Fame Class will be inducted during the Gala Awards Dinner at NASTT's 2018 No-Dig Show in Palm Springs, California. To nominate someone, go to nastt.org/no-dig-show/hall-of-fame. Nomination deadline is Aug. 1.

NASTT Inducts 2017 Hall of Fame Class
At its 2017 No-Dig Show, NASTT inducted its sixth Hall of Fame Class – Joseph L. Abbptt Jr., Dr. Tom Iseley and Rod Sutliff.
Joseph L. Abbott Jr. had a distinguished career in the sewer rehabilitation industry. Joining Godwin Pumps in 1989 as national sales manager. In the ensuing 20 years, Joe helped build Godwin's distribution network throughout the United States and Canada. He played an instrumental role in the development of Godwin's marketing and sales efforts, including his activities in numerous professional organizations. Recognized as one of NASTT's seven charter members, he also served on the Board of Directors from 2003 to 2010.

RELATED: 1993 Trenchless Technology Person-of-the-Year: Dr. Tom Iseley
Dr. Tom Iseley, earned his civil engineering degree at the University of Alabama in Birmingham (UAB). Tom's education was interrupted due to required military service during the Vietnam War.  After serving four years in the U.S. Coast Guard and he returned to UAB to complete the BSCE program and MBA program. He and his father formed a utility construction firm and Tom later transitioned to an academic position at Mississippi State University (MSU). After four years as an assistant professor, he moved to Purdue University where he obtained a Ph.D. in civil engineering and begin to focus on trenchless technology. In 1988, he accepted a faculty position at Louisiana Tech University with a vision to establish an industry/academic/government cooperative research center – the Trenchless Technology Center (TTC). After serving as director of TTC, he served in other academic and industry positions including as a senior advisor to the commissioner of the Department of Watershed Management for the City of Atlanta. In July 2014, he returned to TTC to serve as the director. .

Rod Sutliff was responsible for nearly a dozen game -changing innovations in the CCTV pipeline inspection industry. He came out of retirement in 1984 to form R.S. Technical Services and began to revolutionize the CCTV industry. His string of innovations including the first mainline color camera featuring internal lights, the first true pan-and-tilt camera with tracking lights, a cable reel with electrical gear selection, and many others. Rod also developed a steerable storm drain tractor and an explosion-proof camera.