Portland, Oregon, Welcomes the NASTT No-Dig Show
For the first time, the NASTT No-Dig Show — the largest gathering of trenchless professionals — is heading to the Northwest, specifically Portland, Oregon. This annual convergence of the worldwide trenchless community takes place April 30-May 4 at the Oregon Convention Center, with a full slate of educational, exhibiting and networking opportunities for those who attend.
2022 brought a return of the full-scale No-Dig show, after the worldwide COVID-19 pandemic. The 2023 Show continues and expands on that with a few changes to the traditional trenchless tradeshow, giving it an updated and new dynamic look for attendees.
The 2023 conference and exhibition is a high-quality combination of education and innovation. This year's show features more than 140 exhibiting companies on the tradeshow floor, giving attendees ample opportunities to check out the latest technologies and products the industry has to offer.
The conference portion features more than 130 peer-reviewed technical papers, plus roundtable discussions via six industry track sessions focused on both installation and rehabilitation that spans the three days of the show. Morning and afternoon sessions will give attendees a chance to attend several different sessions. The technical presentations are always a feature of the No-Dig Show and this year's presentations focus on a diverse range of trenchless topics, including horizontal directional drilling, cured-in-place pipe (CIPP), microtunneling, inspection, case histories, asset management, pipe jacking and ramming, water and sewer rehabilitation, project planning, inspection and trenchless research.
Download the mobile app and have access to the current Session Schedule during the show. Also, check out the 2022 Trenchless Technology Projects of the Year winners' session at 3:45 p.m. on Monday, May 1; Moderated by Trenchless Technology editors Sharon M. Bueno and Mike Kezdi, the architects of the winning projects will discuss the challenges they faced and how they solved them, as well as field questions from those in the session.
Although the No-Dig show is the conduit to promote and advance the trenchless marketplace through education and exhibits, there's also the social aspect of the conference that fosters networking opportunities for attendees, as well as just some fun and good times.
Start the week off with the Kick-off Breakfast, sponsored by Trenchless Technology and Jacobs, on Monday, May 1, where attendees will be welcomed to the No-Dig Show by NASTT chair Joe Lane. Trenchless Technology will also formally honor its 2022 Trenchless Technology Projects of the Year New Installation and Rehabilitation winners and Dr. John Matthews, the 2023 Trenchless Technology Person of the Year. NASTT will spotlight sponsors, NASTT board members, Municipal Scholarship recipients and NASTT volunteers.
At the conclusion of the May 1 technical sessions, join fellow attendees in the Portland Ballroom for the NASTT 22nd Annual Educational Fund Auction from 5:30 to 6:30 p.m. The auction is sponsored by Bennett Trenchless Engineers, Interplastic Corp. and Xylem. Since 2002, NASTT has raised more than $1.2 million and used those funds in support of our many educational initiatives. NASTT is able to provide targeted trenchless training courses to the industry, publish trenchless resources manuals and sponsor university students' attendance at NASTT's No-Dig Shows, as well as award scholarships.
New for 2023 is Casino Royale on Tuesday, May 2, from 6 to 10 p.m. in the Portland Ballroom. The casino night party replaces the traditional, formal Gala Dinner. The event, sponsored by AOC, will still honor the NASTT 2023 Hall of Fame induction class, as well as the NASTT Chair Award recipient. The 2023 class features Steven R. Kramer, P.E., FASCE, senior vice president-tunnel at COWI and Kevin Miller, senior advisor at Miller Pipeline Corp. The awards will be followed by a champagne toast and then the event pivots to the casino tables for gaming. Throughout the evening enjoy various food stations, cocktails and networking with your trenchless community. At the end of the evening, attendees can turn in their winnings for a chance to take home raffle prizes. Casino Royale is a ticketed event and tickets can be purchased during registration. Festive cocktail attire is encouraged.
Attendees are invited to close out the NASTT 2023 No-Dig Show at the Closing Luncheon in the exhibit hall from 12 to 1 p.m. on May 3 in Exhibit Hall D.
For more information about the 2023 NASTT No-Dig Show, visit nodigshow.com.
AECOM | Booth #531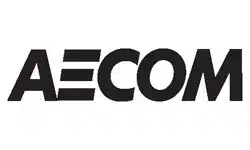 AECOM provides fully integrated tunneling and trenchless technology design, management and construction services for pipelines, new installation and rehabilitation. Additional services include geotechnical and geological reports, flow analysis, alignment appraisal, seismic design, shaft design, constructability and means and methods review for microtunneling, horizontal directional drilling, pipe jacking, auger boring and all types of pipe rehabilitation design, instrumentation and monitoring, ground improvement and ground water control, program management, alternate delivery methods, and construction management services.
AECOM is a global leader integrating engineering, design and program management services. We connect knowledge and experience across our global network of experts to help clients solve their most complex challenges. Visit us at the No-Dig Show, Booth 531.
Applied Felts | Booth #715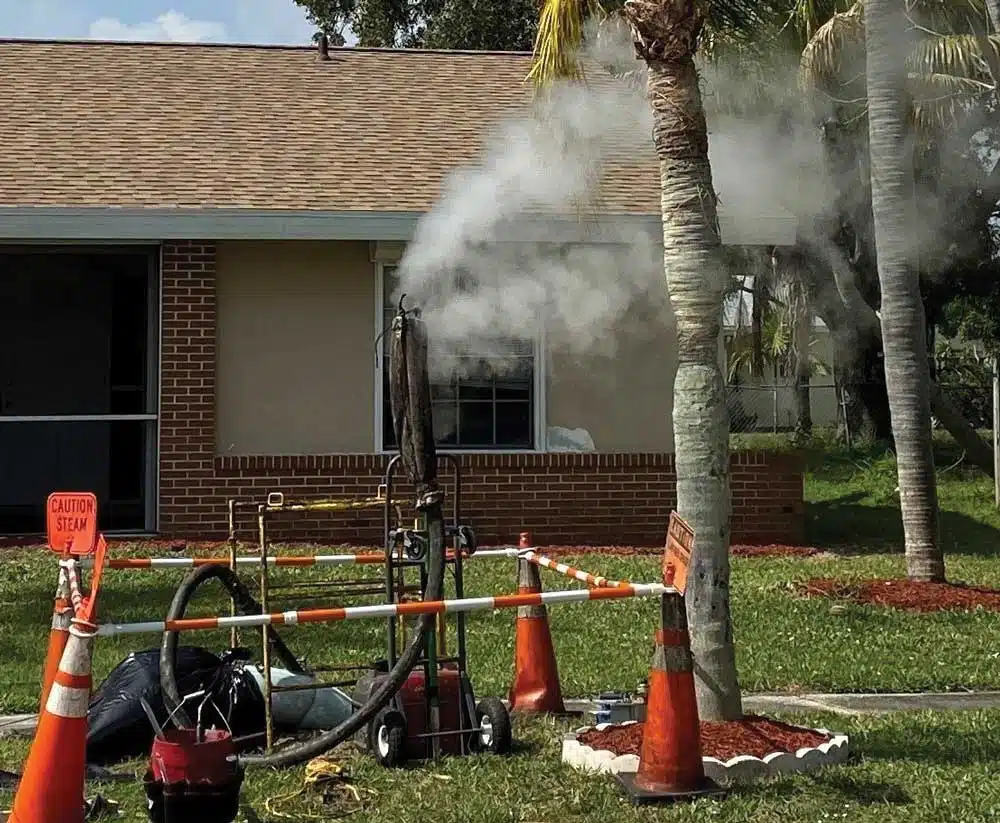 INTRODUCING EnviroCure® CIPP liner! Eliminate styrene emissions and odor.
Applied Felts' proprietary all-felt or hybrid felt/glass liners coated with a styrene barrier, vastly reduces if not eliminates styrene odors and emissions on the jobsite before, during and after your installations – taking away the significant cost and unpredictability of styrene-free resin systems.
EnviroCure's heat-cured, STYRENE IMPERMEABLE polymer coating eliminates styrene emissions and odor, reducing on-site styrene emissions to less than 1 part per million (IUPUI Test, Oct. 2021). EnviroCure is a polyester felt liner with multi-layer, polyamide coating containing conforming to ASTM F1216 and ASTM F1743. To accommodate the requirement for liners of varying thicknesses, multiple layers of needle-punched felt are employed.
EnviroCure® is manufactured by Applied Felts and wet-out by FerraTex Solutions. Streamline your next job with pre-impregnated, styrene impermeable liners delivered to your jobsite from FerraTex's five regional wet-out facilities.
Visit us at No-Dig Booth #715
LEARN MORE: https://appliedfelts.com/
276.656.1904
Brownline | Booth #619
Brownline's Drillguide GST is a standalone Gyroscopic Steering Tool specifically designed for HDD operations, providing highly accurate navigational information in real-time. The GST has proven accuracy of 0.01º in pitch and 0.04º in azimuth, resulting in smoother bore trajectories and reduced drag and stress during installation. Brownline has also developed advanced technology such as the Drillguide Radar System for intersecting projects and the Drillguide GPS Tracking System for secondary tracking. The RADAR System actively communicates with the GST for faster and more accurate intersects, while the GPS Tracking System confirms the location of the GST along the bore path for tight tolerance windows and on-target punch-outs. Since 2004, the Drillguide Gyro Systems have been deployed on thousands of projects, drilling over 4,300,000 feet and completing over 700,000 feet of intersect drills safely and cost-efficiently. Contact Brownline to discuss how they can assist with your project.
Booth #619
CCI Group of Companies | Booth # 214
Collaboration. Commitment. Innovation.
Booth # 214
CCI Group of Companies provides highly qualified and experienced engineering, geotechnical, environmental and construction specialists to work on various sizes and disciplines of projects throughout the project life cycle. By working together, we bring an integrated and complementary approach to each task.
We offer highly technical, award-winning solutions by providing various services from trenchless engineering, geotechnical engineering, pipeline & facilities engineering, environmental services, forestry, regulatory, and construction management.
Since 2004, we have been leading the trenchless business from design to construction. We continue to advance trenchless pipeline systems to tackle different challenges, difficult crossings and incorporate pipeline and trenchless techniques to complete full pipeline projects that reduce risk and cost to our clients.
Our Pipe 360 process incorporates all our experience and resources to consistently produce superior results for our clients.
CUES | Booth #824
CUES "EASY GROUT" System
CUES offers a full line of portable, truck, and trailer mounted grout rehabilitation systems for mainline, manhole, and lateral joint sealing with the latest CCTV equipment and decision support software. Contact CUES to check out our "Easy Grout" computerized grouting system! The "Easy Grout" system features a computerized graphical user interface that leads you intuitively through the grouting process. The software includes help files, tool tip descriptions, and recommended settings to assist operators throughout the grouting process. Since the system has been designed to consolidate all the valves, electrical controls, etc., into a single instrumentation cabinet, it can be mounted in any location, therefore saving office space. Call us for a discussion and demonstration today!
Booth #824
800.327.7791
www.cuesinc.com
salesinfo@cuesinc.com
ELANTAS PDG | Booth #745
CIPP Resin Solutions from ELANTAS
ELANTAS PDG is part of the ALTANA group and is a leading manufacturer of insulating resins, varnishes, coatings, adhesives and protective materials. As a specialty chemical company, we have been developing custom engineered solutions for over 100 years, providing unique products to markets such as automotive, power generation & distribution, industrial, consumer, and construction. With a heavy investment in R&D and state of the art lab capabilities, we are experienced in formulating materials to meet your individualized requirements through our expertise in various chemistries including epoxies, polyesters, polyurethanes, acrylics, phenolics, and silicones. We have sister companies in Europe, Asia, and South America giving us access to global manufacturing flexibility as your logistics and supply chain needs evolve. For the repair and rehabilitation of pipelines in potable water, wastewater, chemical, and natural gas, we offer a distinctive product portfolio of filled and unfilled resins tailored to the specific application.
Elgin | Booth #631
Elgin is a leading turn-key solutions provider of solids control, dewatering, and waste management equipment for the trenchless industry. Our packaged mud recycling systems feature best in class performance ranging from 100 up to 1,500 gallons per minute.
Proprietary DuroLast RB™ abrasion resistant slurry pumps with BlueProof™ liner manage fluid processing across the system preventing run-dry damage with thermal siphon technology.
Did you know Elgin's Smart-Panel control system allows for remote Wi-Fi operation of the reclaimer providing the lowest operator cost of any unit on the market? With maximum screening surface area, Elgin's BlueWave Composite™ screens offer 40% more fluid processing across the length of the shaker.
Problems with proper blending of additives back into the processed fluid? Elgin's units feature a high efficiency jet shear hopper preventing 'fisheyes' with hydraulic shearing to obtain drilling fluid yield and gel strength instantly.
Visit our booth at No-Dig 2023 in Portland.
Emagineered Solutions | Booth #418
Innovative Solutions and Products for Aging Infrastructure
THE SHOOTER® by Emagineered Solutions is the original continuous air-inverter for CIPP and for decades has been the standard in the industry. Simple to operate and built to last, THE SHOOTER® is the right tool to make your company more efficient and profitable for years to come. THE SHOOTER® 12 has a range of 4"-12" and up to 15" with the Conversion Kit, a Knife Gate for after the liner tail passes and comes with either the Self-Lubricating Hand Truck or the Basic Non-Oiler Cart. THE SHOOTER® 24 for 15"-24" is trailer-mounted and comes with a Knife Gate and Remote Operating Station on the fender. An optional Conversion Kit expands its range from 6"-24". Additional equipment offered include full steam packages with portable dry steam generators, steam hose, A and B Stations, Water Cure flanges, and LED UV Y adapters. THE SHOOTER® is proudly crafted in Redmond, Oregon USA.
No Dig Booth #418
Geonex Oy | Booth #418
Geonex Oy is a Finnish company, specialized in manufacturing and sales of horizontal DTH-/Hammer drilling machines and accessories for those. Geonex supplies complete solutions for horizontal hammer drilling, with over 20 years of experience from drill sites. DTH-hammer drilling is well known method in Scandinavia, and Geonex has developed a complete product concept for this method. System works with steel casing and performs best in hard rock and mixed soil conditions, where rock quality creates significant costs with tricone bits, or in mixed soil conditions which cannot be supported with drilling fluids. Drilling without steel casing, is also possible in good solid rock conditions, with very high cost-efficiency. Same drill head is used regardless of the soil type, which makes method very strong and cost-efficient in changing soil conditions.
Herrenknecht Tunneling Systems | Booth #419
With the experience of more than 5,700 projects, Herrenknecht is a technology and market leader in the area of mechanized tunnelling technology. Herrenknecht is the only company worldwide to deliver cutting-edge tunnel boring machines for all ground conditions and in all diameters – ranging from 0.10 to 19 meters.
High-performance supply and disposal systems are being built worldwide using mechanized tunnelling technology from Herrenknecht. Our utility tunnelling machines dig quickly and safely through any underground even under very tight space constraints: no matter whether for new water and wastewater systems, electricity or hydropower plants or for the installation of pipelines. Always with the great advantages that trenchless tunnelling offers: transport, economy and environment on the surface remain largely undisturbed.
Visit us at the No-Dig Show and learn more about the latest underground utility techniques. We're looking forward to seeing you at booth #419.
HammerHead Trenchless | Booth #531
HammerHead® Trenchless manufactures and delivers a unique combination of rehabilitation, replacement and installation equipment and consumables for the underground construction market. Besides being a full solutions provider in rehabilitation and replacement, HammerHead also offers unmatched field support and project consultation to its customers worldwide. HammerHead products are proudly made in the U.S.A. and sold and serviced in more than sixty countries.
HammerHead will be showcasing products with demonstrations at the No-Dig Show in Booth #308. One of the products that will be featured is the Bluelight LED CIPP lining system. This system is used in laterals and small drainpipes using innovative technology that empowers CIPP lining pros by alleviating the time pressures of other CIPP systems. With more than 2 million feet installed worldwide, the Bluelight LED lining system is a proven solution for lateral rehab. For more information, visit www.hammerheadtrenchless.com
Imerys | Booth #614
The world's leading supplier of mineral-based specialty solutions for industry with €4.4 billion in revenue and 17,000 employees in 2021. Imerys delivers high value-added, functional solutions to a great number of sectors, from processing industries to consumer goods. The Group draws on its understanding of applications, technological knowledge and expertise in material science to deliver solutions by beneficiating its mineral resources, synthetic minerals and formulations. Imerys' solutions contribute essential properties to customers' products and their performance, including heat resistance, hardness, conductivity, opacity, durability, purity, lightness, filtration, absorption and water repellency. Imerys is determined to develop responsibly, in particular by fostering the emergence of environmentally-friendly products and processes. More comprehensive information about Imerys may be obtained from its website (www.imerys.com)
Booth #614
Interplastic | Booth #609
Expect consistent, competitively priced, and reliable resins to repair partially or fully deteriorated storm sewer, sewer, culvert and industrial pipes.
IPEX | Booth #614
The Responsible Choice for Over 50 Years
As a leader in thermoplastic piping systems for more than 50 years, IPEX provides unsurpassed product engineering expertise to meet the demanding requirements of today's complex municipal applications. The inherent advantages of IPEX thermoplastic piping systems are proven strength and flexibility, combined with outstanding resistance to corrosion and chemical attack. As a result, there comes quality assurance that exceeds the industry's most demanding standards, including third-party certification from organizations such as the Canadian Standards Association, Factory Mutual, Underwriter's Laboratories and NSF.
Maxliner | Booth #715
Introducing WovoX™ and WovoGlass ™
Introducing WovoX: The Next Generation addition to the WovoLiner® suite of products. No question, a GAME CHANGER!
Upsize 4" transition liners to 6"
Multiple bends up to 90 degrees
Increased consistency for calculating stretch and drawback
Yes, you read that right – more control.
Not too short, not too long. Up to 2 existing pipe diameter changes with one liner, 90-degree turns, no wrinkles, no folds, without sacrificing finished thickness.
Introducing WovoGlass™ (available in coated or uncoated), benefits include:
Increased physical properties
A thinner profile capable of multiped bends up to 90 degrees and transitions
Multiple Uses – inversion, pull-in-place and spot repairs
Greater flexibility
Less resin needed
Heat Cure, Light Cure & Ambient Cure
The Wovo System helps installers looking to add in-building lining to their repertoire with a product capable of lining around multiple bends easily and with spectacular finished qualities.
LEARN MORE: https://maxlinerusa.com/lining-materials/wovox/
877.426.5948
Visit us at No-Dig Booth #715
RapidView | Booth #145
If you are a municipality looking to improve your city with cost effective equipment, or a contractor wanting a reliable fleet of equipment that will keep your business moving, then RapidView has you covered. RapidView IBAK North America specializes in the highest quality sewer pipeline inspection and rehabilitation equipment in the industry, including push cameras, mainline, lateral launch, high definition, 3D mapping, 360° pipe and manhole scanners, portable systems, cutters, software, and fully converted vehicles with complete system mounts. Stop by booth #145 at the No-Dig Show, meet the team, and check out all of the latest and greatest RapidView IBAK equipment and software!
Booth #145 | (800)-656-4225 | www.rapidview.com
Sprayroq | Booth #534
The Tested, Trusted, Proven Solution for No-Dig Infrastructure Repair
Sprayroq® provides industry-leading spray-applied structural solutions for wastewater, stormwater, and manhole rehabilitation and long-lasting premium coatings for potable water, corrosion resistance & more. Spayroq® is the gold-standard in underground infrastructure, leading the industry with the only proven structural and corrosion lining in the market: Spraywall®
Sprayroq has decades long-history of providing the best products with the best support for your infrastructure. We're not going anywhere. Our team stands behind our products, with certified contractor partners and the best technical support in the industry.
Sprayroq® products are applied by certified contractor partners, trained to the highest of standards to ensure when our products are applied, they exceed expectations and beat the performance of inferior products.
Booth #534
Learn more about Sprayroq here: Sprayroq.com/no-dig
Subsite | Booth #119
About Subsite Electronics
Subsite® Electronics formed in 1988 with the goal of developing HDD guidance systems for Ditch Witch directional drills and a few short years later, Subsite introduced their first line of utility locating and HDD guidance products. Over the next 34 years, Subsite has committed itself to providing the most comprehensive suite of electronics and utility inspection products in the underground construction industry.
Today, Subsite offers its customers a wide range of customer-influenced products, including utility locators, horizontal directional drilling (HDD) guidance equipment, utility inspection systems and equipment machine controls. By utilizing innovative technologies, extensive market feedback and outstanding customer support, Subsite has established itself as the premier source of electronic technology to support the safe and efficient installation, maintenance and inspection of underground pipe and cable.
Visit www.subsite.com to learn more.
Super Products | Booth #415
Super Products LLC, an Alamo Group Company, is celebrating its 50th Anniversary. For the past 50 years, Super Products has been at the cutting edge of vacuum truck development featuring advanced technology and customized solutions driven by customer needs. Innovation is at the forefront of everything Super Products does. All units are engineered for a variety of applications and designed with the operator in mind while being recognized for high quality, durability and ease of operation. Super Products gives contractors and municipalities access to the industry's most efficient and progressive vacuum excavators, combination sewer cleaners, industrial vacuum loaders, truck-mounted jetters and liquid vacuum trucks on the market today. Super Products has a broad support network with representatives supporting contractors, dealers supporting municipalities and nine rental facilities supporting short- and long-term rentals, parts and service. Join the company at NASTT'S No-Dig Show 2023 to celebrate its proud history and promising future.
Underground Magnetics Booth #245
Underground Magnetics is committed to providing you with the most powerful HDD locating systems on the market at the most affordable prices. Our locators have the power you need to get the job done with ease.
We understand that your success is the key to ours. As you invest in UMAG products, we reinvest in our development of market fresh ideas that are backed by our team of experienced and respected industry innovators.
Our wide variety of Echo Series Transmitters and Mag Series Receivers are sure to have you covered whether it's depth and distance or active and passive interference. UMAG customers have been pushing the limits in the HDD industry and we are excited to be part of it.
Centered in America's Heartland – Johnston, Iowa – Underground Magnetics has built their worldwide headquarters with your future in mind. Visit UMagHDD.com for more information about our great products and service.
Underground Tools | Booth #132
UNDERGROUND TOOLS TO DISPLAY COMPREHENSIVE LINE OF HDD DRILL PIPE AND DOWNHOLE TOOLING AT NO-DIG 2023, BOOTH #132
Underground Tools, Inc., headquartered in Lino Lakes, MN, is a world leader in manufacturing and distribution of ground-engaging wear parts for the construction industry; specializing in the Horizontal Directional Drilling and Trenching markets.
UTI manufactures a complete line of Drill Pipe and complementary Downhole Tools for Horizontal Directional Drills. Product line offerings include; Drill Pipe, Sonde Housings, Pilot Bits, Backreamers, Starter Rods, Swivels, Rock Tools, Jaw Dies, and much more. Pipe and Tooling are available for all manufacturers' drills, including; Ditch Witch®/American Augers®, Vermeer®, Universal® and more.
UTI also manufactures fully integrated digging systems for virtually every make and model of trencher on the market. Trencher Chain, Teeth, Sprockets, Rollers, and much more are available for Ditch Witch®, Trencor®, Vermeer®, Case/Astec®, Tesmec® and many other manufacturers' trenchers.
Visit their booth at No-Dig 2023 or Contact UTI @ 866-488-3478. undergroundtools.com