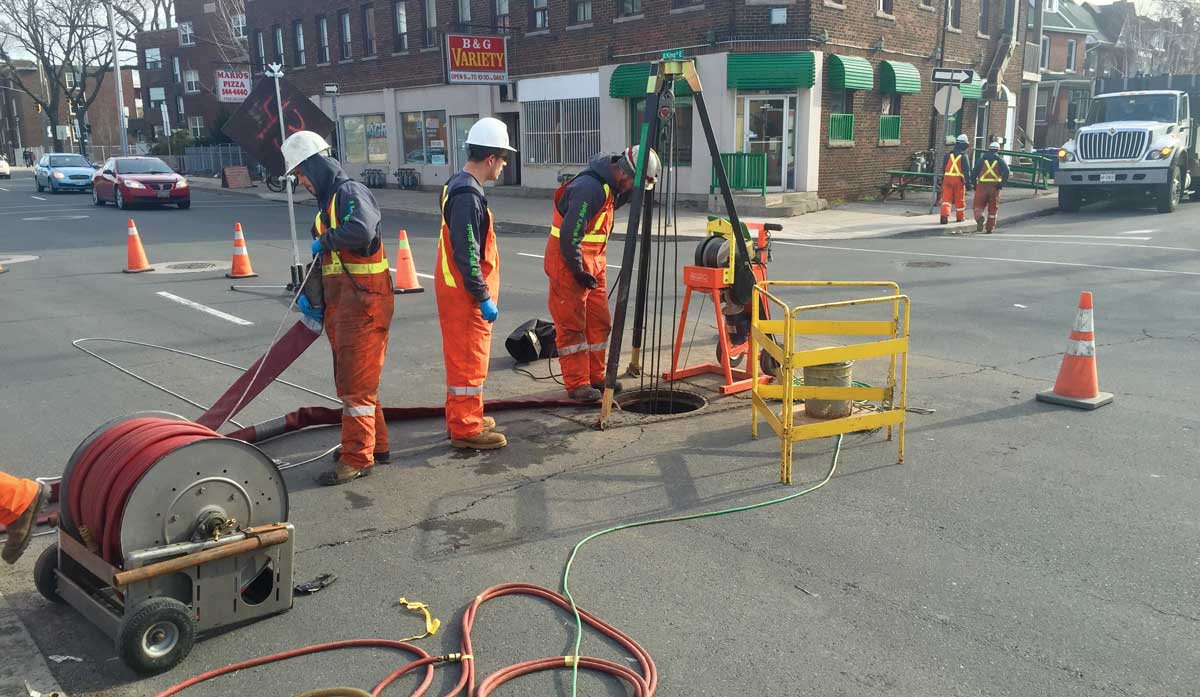 According to the Bureau of Labor Statistics, transportation incidents and workers struck by vehicles account for the highest number of fatal work injuries. Especially vulnerable are utility workers that work in areas where there are moving vehicles. To prevent this from occurring, the rules of traffic control and construction work zone safety are important in order to keep employees and the general public safe at all times on or near the jobsite.
Companies must pay close attention to and develop solid traffic control plans prior to starting any work. In addition, construction workers must also wear the proper retro-reflective Personal Protective Equipment (PPE) in order to be as visible as possible to construction equipment operators, as well as motorists. The focus of this article is to review the use of traffic control devices and worker PPE when conducting work on public roadways.
Let us begin by developing a better understanding of the purpose of traffic control devices. What are these devices? Traffic control devices include safety cones, candle sticks, barricades, and signage. These devices help promote traffic safety by providing the orderly movement of all motorists on the roadways and around the construction work zone. Traffic control devices help notify road users of the construction ahead and provide a level of warning and guidance necessary for the safe and efficient flow of the traffic.
In the trenchless industry, traffic control can span night or day for long hours and in all types of weather conditions. The contractor should create a traffic control plan which will involve designating part of the road for a work area. How this is executed depends on the type of road where the crew may be working.
On high-speed roadways, the traffic control plan may have traffic diverted around the work area by using advanced signage, warning motorists of upcoming construction work, barricades, illuminated signage, arrow boards, message boards, traffic control drums and cones. Typically, cones or candlesticks can define a new centerline to divert traffic around the work zone. In some cases, it is necessary to close a lane. This special setup will likely require a trained flagman or other specialized traffic control methods.
On lower speed roadways, a worksite setup will typically have warning signage in advance of the actual work area. In addition to signage, a crew will divert traffic by placing a number of cones around the work zone. These cones are set up to direct traffic so that motorists can clearly see the work zone and have plenty of time to adjust speed and safely motor around the workers.
One of the most valuable reference tools one should consider using for designing traffic control plans is the Manual on Uniform Traffic Control Devices (MUTCD). This manual is published by the Federal Highway Administration (FHWA) and provides information regarding design, placement, and guidance for traffic control devices in the Unites States. The primary purpose of the MUTCD is to provide uniformity of traffic control and the devices used. Keep in mind that some states have adopted supplements to the code which need to be referenced when applicable.
In addition to traffic control devices, the PPE that site workers wear helps to keep them out of danger by making workers as visible to motorists as possible. High visibility safety clothing is specifically designed to increase the visibility of the employee in the work zone, especially during low-light conditions such as nighttime work, rain, fog, or any other type of inclement weather.
Safety vests that meet the American National Standard Institute (ANSI) requirements combine both fluorescent and retro-reflective materials that enhance the visibility of workers under even the most compromised lighting conditions. The ANSI standard also specifies the vest dimensions and outlines the amount of retro-reflective tape for a specific class. For example, a Class 3 vest will have a higher visibility than a Class 2 vest, due to the amount of reflective material on the vest.
In order to keep employees safe in the traffic work zone, it is essential that companies pay close attention to developing a solid traffic control plan prior to starting any construction work, provide the crew with the proper traffic control devices (signage, cones, candlesticks, signal boards) to execute the traffic plan, various styles of work zone protection (concrete, water, sand collapsible barriers), and trained flaggers, when necessary. In addition, ensure that all workers have the proper retro-reflective PPE in order to be as visible as possible to motorists. When all of these practices are combined, it is the best possible scenario to protecting the workers and the general public in construction work zones.
To learn more about safety best practices, visit NASSCO.org/Safety. For specific safety questions, email Safety@NASSCO.org.
Dennis Pivin, CSP, is the NASSCO Health and Safety Committee Chair.