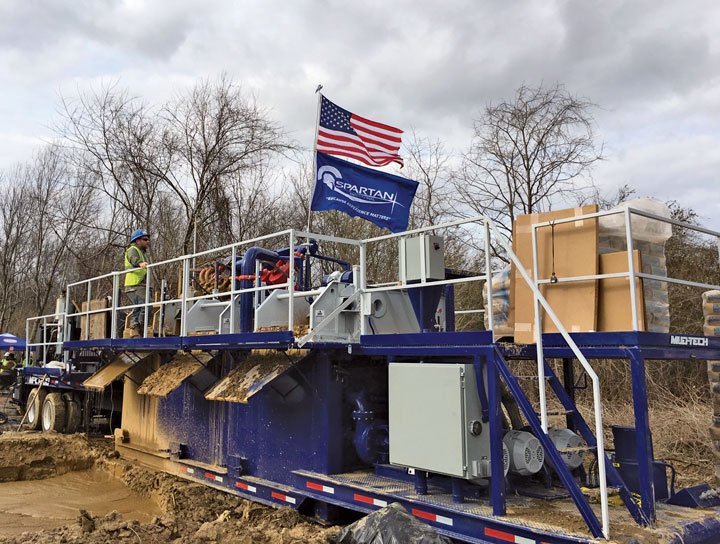 Mud recycling systems were once deemed an optional element to the horizontal directional drilling process. Hard to believe, huh? Those days are long gone, with these systems proving to be invaluable and integral to HDD projects, no matter the size.
In general terms, the HDD market has stabilized over the last few years, first with the pipeline segment for larger rigs (now quiet) and then the fiber-optic segment for compact to midsize rigs as the universe craves faster Internet speed and increased bandwidth. With all that work, mud systems sales got a shot in the arm as contractors looked to reinvest or add to their fleets to handle the work.
As we approach the end of the first quarter of 2017, we spoke with a few leading mud system manufacturers for insight into the mud system market to share with our readers. They touched on the market drivers, what customers are looking for and should be looking for in a mud system, as well as some general advice before they sign on the proverbial dotted line. These systems can run prospective buyers anywhere from $50,000 to upward of $800,000. Knowledge is power when making such financial decisions.
To start with, the mud system market is doing pretty well as 2017 starts rolling. Past projects that were delayed are now a go and the general knowledge of the cost and environmental benefits of using the equipment is becoming more widespread.
"Although 2015 and 2016 were soft for the entire industry, 2017 looks to be very robust," says Terry Flynn, vice president of sales and marketing at Tulsa Rig Iron. Based in Kiefer, Okla., the mud system manufacturer marks 30 years in the business in September. "Many projects that were slated for the previous couple of years were either delayed or cancelled entirely. The [Trump] incoming administration appears to favor domestic energy production and an ease of regulation should definitely help our industry. The proposed infrastructure plan would be a big shot in the arm, as well."
RELATED: Getting to Know Your Mud System
One of President Donald Trump's biggest campaign promises was to revitalize our crumbling infrastructure by investing in our roads, bridges, and other infrastructure. He vowed to present his rebuilding package to Congress within his first 100 days in office but to date has yet to sketch out any of his plan's details.
John Miller, CEO of Mud Technology International, had another perspective when it comes to the state of the market. "The mud systems and recycling market, like the entire HDD drilling market is improving," he says. "The state of the mud system market is in a period of flux. Equipment requirements are evolving and there is diversification as new markets and industries are becoming aware of the environmental and economic benefits of solids control equipment."
Governmental and environmental regulations have been key market drivers for mud systems over the years, as drilling fluid disposal regs have become stricter. But manufacturers also point to the cost benefit of reclaiming and recycling mud, as well.
"[From an economic standpoint,] you can save up to 50 percent on mud costs by reclaiming and recycling drilling mud," Flynn says. "This includes the savings from reduced bentonite costs, as well as reduced costs from sourcing available water."
He adds that environmentally, EPA regulations are making it much tougher to dispose of drilling fluids, forcing contractors to invest in ways to help curb those escalating costs. "The contractor market has definitely expanded, as many small- to mid-size drillers have added larger drills and mud systems to their fleets to take on larger jobs. Just as EPA regulations have tightened mud disposal procedures for the larger drillers, many of the smaller rig drillers have invested in mud systems to help ease their mud costs and disposal costs."
RELATED: Drilling Fluids Critical to Successful HDD Jobs
Miller uses one word to describe the drivers of the mud systems market: "Necessity" — as in our aging and deteriorating underground infrastructure needs attention. "Infrastructure in need of repairs, coupled with a population continually growing …in a nutshell, 'necessity' is the main factor that drives the market."
Customer Wants and Needs
Generally speaking, the mud system as a machine has not changed much over the last five to 10 years. Manufacturers have worked to design systems that streamline processes, incorporate environmental compliances and make use more efficient to the user, all while trying to adhere to customers' wish lists. When customers inquire about a new mud system, the Worldwide Web has made researching a product easier. But buyers need to beware of a few key elements when making that big purchase, our experts say.
"A mud recycling system is vital to the HDD project. If you think of the drilling mud as the lifeblood of an HDD project, then the mud system is the heart and liver, pumping and filtering the mud before sending it back to the project," Miller says. "A high-quality mud system to the HDD industry not only saves costs, but also keeps up with environmental and governmental compliance, allowing contractors to work not only in residential area but also in the heart of cities."
Advice Miller and Flynn drum into the heads of contractors includes: Do your research, talk to the company reps where you are considering buying your system and ask questions. What questions you ask? A sampler includes: Are parts readily available? What about technical support availability? What is the warranty? Do they provide "try it before you buy it" option?
Beyond these general questions, customers need to consider operational questions, such as its pumping and fluid processing capacity or is an onboard triplex mud pump required? Regarding the latter question, Flynn says, "Most small and mid-size drills have onboard mud pumps. Most maxi drills require either a separate stand-alone mud pump or a mud pump onboard the mud cleaning system."
The main thing for customers is to buy a system that is going to fit their needs, Miller says, as well as being comfortable that manufacturer/dealer you buy from knows these machines — this is a substantial financial investment.
RELATED: HDD Drilling Waste Reduction by Mechanical Separation
"When buying, thoroughly investigate all your options, which includes correct system sizing, dependability, user friendliness and ease of service in the field," Flynn stresses. "Don't get caught up in gimmicks that very well could cause issues in the field."



Sharon M. Bueno is managing editor of Trenchless Technology.