The trenchless technology market has come a long way in the past 30 years. In fact, 30 years ago the term "trenchless technology" was not commonly used in the industry lexicon. At that time, there were no professional societies directly related to the market, very little research and educational efforts, and a handful of manufacturers offering equipment. It was an "underground" market in more ways than one.
It was in this environment in 1982 that Len Liotti launched Midwest Mole, a boring, jacking and tunneling contractor, in Indianapolis. Over the years, the company has grown right along with the trenchless industry, expanding its footprint in terms of geography and services offered. In June, the company hosted an open house to mark the completion of its new offices and equipment facility in Greenfield, Ind., coinciding with the company's 30th anniversary celebration.
Midwest Mole is now in its second generation of leadership under Dan Liotti, who worked his way up through his father's company and has seen the industry change immensely since he began full-time with the company in 1985. Like Len, Dan is a Purdue University engineering graduate (and Dan's two sons, Brian and Mike, are third-generation Purdue engineers). "When I first started, there was very little known about the industry as a whole," he said. "I am amazed by the amount of education available now. The North American Society for Trenchless Technology is flourishing, there are engineers who promote the fact that they specialize in trenchless designs, and there are a number of people involved in academia. It is amazing to see how far the industry has come."
And just like the industry itself, Midwest Mole has come a long way. Roots of the company date back to the early 1960s, when Len Liotti got involved with his first auger boring job while working as a sales engineer at Armco Steel, which at that time was one of the largest boring, jacking and tunneling contractors in the country. Liotti later joined Affholder Inc., which further expanded his knowledge of the underground construction business. When Affholder closed its Indianapolis office in the early 1980s amid a flat market, Liotti saw an opportunity in the local market and founded Midwest Mole in February 1982.
Liotti was able to bring in some of his former coworkers at Affholder and Armco in the early days as the company was making a name for itself. The ability to invest in the right people is a trait that exists in the company to this day, and is a key reason the company has continued to grow, said Dan Liotti. "The dedication, longevity and the knowledge of our people has been the key to our growth and our ability to survive the challenges and ups and downs in our industry. We have many people who have been with us for well over 10 years."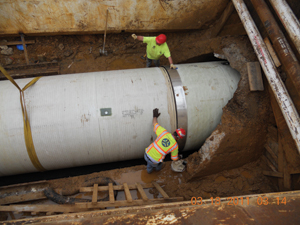 One of those employees is Jason Miller, also a second-generation Midwest Mole employee who serves as executive vice president of the company. Miller joined Midwest Mole as a laborer in 1995 before moving into project estimating. "It is the people who make Midwest Mole different from other companies. Len started the company with good leadership, we continue to have good leadership today, and that trickles down to everyone in the company," he said. "You can buy new equipment and you can build a new building, but without the right people none of that matters."
Through the years, Midwest Mole has expanded its service offerings. The company has always maintained its base as a jacking and boring contractor, but has added new tools included TBMs, guided boring/pilot tube tunneling, vacuum-assisted boring (Vermeer AXIS system) and rehab, including sliplining and grouted-in-place liners.
"In the past few years we have moved more into the rehab market, which is a good niche for us," Dan Liotti said. "Our guys are used to working underground and working inside pipes, and we are experienced in building shafts. That has helped us stay busy as we have seen a slowdown in some of the new installation work that we were traditionally doing."
The magnitude of some of the projects has also increased. In 2007, Midwest Mole completed the construction of an $8 million new utility tunnel for the Indianapolis International Airport, a project that was named the Trenchless Technology Project of the Year. More recently, the company served as prime contractor on a $14 million project in Claremont County, Ohio, which involved the installation of 9,000 ft of 72-in. tunnel. Also notable, was a project in Louisville, Ky., that included more than 10,000 ft of clay pipe installation using guided boring, one of the largest guided boring projects completed to date in the United States.
Recently, the company entered into a partnership with Triad Engineering and Contracting from Cleveland, Ohio, on a project in Charleston, S.C., which is something that Miller sees as a potential future trend. "Creating partnerships and joint ventures is an area that we could grow into," he said. "We have never looked to grow for growth's sake, but if opportunities arrive that make sense for our company and are a good fit, we will take advantage of them."
As the company has grown, so has its geographic footprint. Traditionally, the company operated within a five-hour driving radius from its Indianapolis base. More recently, however, the company opened an office in the Washington, D.C., area that is now headed by Steve Abernathy, Midwest Mole vice president.
"We have to look a little farther outside our typical geographic area in the past few years," Miller said. "We opened an office in Washington, D.C., and we have been as far west as Phoenix. If the project is right and it fits our equipment and people, then it is not off the table whereas five years ago it might have been."
It is that adapting and evolving with the industry that has also been an important part of the company's success — 30-plus years of experience in the industry also helps. "We have been fortunate to retain an experienced staff and now we are able to avoid some of the mistakes that we may have made 10 years ago," Liotti said. "If you make a mistake in this business you can take some big losses. We have improved the way we control projects and do a better job of avoiding the big hiccups."
The company's commitment to safety is another key element to the success of the company, as it has helped keep it viable in the private sector. "We have always been committed to safety, but within the last five years we formalized that commitment by hiring a full-time safety director, Gary Gagliardi," Liotti said. "That was a big leap for a small- to medium-size contractor to invest in that position, but our ability to work safe has allowed us to work for private clients that require a strong track record of safety."
While people are key to success, purchasing and maintaining a fleet of equipment is a huge part of running a successful underground contracting outfit, Liotti says. Midwest Mole has always purchased its own equipment whenever possible. "Through the years, it has been our philosophy to purchase equipment so that when the next job came around we would have the equipment in our fleet and be able to react quickly. We have placed an emphasis on maintaining and supporting the equipment, and that has been a big plus for us."
Midwest Mole's new building features a state-of-the-art facility that helps keep the all-important tools up and running. "Equipment that is ready to perform as it is designed is critical to the success of any construction organization," said Eric Dudley, equipment manager.  "If the equipment does not run then the job stops. Field repairs are expensive in many ways. First and most importantly is the cost of lost production followed by the field labor costs when the men cannot work.  Last, when repairs must be made in the field, the opportunity to make the most cost-efficient repair is often missed."
Midwest Mole has always tried to stay on the forefront of technology and has a close and long-lasting relationship with many of the equipment manufacturers. "Akkerman's relationship with Midwest Mole goes back to late 1970s when my father, Don, started doing business with Len Liotti," said Maynard Akkerman, now president of Akkerman. "Midwest Mole has always been an advocate of using the latest technology, and their honesty and integrity have always been appreciated."
Now that the company has marked its 30th anniversary and settled into a new headquarters, Dan Liotti marvels at how far the company has come. Through it all, he sees the lasting legacy that his father, who passed away in 2010, has on the company today.
"My Dad was such a hard worker and had an engineering mind," Liotti recalls. "He'd draw plans five, six times and make sure it was right. His attention to detail was probably the No. 1 thing he taught me and all of us at the company. His attention to detail and willingness to do whatever it takes to get the job done right are still followed today."
Jim Rush is editor of Trenchless Technology.
Midwest Mole Through the Years
Midwest Mole has graced the cover of Trenchless Technology twice in our 20 years of publication. The first time being November 2002, with Dan and Len Liotti on the cover with some of the company's auger boring equipment, and the other in October 2007, when the company was part of the winning team for the 2007 Trenchless Technology Project of the Year award for the Indianapolis International Airport Utility Connector Tunnel project. The project represents the values for which the company strives. "Midwest Mole's philosophy for each project is to approach it with the mindset that we are going to exceed our client's expectations by solving their underground construction problems safely, efficiently and with a sense of urgency," said Joe Butor, field operations manager. "We accomplish this by taking the time to understand the entire project, developing a detailed work plan, selecting the appropriate resources to complete the project, and executing our plan with precision and accuracy. Our professional approach to each project, along with an intense focus on safety, sets us apart from our competitors."