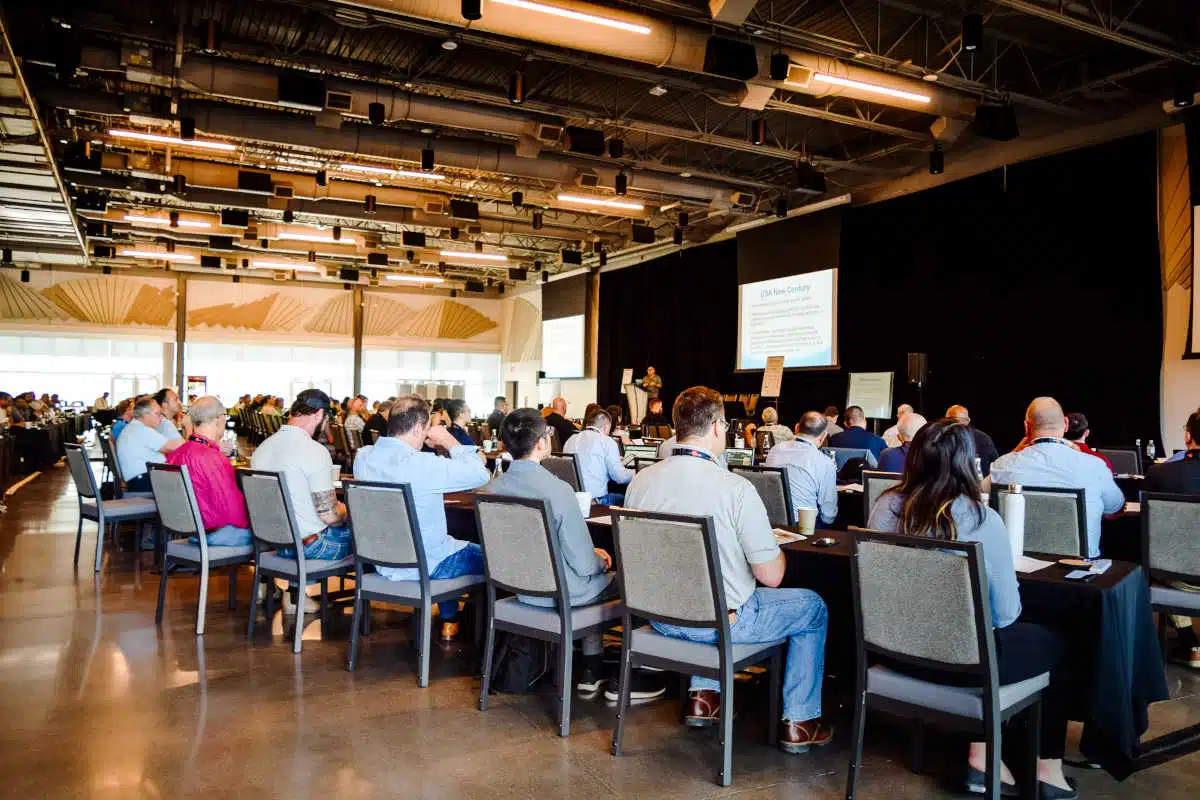 The 2023 Microtunneling Short Course – the 30th anniversary of the course – was held April 12-14 in Scottsdale, Arizona, with 166 people in attendance.
The venue was Scottsdale Stadium, the spring training home of the San Francisco Giants. It was the second year in a row that the course was held at this venue, with the previous courses being held in Colorado.
The course was founded in 1993 by Tim Coss (Microtunneling Inc.), Levent Ozdemir (Ozdemir Associates) and Bernie Krzys (Benjamin Media/Trenchless Technology magazine) as the only event focused on the then-emerging installation technology. It continues to be the largest gathering of professionals dedicated to microtunneling technology, attracting attendees and presenters from across North America and Europe. This year's course boasted 166 attendees from five countries.
The course itself covers all aspects of tunneling from leading experts in the field, covering design, construction, equipment, case histories and more. This year's course opened with a presentation from Paul Nicholas of AECOM, reflecting on the history of microtunneling. Nicholas and Glenn Boyce of Delve Underground, who gave a case history presentation, were also presenters at the inaugural course held in 1993.
One of the highlights of the agenda was a contractor's panel discussion, organized by the North American Microtunneling Association (NAMA), an organization of contractors heavily involved in microtunneling that formed in 2012. Brenden Tippets (Nada Pacific), was the moderator, with Pete Schraufnagel (Super Excavators), Dave Ellett (BRH Garver), Ray Post (Huxted), and Adam Stremcha (Michels) as panelists.
Other highlights of the course included many networking events, including a 30th anniversary rooftop reception at the Canopy by Hilton on April 10, a welcome reception at the stadium on April 11, the annual banquet dinner at the Museum of the West on April 12, and a special networking reception at the Brat Haus sponsored by Tunnel Services Group on April 13. The banquet features the presentation of the annual Microtunneling Achievement Awards (details below).
The event featured 31 sponsors with Trinity Products, Northwest Pipe Company, United Undeground Precast, and Tunnel Service Group comprising the main event sponsors. Other sponsors included Bothar, Hobas, Vadnais Trenchless/Primoris Services Corp., Tunnel24, Derrick Corp., Lowers Welding, Dr. Mole Inc., DSI Underground, Down2Earth, Michels, Akkerman, Herrenknecht, Jackcontrol, Bradshaw Construction Corp., Northeast Remsco, Huxted Trenchless , Super Excavators, Schnabel Engineering, VMT, Delve Underground, Olson Construction Law, Brierley Associates, Stiver Engineering, Btrenchless, Kilduff Underground Engineering, Thompson Pipe Group, and Roetzel.
Microtunneling Achievement Awards
Each in conjunction with the Microtunneling Short Course, individuals who have made lasting impacts on the industry are honored with the Microtunneling Achievement Awards. The awards are presenting during the annual Banquet dinner, which was held April 12 at the Museum of the West in Scottsdale.
This year's winners were Buck Bergstrom, BT Construction/BTrenchless, Bijan Khamanian, Hobas, and Ray Post, Huxted Trenchless.
Buck Bergstrom
Chief Executive Officer
BT Construction/BTrenchless
Buck Bergstrom began his 40-plus year career with Colorado-based BT Construction in 1980, when his father Bob Bergstrom co-founded the company with John Turner. Buck bought out his father's ownership in the company in 1996, at a time when BT was evolving as a leading trenchless contractor in the Rocky Mountain region. In 2005, BT Construction launched a new division – BTrenchless – to focus on the burgeoning market. Today, BTrenchless provides an array of services including microtunneling, pipe jacking, auger boring, hammer, sliplining, tunneling, pipe bursting, HDD, potholing and hand tunneling.
Bijan Khamanian
Division Manager – North and Canada
Hobas Pipe USA
Bijan Khamanian is a division manager Hobas Pipe responsible for technical and sales support for Hobas fiberglass pipes. Khamanian has presented numerous papers on the use of fiberglass reinforced polymer mortar pipes in trenchless installations at the ASCE Pipelines, CWEA, HWEA and the Microtunneling Short Course. Prior to joining Hobas, he worked as applications engineer and sales and specifications engineer for Ameron Fiberglass Pipe Division from 1990-1997. Since 1993, Khamanian has resided in Orange County California. He is a native of Iran and is fluent in Farsi (Persian) and Azeri (Turkish) languages.
Ray Post
Vice President
Huxted Trenchless
Ray Post has more than 30 years of experience in the microtunneling and tunneling industry. He has worked in all phases of the industry including executive management, project management, estimating, design and inspection services, and sales. He has experience in the construction of EPB segmental tunnels, microtunnels, rib-and-board tunnels, and jack-and-bore operations with construction values ranging from $500,000 to $440 million and diameters ranging from 10 in. to 21.5 ft. Ray has a B.S. degree from Louisiana Tech in Construction Engineering and holds Contractor licenses in California, Louisiana, Georgia, and Florida.
Past Microtunneling Achievement Award Winners
• Northwest Boring (2002)
• Franco Coluccio, Frank Coluccio Construction Co. (2004)
• Glenn Boyce, Jacobs Associates (2006)
• James Kwong, Yogi Kwong Engineers (2007, 2013)
• Stefan Trumpi-Althaus, Jack Control Inc. (2008)
• Matt Roberts, Kiewit (2009)
• Dennis Molvik, Northwest Boring (2011)
• Gary Huber, Permalok (2012)
• Rick Turkopp, Hobas (2012)
• James W. Fowler Co. (2014)
• Rene Inosanto, Frank Coluccio Construction Co. (2015)
• Greg Raines, MWH (2015)
• John Grennan, Ward and Burke (2015)
• Julian O'Connell, Herrenknecht (2016)
• Dan Schitea, Vadnais Trenchless Services (2016)
• Troy Stokes, Akkerman Inc. (2016)
• Grahame Turnbull, Consultant (2016)
• Lester Bradshaw, Bradshaw Construction (2017)
• Paul Nicholas, AECOM (2017)
• Andreas Thiele, mts Perforator (2017)
• Paul Vadnais, Vadnais Trenchless (2017)
• Lee Abramson, Kleinfelder (2018)
• Steve Caneen, Huxted Tunneling (2018)
• Ingo Justen, Tunnel Service Group (2018)
• Mike Ellis, Trenchless Equipment Co. (TEC) (2018)
• Dr. Gerhard Lang, Herrenknecht (2019)
• Steve Leius, SECA Underground (2019)
• Rich Palmer, Northeast Remsco (2019)
• Brenden Tippets, Michels (2019)
• Don Bergman, Frank Coluccio Construction (2020)
• Ed Chwist, Bradshaw Construction (2020)
• Frank Lorenzen, Nada Pacific (2020)
• Barry Sorteberg, Clean Slurry Technology (2020)
• Michael Ward, Ward and Burke (2020)
• Maynard Akkerman, Akkerman (2022)
• Mike Garver, BRH Garver (2022)
• Don Gonzalez, Northwest Boring (2022)
• Gilbert Kimpel, mts (2022)
• Dawn Lowers Davis, Lowers Welding (2022)
• Buck Bergstrom, BTrenchless (2023)
• Bijan Khamanian, Hobas Pipe USA (2023)
• Ray Post, Huxted Trenchless (2023)