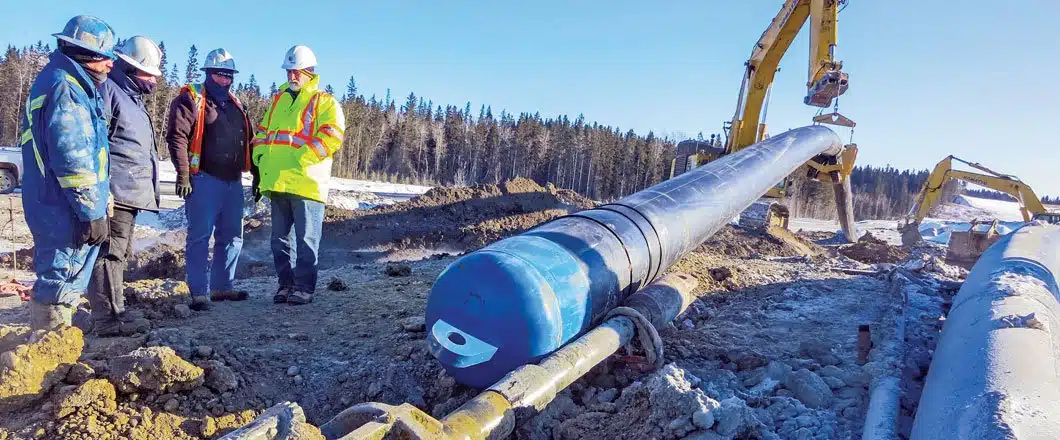 In the civil engineering world, finding safer and faster methods to complete projects with minimum impact on the environment and public is the focus for most owners, designers and contractors. I believe horizontal directional drilling (HDD) is one of the most interesting technologies that lets us install pipelines, sewer, water mains, power and telecom where conventional open-cut techniques are not feasible.

Most of you know about HDD, but for those of us who are new to it, here is the quick introduction to HDD before the Q&A with the experts:
HDD method is about making a horizontal borehole from one location to another. The process typically begins with boring a small pilot hole along the desired centerline of a proposed profile under the crossing obstacle (e.g., a highway) with a continuous string of steel drill rod. The position of the drill head can be accurately controlled with devices and sensors that monitor and track the drill head. Through small adjustments made by the operator, the drill head can go around trees, under foundations, buried utilities, lakes, or other obstructions.

When the bore head and rod emerge on the opposite side of the crossing, usually a special cutter, called a back reamer, is attached and pulled back through the pilot hole. The reamer bores out the pilot hole so that the pipe can be pulled through. The pipe is usually pulled through from the side of the crossing opposite the drill rig.
The reaming operation usually consists of using an appropriate tool to open the pilot hole to a slightly larger diameter than the carrier pipe. Several reaming passes may be needed for large-diameter pipes which require large boreholes that cannot be created in a single pass. Usually, a "drilling mud" such as fluid bentonite clay is injected into the bore while cutting and reaming to stabilize the hole and remove soil cuttings.

Our Experts
Erez Allouche, Ph.D., P.Eng., Practice Technology Leader,
Carrie Murray, M.Eng., P.Eng., Principal Geotechnical Engineer, Stantec.

Bertus Vos, MBA, P.Eng., Principal Engineer, Bluefox Engineering
Robert Dalgleish, HDD Product Support Specialist, Vermeer

RELATED: Meet the Experts: The Future of Trenchless

1. Where do you see the HDD market heading in the next five to 10 years (new markets, existing gaps in HDD capabilities)?
Vos: We see the HDD industry continuing to develop and expand. We anticipate a significant increase in urban community application where stakeholders need to cross obstacles and wish to reduce the impacts of construction on their communities. We are seeing the opportunity to use the technology in several new industries that were perhaps a bit hesitant a few years ago. We have found that owner and designer education still remains a "gap," and informing these stakeholders of the capabilities, risks and application of the technology will play a critical role over the next few years in order to continue to expand into new markets.

Allouche and Murray: Continuous improvements related to wireless technology will be integrated into HDD projects, such as directional guidance and annular pressure monitoring. Development of hybrid techniques will continue to overcome the challenges related to HDD, such as the methods which combine the advantages of HDD and microtunneling to create unique trenchless alternatives.

Recent advancement in reamer technology enables pushing reamer diameter beyond the 60-in. barrier. Other improvements include improvements in drilling fluid chemistry, to better handle the loss of circulation and stability issues in coarse granular formations, and incorporation of ground improvement techniques into HDD designs. These further extend the ability of the HDD industry to tackle complex subsurface conditions.

Dalgleish: Rock bores are becoming more common and equipment has evolved to meet the challenge, dual rod or rod-in-rod drill rigs use the inner rod to turn the rock bit on a bent sub rock head. Air hammers and hammer reamers cycle at high frequency – high frequency means smaller cuttings that are easily transported out of the borehole. To provide air to the hammer's compressor, manufacturers have units that provide higher CFM and PSI in a small footprint that are also more fuel efficient and operate at lower decibels.

RELATED: Trenchless Technology Canada Roundtable: The State of Trenchless Technology in Canada

2. What are the most valuable "lessons learned" with regard to the design and construction of HDD projects? What are some areas of future improvements/enhancements?
Dalgleish: Bore design is critical and that's why software applications have been developed to take the user through the design and planning process of an HDD bore in a sequential manner. Other applications that are web-based have been developed for contractors to capture and manage electronic jobsite documentation in one place to easily share with others. With mapping technology, you can mark utilities, plan bores in real-time and export reports to better collaborate and save time before, during and after a job.

Allouche and Murray:Bore instability and loss of drilling fluids continue to be primary concerns with HDD owing to the presence of an uncased open hole during the drilling, reaming and pull-in operations in gravelly materials. The geotechnical investigation and delineation of the subsurface including gravels is a necessary input into the design process and construction planning and execution of the HDD. Should the need to construct through gravelly soils be required, assessing the feasibility of the trenchless technology and mitigation strategies available to manage the risk impacts is necessary to minimize or prevent cost overruns, schedule delays, environmental and social impacts.

Given the complexities with HDD construction in gravelly soils, it is important to accurately establish the stratigraphic profile and characteristics of the gravelly soil so that appropriate design measures can be incorporated into the drill path design as well as the development of mitigation strategies during construction that can include site-specific drilling fluid management and drilling practices.

Conductor casing installation enhancements using other trenchless methods/hybrids (e.g., pipe ramming, auger, pipe thruster) offer an alternative to conventional hammering which can accommodate greater lengths and diameters and improve overall installation efficiency. In recent year significant progress was made in the development of Loss of Circulation (LOC) materials used to stabilized high permeable formations and the incorporation of ground improvement techniques into HDD designs.

Vos: Proper planning, engagement and communication are some of the critical items to the successful design and execution of an HDD. For future project enhancements, we encourage project owners to engage the HDD design and construction teams as early on as a project allows. HDDs are often attributed to some of the highest cost and risk exposure on a project and the ability to develop a design and execution strategy together (combining stakeholders from the owner, engineer and contractor) has the potential to mitigate risks and exploit positive opportunities. Lack of communication with all stakeholders is a root cause of many of the lessons learned we encounter on projects.

3. What are your recommendations on "mud" engineering and chemistry of drilling fluid?
Vos: Drilling fluid needs to be engineered for each HDD application, based on the geology, environment, type of equipment selected and the execution strategy of the contractor. The chemistry of the drilling fluid needs to be engineered under the equipment's mechanical conditions and be developed to perform within the geological stratigraphy anticipated and the environmental sensitivity of the location. Water, drilling fluid and disposal transportation can attribute to significant cost and logistical requirements for large-scale HDD projects. We seek opportunities for enhancements in drilling fluid engineering and mud system capabilities that will allow for fluid re-use, along with reduced disposal volumes and water requirements.

Allouche and Murray: Drilling fluid is the life-blood of the HDD process and the development of appropriate and site-specific drilling fluid composition and management is mandatory on all maxi HDD projects. This practice requires careful consideration of the geotechnical properties and characteristics of the subsurface soil and groundwater conditions relative to the HDD execution plan. During HDD construction, the drilling fluid properties should be regularly tested by an HDD experienced drilling fluid specialist (for funnel viscosity, unit weight, sand content, gel strength and shear stress measurements using a viscometer to determine apparent viscosity, plastic viscosity and yield point) to allow for on-site optimization of cuttings removal, filter cake development and effective fluid recycling.

Drilling fluid and solids disposal costs continue to escalate depending upon regulatory requirements and how the spoils are disposed. The drilling fluid management plan must accurately estimate the volume and costs for disposal to be environmentally and economically feasible. Utilization of solidification systems allows the drilling fluid to be recycled and the solids to be disposed by dump trucks instead of vac trucks and may provide a larger range of disposal options (regular landfill or ground cover). The development of a comprehensive mud management plan is a key element in any strategy aiming at mitigating schedule delays and budget overrun, particularly on large pipeline crossings in environmentally sensitive areas.

Dalgleish: Fluids "mud" can and often make or break when it comes to the success of an HDD project and quite often the fluids are not given enough focus or attention. Spending dollars on fluids and an engineer is well spent, if you think of it like insurance it makes more sense, the only time you need it is when you don't have it. Should the installation of the product fail due to poor fluids management the cost of a getting it wrong are outweighed by getting it right.

RELATED: Maxi Rig Market Update: How Are Things Going for the HDD Industry's Largest Machines?

4. What technological advancements are anticipated for HDD equipment in the next several years?
Vos: We anticipate a few areas of technology development for the next few years. Firstly, there is constant research and development of better and alternative steering systems providing increased accuracy, tighter steering tolerances and reliability of borehole location at significant depths. Secondly, the enhancement of alternative technologies in recent years are capturing a share of the former HDD market and we expect to see a response from the HDD industry to attempt to compete in this segment. This may include larger diameter pilot holes, hybrid methods that allow faster reaming and a consistent and reliable method to reduce the risk of inadvertent fluid release to surface.

Dalgleish: Locating equipment will continue to evolve, recent introductions like multiple frequency walkover systems to handle passive, active interference and incorporating GPS coordinates into a bore record for example. The next generation of walkover locating systems (not sure what they will be called) that are being developed will not have an operator on the receiver. Solidification systems are going to be more commonplace as the dumping of pothole and drilling fluids become more costly. As part of the costs involved with vacuum excavation/fluids recovery, small rig recycling systems for drill rigs less than $100,000 will become more prevalent.

5. What are the important risks/opportunities owners need to consider before choosing HDD for their projects?
Allouche and Murray: Pipeline safety and integrity is important to owners who strive to protect the environment and communities within the footprint of their linear project. HDD installations are effective, low-impact solutions that are feasible within a wide range of underground conditions. However, HDD has particular limitations that can present significant construction risks. Since HDD requires a fluid-filled bore requiring pumping pressure for production, understanding the subsurface conditions along the drill path alignment is crucial during the design phase to identify and mitigate potential challenges during design and construction. Potential risks (e.g., coarse granular formations, perched/artesian aquifers, high reactive soils, coal seams) can be greatly reduced if an experienced trenchless team investigates the site, designs the HDD considering the subsurface conditions and the contractor utilizes the appropriate tools, methods and monitoring technologies to enhance HDD execution, while maintaining inadvertent return response and contingency plans during construction.

A collaborative risk management process initiated by the owner during the preliminary design phase and carried through the investigation, detailed design and construction phases offers the highest opportunity for successful completion of the HDD project. Known risks can be either avoided, mitigated, assumed or transferred, based on physical/environmental constraints and the owner's risk profile.

Dalgleish: All projects have risk and using HDD does not eliminate them. The opportunity is the ability to navigate underground, which allows for the installation of product in areas where the traditional open-cut cannot gain access. In most cases, the end users are unaware that an HDD project has even taken place. Some of the additional benefits are a reduced carbon footprint, uninterrupted traffic flow, and rehabilitation costs that are greatly reduced. The risks such as inadvertent returns or the failure to successfully install the product the first time are outweighed by the benefits of using HDD.

Vos: Each project comes with its own set of risks and opportunities. As the trenchless consultant, it is important to understand and communicate those risks and opportunities to the stakeholders and then manage development and execution appropriately. It is important that owners consider projects as related to HDD geometry, subsurface conditions and environmental sensitivities. One of the challenges we face is when projects are constrained with fixed routes to avoid several smaller obstacles in one area, resulting in a geometric, geological, or environmentally difficult HDD crossing in another. It is important to note that a longer HDD is not necessarily a more difficult or costly crossing, which is a common misconception when project alignments are being established. Opportunities often exist to extend a crossing length in order to gain a significant reduction in HDD complexity and cost.

"Meet the Experts" is a new feature in Trenchless Technology Canada written by Keivan Rafie, P.Eng., PMP, ENV SP, PE, CDT, lead tunnel engineer at Stantec. The features include leaders in the trenchless field discussing a variety of issues and challenges facing the industry in Canada.