INFI-SHIELD external seal prevents erosion and infiltration in manholes or catch basins. The one piece molded seal is made from EPDM rubber, has a minimum of 460% elongation and a reinforced preformed L-shaped corner. INFI-SHIELD installs easily in minutes without any special tools, can be immediately backfilled and will pass a vacuum test. Call to get the facts so you can save big money and gain effective capacity quickly and affordably.
Sealing Systems, Inc.
9350 County Rd. 19
Loretto, MN 55357
1-800-478-2054  
www.ssisealingsystems.com
pam@ssisealingsystems.com
---
MANHOLE TOOL BOX    
Engineered solutions for every manhole problem from flow-way to road-way!    Permacast® structural liners, ConmicShield® additive for internal corrosion protection, chimney seals, leak plug, bench form, channel liners, Cor+Gard® protective coatings and Permaform® no-dig replacement.   If speed, versatility, safety, quality and costs are important to you, then call APM PERMAFORM for the 'hole solution!   Installed world-wide through a professional network of certified applicators for more than 25 years and there is room on our team for you!
AP/M PERMAFORM
800.662.6465
www.permaform.net
---
Spectrashield® is a patented multi-layered lining system designed to stop infiltration in manholes through the systematic layering of polymer resins.   
There are many advantages of SpectraShield:
It stops groundwater infiltration and prevents corrosion
Its fast curing means a typical 7 foot deep manhole can be completed in less than one hour
It is cost competitive with all other coatings and liners
It comes with a 10 year warranty
For more information visit the website www.spectrashield.com.
---
Sauereisen's SewerGard No. 210 – Family of Products
Sauereisen SewerGard still stands superior in sealing city sewers and offers a solid reputation in the restoration and protection of wastewater infrastructure. Sauereisen's SewerGard 210 family of protective polymer linings is formulated to exhibit low permeability. This enhances corrosion resistance and extends the longevity of municipal infrastructure such as manholes, lift stations, grit chambers, and clarifiers.
SewerGard is available in a rotary spray grade for a spin-cast method of application. Other grades of SewerGard can be applied by trowel, spray, or roller method.
160 Gamma Drive
Pittsburgh, PA 15238-2989
Phone: 412.963.0303
Fax: 412.963.7620
www.sauereisen.com
questions@sauereisen.com
---
PIPE SUPPORTS by RELINER® are easily installed, fully adjustable clamping pipe brackets made of non-corrosive 11 gauge 304 Stainless.  They securely attach pipes to manhole walls and other surfaces with no protruding hardware and are fully adjustable to fit irregular surfaces.  Often used with the RELINER Inside Drop Bowl to eliminate outside drops in sanitary sewers or stormwater drops. The Pipe Clamps quickly attach to the structure wall with 3/8" stainless steel bolts in non-corrosive shields. A wide range of clamp sizes are in stock: 1.5" – 30" for SDR 35, Schedule 40, C900, CIOD, etc. Pump support systems are also available. MADE IN THE U.S.A.
RELINER®/ Duran Inc.
Lyme, CT
Tel: 800-508-6001
Web: www.reliner.com
---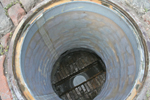 LMK's universal, stretchable, one-size fits all CIPMH™ manhole system is engineered to produce a structural cured-in-place seal that resists freeze thaw conditions.  Since the CIPMH™ utilizes a patented, stretchable liner site preparation and installation can occur in the same day which eliminates the lead time for ordering. CIPMH™ can be installed as a structural chimney seal or full depth CIPP manhole lining. Once the liner has been vacuum impregnated and manually inverted into the manhole the liner will cure ambiently under pressure for one to two hours depending on depth.  
For more information please contact LMK or visit us at: www.performanceliner.com.
---
Cretex Specialty Products was established in September 1983 to meet the demand in the municipal and engineering communities for an inexpensive, easy-to-install, durable seal for the frame chimney area of existing and newly constructed manholes. Cretex Chimney Seals seal the frame chimney area and reduce surcharging/bypassing and lower pumping and treatment costs. The Cretex product line now includes a full range of manhole sealing solutions, including SealGreen, a strong, durable polyurethane manhole sealant.
Cretex Specialty Products
800-345-3764
www.cretexseals.com
---
AV-202 Multigrout is the industry standard: Successfully used in manholes for over 25 years to permanently stop water infiltration. Creates a durable, flexible foam that works well under light or heavy-flow conditions. Contains no solvents, VOCs, CFCs, or HFCs – certified for use with potable water.
www.AvantiGrout.com
800.877.2570
---
CUES offers new software for Manhole Assessment that is easy to use, leverages GIS and GPS map data, and ensures that inspection data is checked for errors and retained in a central office database for analysis and prioritization.  Granite XP software is designed to support both custom coding standards as well as NASSCO's MACP (Manhole Assessment and Certification Program).  Granite XP identifies each specific component of the manhole so they can be prioritized into a City's Capital Plan.  Contact CUES for a discussion and demonstration!
www.cuesinc.com
800.327.7791
---
PAM Covers  
There are over 6 million PAM units in the ground around the world utilizing technically advanced materials and engineering. Our focus on the needs of the end-user – rather than developing products merely to meet a minimum performance standard – led us to ductile iron, a superior alternative to cast iron in terms of weight, strength and designability. PAM manhole covers and gratings represent a quantum leap in ergonomics, safety, durability and overall product performance.
www.pamcovers.com
877-351-3323
---
SEWPERCOAT®: A 100% CALCIUM ALUMINATE SOLUTION FOR PROTECTION AGAINST BIOGENIC CORROSION (H2S)
SewperCoat®, the only proven 100% calcium aluminate solution, is designed specifically for the municipal wastewater industry to provide a structural, abrasion and corrosion-resistant, protective lining against biogenic corrosion relative to hydrogen sulfide (H2S) found in wastewater environments.  With decades of worldwide performance, its unique chemistry resists the effects of biogenic corrosion for generations.
Both the cement and aggregate are 100% pure fused calcium aluminate.  This provides a level of protection that other CA based mortars with a natural aggregate system simply cannot achieve.   In addition to its proven track record, SewperCoat® is also backed by a no-nonsense 10-year labor and materials replacement warranty.
Joseph Talley, SewperCoat® Market Manager
Phone: 757-284-3200
Toll Free: 1-800-524-8463
Fax: 757-284-3333
email: KUS.info@kerneos.com
Website: www.sewpercoat.com
---
SealGuard
All SealGuard products combine total effectiveness, convenience, ease of use, and economy. SealGuard II's primary use is for water control in both above and below grade structures. Industries that currently utilize SealGuard include wastewater, telecommunications and electrical utilities.
XSeal is a single component, closed cell, hydrophobic polyurethane that is applied during new construction for assembling chambers, manhole sections, and vaults. It is also used for attaching grade or adjusting rings, and manhole frames to the concrete cone.
Sealguardinc.com
866-625-4550