Nearly a year after making the first wave of changes and adjustments to daily personal and professional life to prevent further spread of the COVID-19 virus, we take a look at how hydrovac operators and contractors are adapting, and how they can continue to employ best practices to prevent utility strikes and overcome disruption to prevent it from creating dangerous and potentially devastating outages.

As nationwide dealers of municipal infrastructure and utilities maintenance equipment in Canada, our customers serve the communities where we live and work as well, we offer our gratitude for their tireless efforts and for sharing some of their experiences and perspectives with us.
RELATED: Right Sizing Your Vacuum Excavator for the Right Job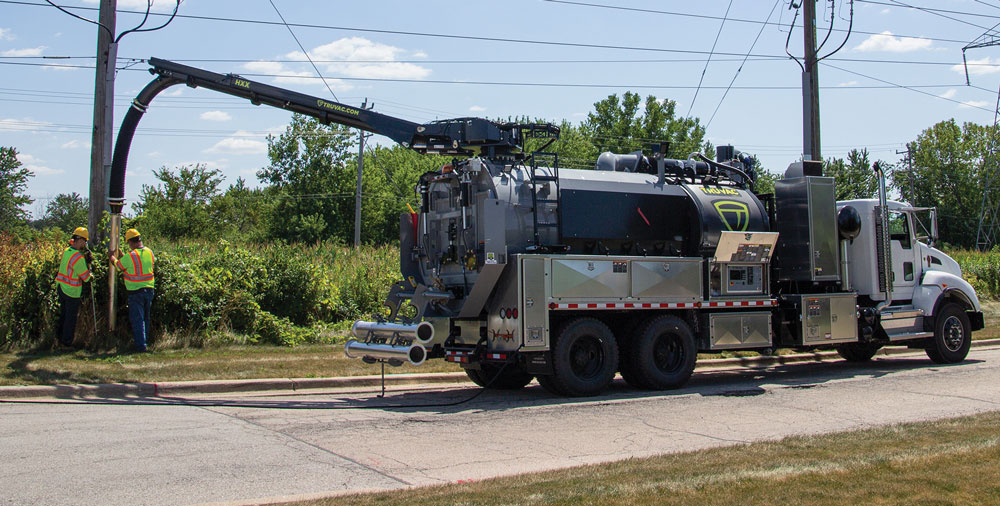 Digging Deep in Changing Times
Across Canada and the world, few events in recent memory have had the resounding impact on both the personal and professional lives of business owners and municipal workers as the pandemic has.

Our industry, which is founded upon the need to provide communities across the country with essential services in a safe and timely manner, has been particularly vulnerable to the new challenges and demands of delivering those services at an increased pace and scope. We've had to become more resilient and more agile as the status of our municipalities fluctuates through a color-coded alert system, sometimes changing how we do business from one day to the next.

More homes have become remote offices and online classrooms, increasing the residential demand for consistent and reliable water, sewage services, electricity, natural gas and communications utilities.

For those who provide services to maintain and update the infrastructure that keeps the progress of construction, residential neighborhoods, health care facilities and businesses moving forward, the pandemic has imposed a requirement for precision in excavation that leaves even less room for error than usual.

Contractors and operators have adapted impressively quickly, employing new tactics to comply with new provincial guidelines including increased sanitization and PPE, daily employee screening, and swiftly interpreting and communicating the implementation of new health and safety policies. In some cases, this may even mean experiencing the impact of lost time while waiting for test results or quarantine periods to be completed.

Infrastructure and Utilities Maintenance Critical During Lockdown

For Fran Woods and Tom Collins of Kawartha Utility Services Ltd., based in Lakefield, Ontario, providing support to Hydro One and other key utilities clients makes them keenly aware of how the network could suffer without continuous infrastructure maintenance. They remain positive and focused on damage prevention by keeping their fleet of Vactor HXX hydroexcavators running smoothly and operating safely. Demand for their services has seen an increase, and the risk of possible downtime is a cost contractors and municipalities want to avoid, making regular service and daily checks an important part of staying on top of the current situation. While the conditions under which they are working continue to require them to adapt, the Kawartha team keeps an optimistic outlook on the future.
RELATED: Joe Johnson Equipment Is Committed to Customer, Supplier and Employee Success

At Great Ontario Hydrovac in Innisfil, Ontario, company president Mark Goodman's team provides commercial and residential hydroexcavation for a variety of utility services. Delays to some types of projects have resulted in a slight decrease to his regular business volume, but as restrictions in different areas of the province lift, business remains steady.

The Great Ontario Hydrovac fleet includes VactorHXX hydroexcavators, as well as the TRUVAC by Westech Mfg. Coyote. These units allow them to continue operating when the ground is frozen, and to avoid potential major losses that can occur with mechanical digging methods, such as severe injury, property damage, disruption to the general public or environmental damage all of which can result in liability issues. Goodman shares the belief that health and safety measures, as well as proper training and maintenance routines are more critical now than ever.

RELATED: Vacuum Excavation Manufacturers Share Tips on Keeping Crews Safe

Changing Demands Have Personal and Professional Implications for Hydrovac Workers
Community, employee, and customer safety must remain top priorities to keep jobsites healthy and productive, as municipalities and contractors navigate new methods of connecting and reinforce the need for safe digging technologies. For many in the industry, this comes at a time while they are balancing new schedules at home, with children learning online for extended periods, and less opportunity to visit with aging parents, or to engage socially with friends in person. This can bring further challenges to their personal lives, while doing a job that is physically demanding and performed in outdoor conditions that can range in extreme temperatures throughout the year.

These factors are resulting in an increased strain on the operator workforce. Many industry associations and equipment manufacturers have recognized this and are responding by providing virtual training and refresher safety courses, as well as opportunities to exchange ideas and best practices for maintaining equipment and a safe working environment. For some, this also includes virtual events for networking and making more connections via social media platforms.

In addition to these resources, many municipal works departments are partnering with their equipment providers to learn more about safe digging practices, and to find solutions to support their increased need for parts and service with contactless pick-up and delivery and mobile screening and check-ins before arriving at municipal sites.

Although we may have an uncertain road ahead, it is clear the industry remains strong in its resolve to adapt and has proven over the past year that it continues to improve on the basics and learn new ways of serving our communities.

Angela Watson is marketing manager for Joe Johnson Equipment.