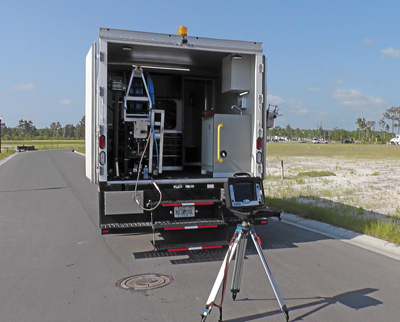 For the February 2016 issue, and coinciding with the WWETT Show,
Trenchless Technology
highlights the latest in pipe cleaning products for its monthly "Products Showcase" section.
RELATED: Trenchless Technologies on Display at WWETT Show in Indianapolis
Cues Inc
The
Cues
TruVue Video Transmission System enables the jet truck operator, inspector, remote equipment operator, consulting engineer, owner, etc., to remotely view real time video images, as generated by a CCTV inspection system.
RELATED: CUES; 50 Years of Sewer Inspection and Rehabilitation
Applications include the minimizing of the potential for unintended collisions between the jet nozzle, saving water during the cleaning process, and simultaneous remote viewing by multiple parties in less than ideal weather conditions and/or temperatures. The CUES TruView operates with all manufacturers video inspection systems, requiring only a standard (NTSC or PAL) video output.
NozzTeq
The Ice Bear series sewer nozzles were specifically developed to quickly penetrate ice-filled lines. These are short, low profile nozzles with rounded leading edges that easily work their way into tight areas, and they feature both six rear-facing jets and three front-facing jets. The front-facing jets come together at a single point a few inches in front of the nozzle — this focuses full jetting power on the ice and breaks up ice quickly.
The powerful, low angle, rear jets push the nozzle right up to blockages and stabilize the Ice Bear at the ice face, while quickly sweeping out ice and debris to clear lines and prevent refreezing. As in most
NozzTeq
nozzles, laminar flow is preserved from truck to nozzle end, for more powerful jet streams produced at lower pressure — jetting efficiently at lower pressure extends the life of your jetting equipment. Jet orifice size is fixed.
R.S. Technical Services
A cost-effective configuration for today's pipeline contractors and municipalities alike,
R. S. Technical Services
' inspection system features cutting-edge, single conductor technology — cameras, transporters, lateral inspection systems, sonar and laser profilers and more can all be easily and precisely operated with one single conductor cable.
RELATED: CCTV Innovators: R.S. Technical Services Strives to be the Best CCTV Company on the Market
The Ford Transit is available with either a diesel or gas engine and offers a compact footprint for ease of driving and maneuverability in tight access areas or on narrow roadways, with a budget-friendly price point for reducing fleet lifecycle costs.  The wagon area features full height rear doors and ample room for a spacious, ergonomically planned workspace. It can accommodate custom options such as extra storage, countertops, power sources, safety lighting, air conditioning, heaters and floor coverings. RST's interior installation configuration is customizable to each individual customer's needs. Other vehicle models and configurations are available.
Vacall
Vacall AllJetVac
combination sewer cleaners provide governments and contractors with an ideal collection performance features for sewer line maintenance – all powered by a single chassis engine. Rather than requiring two engines like other combination sewer cleaners, the AllJetVac single-engine concept slashes fuel consumption, cuts harmful emissions and reduces routine maintenance downtime and costs while also holding down the price of the unit.
AllJetVac models have a strong positive displacement blower system for excellent jetting action and superior vacuum power. The oval-shaped debris body has cylindrical sides for extra strength and efficient material dumping. Water tanks, fabricated from high quality aluminum, are mounted high on the chassis away from road debris. Optional galvanized debris bodies and water tanks carry lifetime warranties. Standard on AllJetVac models is an intelligent AllSmartFlow CAN-bus control system.  The AllSmartFlow has a programmable LCD display that monitors engine, water-flow and vacuum performance while allowing for more precise boom and reel movements. Water flow control monitoring also can reduce trips for refills.