More than 300 Ditch Witch customers, from across the globe, were in attendance for an exclusive tour and first-hand look at the full line of equipment at the Ditch Witch headquarters in Perry, Oklahoma.
The annual Ditch Witch Equipment Seminar on April 17 and 18 allowed the customers to experience an up-close look at customer-driven equipment enhancements and next-generation technology advancements, more than 300 global dealership employees and their customers attended this year's event.
RELATED: Ditch Witch Awards Dealerships, Individuals for Superior Customer Service, Support and Dedication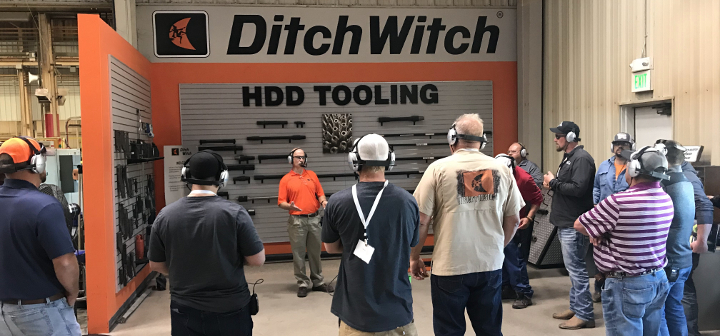 "Our customers play a vital role in the development of our equipment. We value their feedback, and we are committed to offering products that help them conquer jobsite challenges," said Dennis Wierzbicki, Ditch Witch president. "The annual Equipment Seminar allows our dealerships and their customers to see and demo the latest underground construction equipment and new technologies that were designed specifically with their productivity in mind."
The two-day event included an equipment program that introduced customers to the latest Ditch Witch equipment, featuring the new line of HX vacuum excavators, the advanced family of construction-grade mini skid steers, and the Ditch Witch HDD training simulator, as well as hands-on equipment demonstrations. Attendees also received a tour of the Ditch Witch manufacturing facility and campus, spanning over 1.2 million sq ft.
RELATED: All Terrain Technology vs. Mud Motors
Customers were able to experience product demonstrations from other Charles Machine Works companies, including Subsite Electronics, Hammerhead Trenchless and American Augers.
Ditch Witch dealerships operate in more than 100 countries, on six continents and with more than 175 locations worldwide. To find a dealer, visit ditchwitch.com.

SOURCE – Ditch Witch, a Charles Machine Works Company