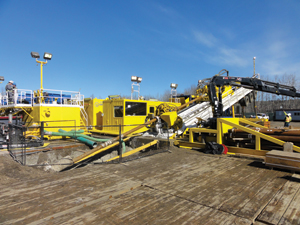 The community of Fort McMurray is located and administered by the regional municipality of Wood Buffalo in Alberta, Canada. Fort McMurray was established in 1870 as a trading post and is now a focal point of Canada's oilsands industry.
Wood Buffalo's latest wastewater system collection project is the Gregoire East Sanitary Outfall. This job installs a new sanitary sewer, which diverts sewage flows from the MacKenzie and Gregoire neighborhoods and conveys them directly into the larger Saline Creek sewer located east of Howard Pew Memorial Park. Completion of this project helps reinforce Fort McMurray's current sanitary sewer system and alleviate sewer surcharges during rainfall. It also accommodates future servicing demands for the Gregoire and MacKenzie neighborhoods.
Five hours away in Edmonton, Direct Horizontal Drilling has sent a crew that sometimes is upward of 35 members to be the primary contractor for this undertaking. The directional drilling portion of this job takes place along highway 63 between Gregoire Drive and Howard Pew Memorial Park while the American Augers DD-1100 machine and corresponding components are located on the park's fully matted soccer field. Located in the center of this community, Direct Horizontal Drilling has fenced-in the operation and is performing with very little disruption to the neighborhood. The logistics encountered when moving the rig within the close proximity to surrounding neighbors went off with a hitch.
The American Augers DD-1100 is starring in the project, which consists of two 1,600-m bores, spaced 10 m apart with compound curves. The final ream is 36 in. with a 24-in. product line in each hole. Supporting roles in this production have been cast with Twin – 1,000-hp pumps, 450 Bbl cold weather solids system, integrated engine re-fueling systems and integrated cold weather, water/steam systems. Direct Horizontal Drilling has designed and built the supporting systems to not only complete enormous jobs of this nature but to withstand the rigid winter conditions Northern Canada can present.
Direct Horizontal Drilling began the Gregoire East Sanitary Outfall project in June 2011 and will finish in September. As of the writing of this article, the first bore was just completed and product line was being pulled soon. Using Direct Horizontal Drilling's own proprietary reamers, the Poly Diamond Crystalline (PDC) technology offers significant advantages for this project — its two times faster because of increased penetration rate and fewer ream passes just to name a few. Direct Horizontal Drilling president Lon Briscoe calls it "Performance Drilling."
With this kind of speed and performance, Briscoe commented on the necessity of being able to process high volumes of drilling fluid. The Direct Horizontal Drilling mud systems boast up to 4.4 cm at 1000 hp each. According to Briscoe, "Big rigs means big pumps and big solids control."
Working in the Oilsands
Working in the oilsands area of Alberta creates issues for directional drilling. The entrance and exit points have stringers of oilsands, which makes for a messy, labor-intensive job. It acts like tar and gets on everything, as well as blinds the screens on the equipment. In addition to this regional drilling issue, the earth is 95 percent solid limestone.
To overcome these project concerns, Briscoe stated that his Rig #9 (model year 2007 American Augers DD-1100 with 1.1 million lbs thrust/pullback) is powerful enough to handle the conditions. "With that amount of power, you can keep yourself out of trouble" he said. "[On this job] we have close to 5,000 horse power including rig, pumps, and generator."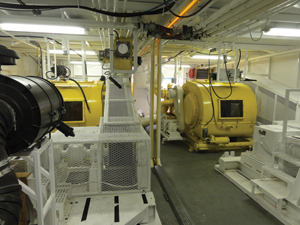 Although the summer weather has provided ideal conditions for this particular project, Direct Horizontal Drilling's support equipment is custom-built to deal with severe Canadian winter weather conditions. The equipment is integrated with steam and water systems, heated with steam and explosion-proof electric heaters. The fuel systems are under pressure — everything circulates to keep from freezing with special filters. Customized for these rough conditions, Direct Horizontal Drilling equipment can move and begin drilling in a day.
As with most Direct Horizontal Drilling equipment, all rigs and custom-built supporting components are painted bright yellow at their facility in Edmonton.
Briscoe started in the drilling business about 36 years ago. His father was a partner in the oil and gas industry with 12 rigs. He and his brothers grew up with oil and gas rigs and then migrated to HDD. Advantages his family had over others is the knowledge and understanding of the importance of down hole hydraulics, solids control, drill pipe maintenance and the implementation of maxi-rigs. Briscoe is proud to note that there are fewer than five drilling companies in North America that can boast the size and equipment to handle the really tough jobs like Direct Horizontal Drilling.
Direct Horizontal Drilling currently owns 14 rigs, nine of which are American Augers products. All nine of those are maxi size rigs: two DD-140s, one DD-220, one DD-300, two DD-440s, one DD-700 and two DD-1100s. Briscoe has owned American Augers equipment for 14 years and began with a DD-180.
By Aug. 15, Direct Horizontal Drilling will have both American Augers DD-1100s, an American Augers DD-625 and two American Augers DD-440s all working on a Fort McMurray/Alberta area project, with all the rigs completing infrastructure jobs for the city and oil pipe lines to support the various Alberta oilsands ventures.
Kelly Foos is marketing manager at American Augers, based in West Salem, Ohio.